Kabuki Minamiza Tickets NARUTO in Kyoto
Price
▶
THIS EVENT HAS ALREADY BEEN HELD
Kabuki is a dance-drama that was designated as one of the intangible cultural assets to humanity by UNESCO. Kabuki was born next to the Kamo River in Kyoto where female entrtainers acted in front of patrons by dancing and performing various intriguing plays. During the Edo Period, Kabuki actors who were mostly watched by the elite samurai class, probably were the most famous people in the country whose images were widely distributed by Ukiyo-e prints. Luckily you can enjoy Kabuki in its birthplace, right by the Kamo river at the historic Minamiza theater.
THIS EVENT HAS ALREADY BEEN HELD
About 'NARUTO'
'NARUTO' is a 'battle action' story which describes the growth of the adolescent Ninja, Naruto Uzumaki, Known as one of Japan's best manga series, it is loved by people both at home in Japan and abroad. The number of copies printed in Japan has reached over 140 million, with 95 million copies printed overseas. The series is now available in over 40 countries.
 The kabuki adaptation of 'NARUTO' is not only a 'battle action' story, but also one about the friendship between Naruto and Sasuke Uchiha, Naruto's rival. It also focuses on the deep love of Naruto's parents for their son, something with which we can all empathize and find moving. Making use of kabuki's unique staging practices, this play will break new ground as innovative kabuki for the modern age.
Bandō Minosuke and Nakamura Hayato will again take on the challenge of 'Naruto'! And Nakamura Baigyoku will make his appearance as their strongest enemy yet!
 The young kabuki stars Bandō Minosuke and Nakamura Hayato will play the main roles of Naruto Uzumaki and Sasuke Uchiha, and for these performances at the Minamiza Theatre in Kyoto, Nakamura Baigyoku will play the role of their powerful earth-shaking enemy, Madara Uchiha, who will stand in the way of these promising young kabuki stars. You cannot see this cast except in Kyoto. Don't miss it!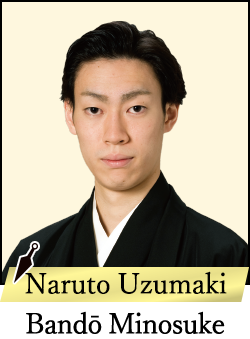 I'm so glad to be performing A New Kabuki Production 'Naruto' in Kyoto. Naruto Uzumaki and others have become more powerful through the performances in Tokyo and will now tear around the newly reopened Minamiza Theatre! Based on the original manga, we will make full use of Kabuki's unique expressive power to create a brand-new sensation on stage. Please look forward to it!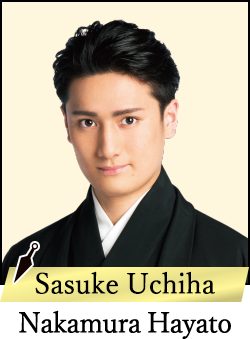 I will play the role of Sasuke Uchiha which, like the roles of Zoro and Sanji in 'One Piece', will contrast with the role of Naruto Uzumaki. As I am a big fan of the manga, I will put my heart and soul into playing this role and hope a lot of people will enjoy this play! We will once again take on the challenge of this epic kabuki play 'Naruto' and will make the audience go wild!
Based on the script and direction by G2, this will be a modern Kabuki experience with a brand-new sensation!
G2 has scripted and directed numerous outstanding plays, and has won the kabuki play-writer prize for the new kabuki production of 'AKEGARASU KOI NO MANEGOTO'-'The Bird at Dawn and the Playacting of Love'. In staging such works as 'Wuthering Heights' and 'The Glass Mask', G2 has achieved great success through its skillful organization and direction of long stories that are difficult to condense into plays. This story, too, of the never before seen Kabuki play 'Naruto' will unfold at a breath-taking pace!
Music is provided by the 'WAGAKKI BAND'!
The closing song for A New Kabuki Production 'Naruto', 'Hikari no Nakade' is provided by the 'WAGAKKI BAND', a band which uniquely fuses traditional Japanese musical instruments with rock. Please look forward to this new and unexpected combination created by the world of 'NARUTO'!
Review
[grw place_photo="https://lh3.googleusercontent.com/p/AF1QipOfCq9T8kZkqL_fuYpoPXj95DZZFFr6dH8XWVJe=s1600-w300-h300" place_name="SAMURAI & NINJA MUSEUM with EXPERIENCE" place_id="ChIJlw9RTjUJAWARdy4b2T6Zt-M" reviews_lang="en" title="Review" pagination="4" text_size="120" refresh_reviews=true lazy_load_img=true reduce_avatars_size=true open_link=true nofollow_link=true view_mode="list"]