Cancellation and refund policy
No cancellation fee, cancel any time
Click button below to make a payment.
Sweets Making & Kimono Tea Ceremony in Kyoto
Currently, all sessions are private for COVID-19 measures.

Wagashi making & Kimono Tea ceremony. You will make a Japanese confectionery and
Matcha tea (green tea).  You can experience the tea ceremony with the confectionery you made and beautiful Kimonos!

 
Japanese sweets making experience in Kyoto. This course consists of
A) Japanese seasonal confectionery making
B) Green Tea
C) Tea Ceremony – You can eat the confectionery that you made
D) Wearing beautiful Kimono!
And Have Lots Of Fun!
Currently, all sessions are private for COVID-19 measures.
Price
1person : 15,000yen
2people+ : 7,500yen / person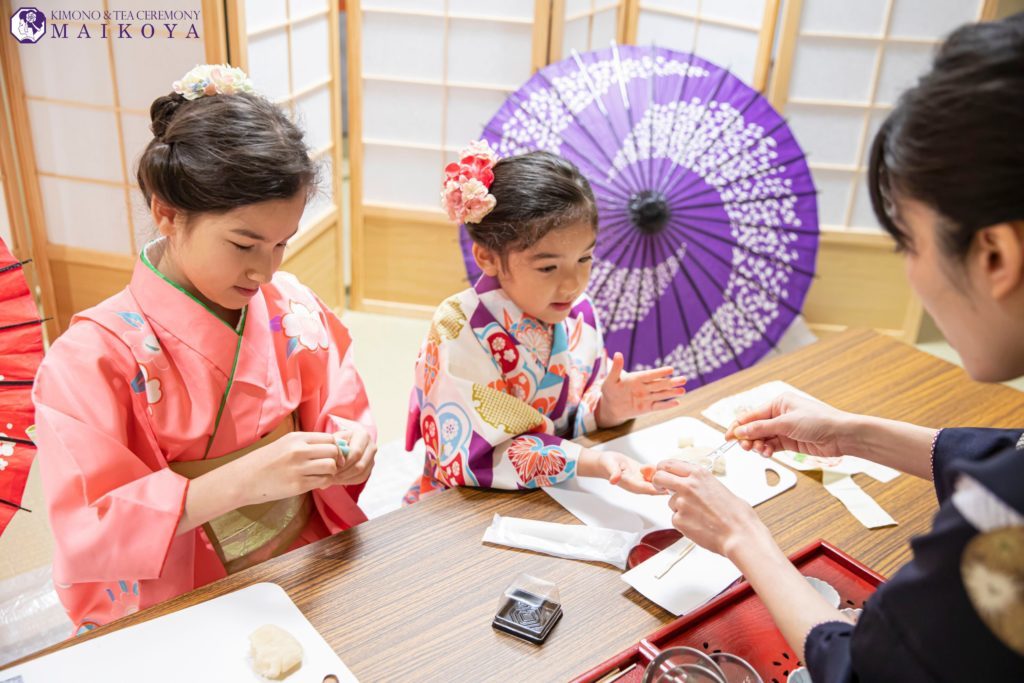 In this workshop, you will have an opportunity to wear traditional Japanese dress; Kimono, taste the green matcha tea and eat unique Japanese sweets specifically made to match the tea's flavor. All workshops will be in English and will last around 90 minutes in a traditionally decorated room. This is a once in a lifetime event to experience an activity that has been practiced for hundreds of years.You will not only enjoy the calming tea ceremony activity but also get a hands on experience of Japanese cooking and Japanese sweets making. What is best, Japanese sweets change season to season, so, you are likely to have a very unique cultural activity for sure.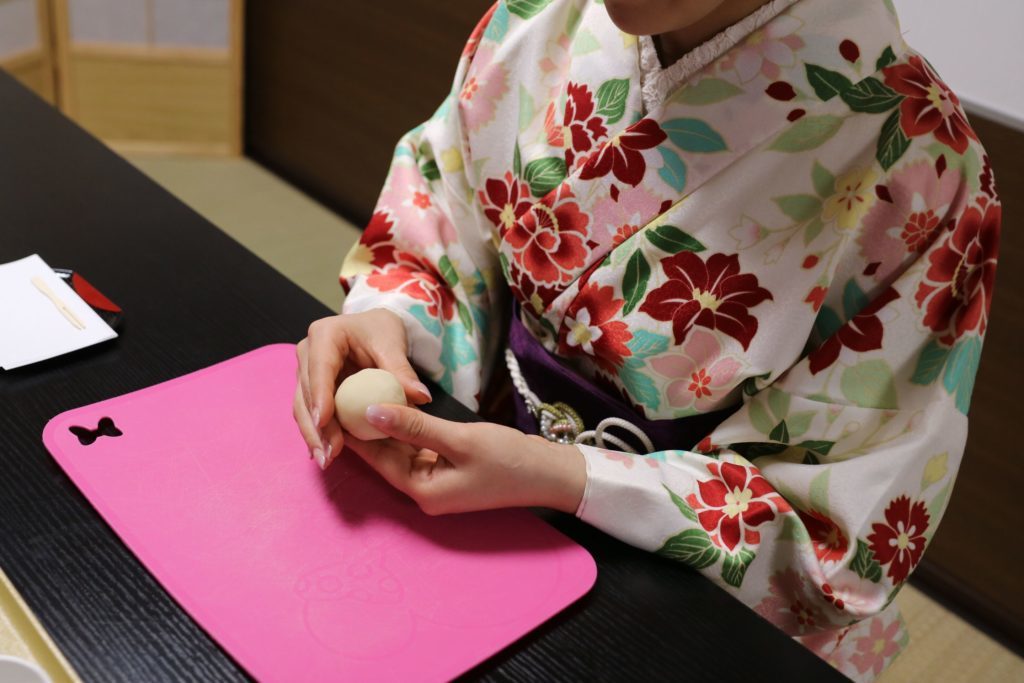 Japanese Tea Ceremony Workshops are held at the the Edo-style Room of Maikoya Kyoto. This is a brand new tourist and entertainment complex in the popular Shinsaibashi shopping area, Kyoto. At the end of the workshop, you can continue with a range of other activities and workshops at Maikoya Kyoto or hang out at the relaxing Maiko Cafe to create a Japanese cultural experience you will not ever forget.
In this workshop, a qualified instructor will walk you through step by step of a customary Japanese meal. There are a range of different cooking courses for you to choose from, including lunch, dinner and confectionery classes. The last one is very unique as Japanese desserts have a distinctive flavor as the history of cooking in Japan didn't include processed sugar till only a few hundred years ago. You will learn even more about the flavors of Japan, as well as the range of utensils used and explanation of the techniques required, while cooking a great meal as well!
The Japanese Cooking Workshop provides you will a once in a life time experience: learning traditional Japanese dishes from local cooks in Japan! Kyoto is considered the food capital in Japan and there are many appetizing dishes from the area for you to try. Not only will you get to eat this delicious food, but learn how to make it yourself so you can make a feast back at home!
What can you expect in this Tea Ceremony Workshop? We show off cultural activities with a difference!

Kimono experience
A friendly host will explain the correct etiquette and symbolism for this ceremony
Try traditional food and drink given during this ritual
Held in a traditional tearoom with beautiful historic decor
Opportunities for taking photographs will be highlighted throughout.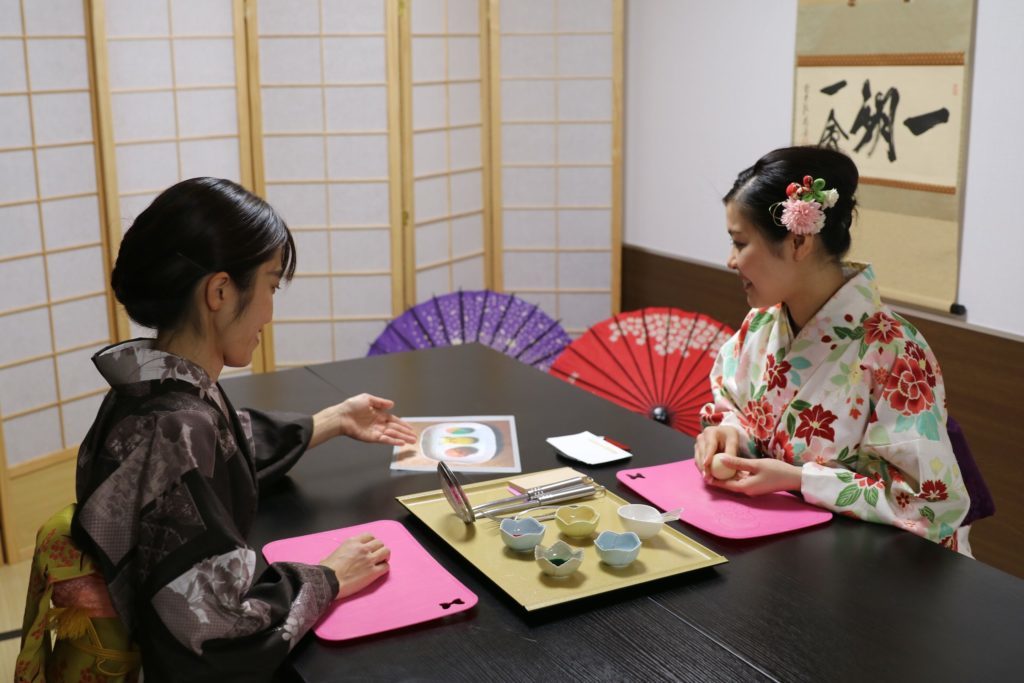 Included
Wearing Kimono
An introduction to Japanese sweets making and basic information about wagashi
This is taught by a friendly instructor who speaks English
The instructor is a professional who has had years of training in the Japanese Tea Ceremony
You will be encouraged to try traditional green matcha tea and Japanese styled sweets
Only traditional tea ceremony utensils will be used
The workshop will be taught to a small class of 6 or so people
Relax in a classroom decorated in traditional Japanese décor and architecture
Explanations of the ceremony's history and technique will be explained described
Located in the Maikoya Kyoto building in central Kyoto
If you give notice, guides can pick you up from your chosen train station in Kyoto.
HIGHLIGHTS
*Try a diverse range of ingredients and flavours unique to Japan
*A friendly host will explain and demonstrate correct cooking techniques
*Held in a Japanese styled kitchen
*Opportunities for taking photographs will be highlighted throughout
*Special experience to cook wearing Kimono.
Learn Japanese culture with all of your senses – especially your your own of wonder!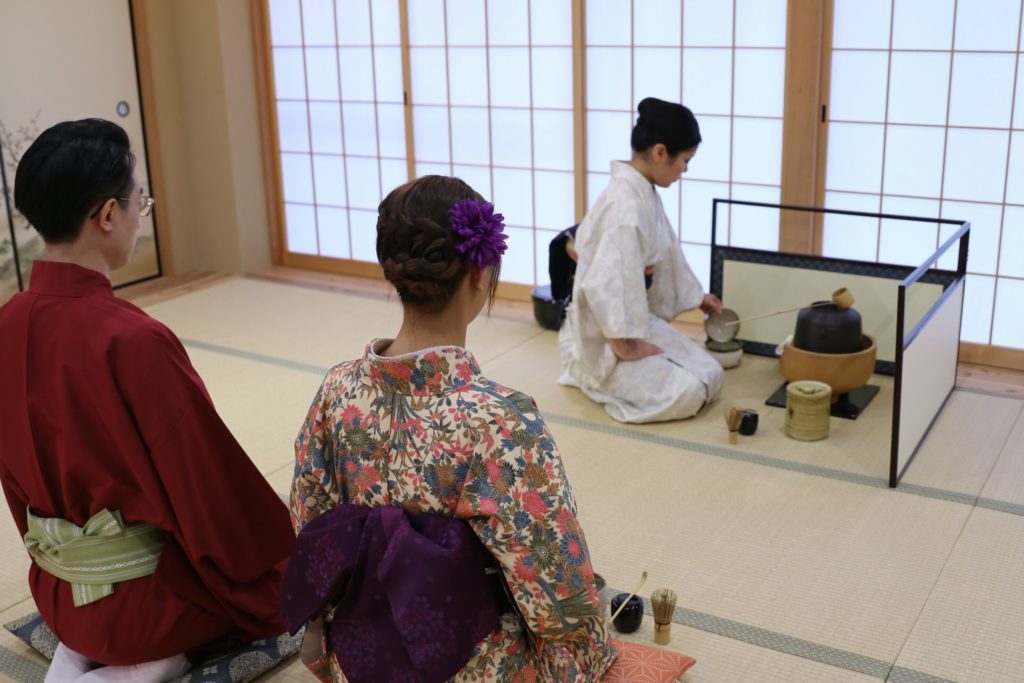 Book today!
Children are welcome for this course, however since there will be something dangerous such as hot stoves and sharp knives in a kitchen room, they must be given strict parental supervision.
Please let us know if you have any food allergies, Halal, vegan or vegetarian preferences.
Children must be accompanied by an adult
Adult pricing applies to all travelers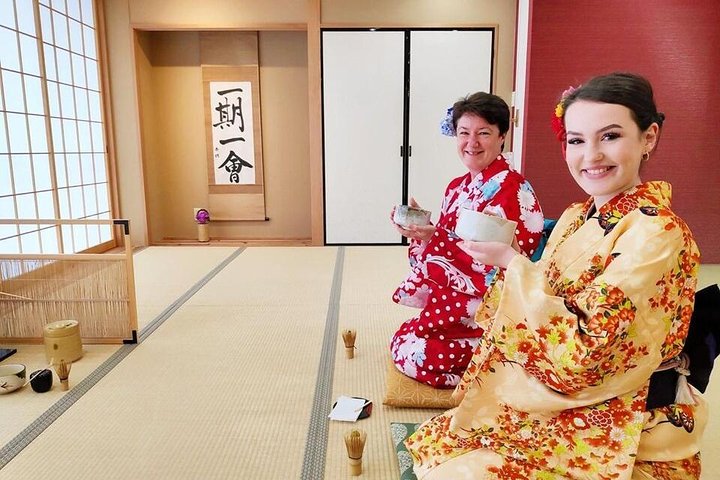 Review
Maps

Organizer




Kimono Tea Ceremony Maikoya Kyoto

We are a cultural experience venue located in the heart of Kyoto, the cultural capital of Japan. We pride ourselves on providing authenthinc experiences in Kyoto. Founded on the four main pricinples of tea ceremony (Harmony, respect, purity and tranquility) Maikoya has gained recognition among both locals and foreigners. Maikoya also recently has been selected as one of the best tea ceremony venues in Japan by Tripadvisor. Learning about a country through cultural workshops and activities will give you a better understanding of our intricate history, valued social principals and holistic way of life. By learning about Japan and its people, you will be immersed in different perspectives and approaches that are unique to this country. Maikoya Kyoto offers you opportunities to understand this culture through local instructors and guides. There is no better way to learn about a new place from the viewpoints of those who grew up and live in this amazing country. What better way to spend an afternoon than learning a traditional, beautiful new art form with a knowledgeable tutor in a picturesque setting? You wouldn't find friendlier people to help you experience Japan in all its splendour.

---

Our address is Japan, 〒604-8006 Kyoto, Nakagyō-ku, Nakanocho, 565-4 JP Take Exit 9 at the Kawaramachi Station  google map

---

Our phone number is 075-606-5303

---

Our email address is kyoto@mai-ko.com

---

*** Please let us know the gender ratio and if you have any food allergies, Halal, gluten-free, vegan or vegetarian preferences.

Frequently Asked Questions FAQ

Do you accept walk-ins?

Yes, we accept walk-ins. However, it is chepaer to book online and you may need to wait if you show up without a reservation especially during the peak season.

Do I need to wear a kimono?

Traditional tea ceremony is usually conducted by wearing a kimono but since you may simply not be interested in it or you may be pregnant (earlier than 3rd trimester OK) we don't require you to wear a kimono.

Do I need to sit on my knees all the time or I can sit comfortably? Can I sit on the chair?

Yes you can sit comfortably without sitting on your knees. Yes we do provide chairs and desks if you need.

What is the etiquette for tea ceremony?

Please remember to --take your shoes off, --be quiet and not talk to your partner throughout the ceremony, —not use your cell phone (we allow photos before and after) but ideally you should forget worldly and materialistic thoughts.

Do you have kimonos for kids?

Please remember to --take your shoes off, --be quiet and not talk to your partner throughout the ceremony, —not use your cell phone (we allow photos before and after) but ideally you should forget worldly and materialistic thoughts.

Do you have plus size kimonos?

Yes we do have extra size kimonos. If you are a plus size please let us know when you reserve about your size.

Can I walk outside wearing the kimono for the rest of the day?

Yes! you can walk outside with additional fee JPY1000 by 6 pm!

Do you provide any hairdo services?

Yes (for females), we will make sure you look your best and your hair matches the traditional kimono style.

Do you only show activities or you explain the meanings, symbols etc?

Of course we explain all the meanings and symbols. We also answer many questions you may have (what tis the relationship between zen and tea ceremony, what is the relationship between zen and shodo, what is the difference between Shinto and Buddhism, etc.)

Do you have a souvenir shop where I can get matcha tea, tea ceremony set, calligraphy set, etc. to remember my experience?

Where can I buy a kimono?

We can recommend you a few nearby shops that sell 2nd hand, upscale and economy kimonos, yukatas, samues and hakamas.