Kimono Tea ceremony Osaka MAIKOYA
About us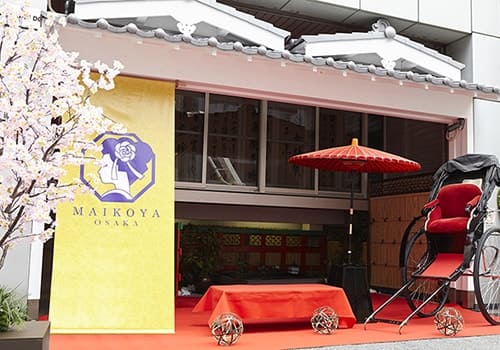 Maiko, kimono, tea ceremony, flower arrangement in Osaka and more. Maikoya Osaka is an upscale cultural experience centre established to teach the whole world the skills practiced by the Maiko in the historical Shinmachi district of Osaka. We hold cultural classes in English, where you can learn many traditional Japanese arts such as kimono dressing, and Japanese calligraphy and ikebana. Different types of cooking classes are also available so you can experience Japanese culture with all of your senses. A range of cultural ceremonies are held at Maikoya Osaka, with English explanations provided throughout the established rituals and tasks performed. The most requested with locals and tourists alike is the traditional tea ceremony. Make a reservation today to taste the famous Japanese matcha tea and traditional sweets, hosted by a maiko who is eager to answer any questions you may have!
We pride ourselves on providing authentic Japanese cultural experiences to tourists and residents alike. Learning about a country through cultural workshops and activities will give you a better understanding of our intricate history, valued social principals and holistic way of life. By learning about Japan and its people, you will be immersed in different perspectives and approaches that are unique to this country. Maikoya Osaka offers you opportunities to understand this culture through local instructors and guides. There is no better way to learn about a new place from the viewpoints of those who grew up and live in this amazing country. What better way to spend an afternoon than learning a traditional, beautiful new art form with a knowledgeable tutor in a picturesque setting? You wouldn't find friendlier people to help you experience Japan in all its splendour.
Disclaimer: Our building used to serve as a geisha house; however, currently it is not a geisha house or Okiya. Our building is a cultural education centre. The geisha who is serving you is not someone who lived in Okiya for years. Maikoya's main focus is promoting Japanese crafts and arts and Maikoya certainly does not follow the code of Kyoto or Tokyo geisha houses or affiliated with any okiya or geisha association.
Access
1-22-7 Shinmachi, Nishi Ward, Osaka City, Zip-code 550-0013, Japan
〒550-0013 大阪市西区新町1-22-7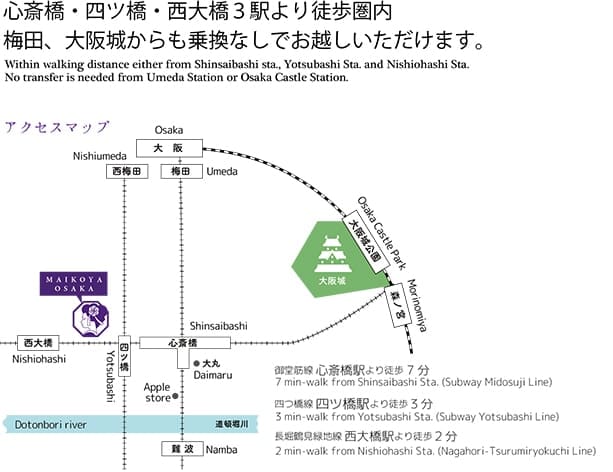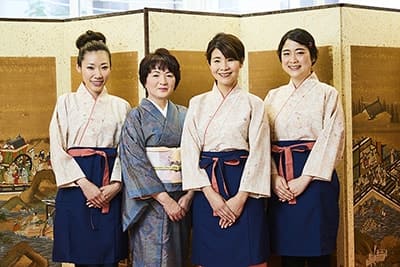 Traditional Japanese room