Kimono Photo, Kimono Rental Osaka castle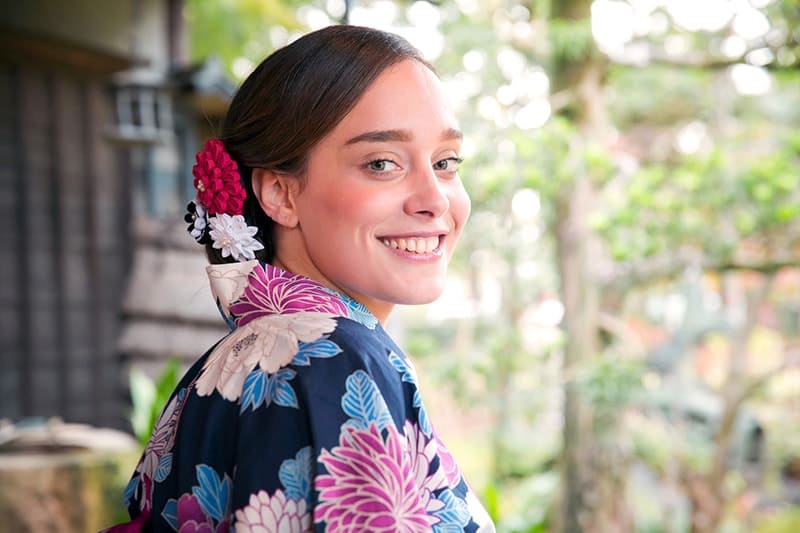 Wearing kimono in Osaka is an exciting way to remember your trip to Japan. The Kimono Collection Osaka, located on the 3rd floor of Maikoya, provides everyone with a special photo experience in a friendly and relaxed environment. Whether you are visiting as a couple, family or just yourself – you can't miss the opportunity to create such a unique memento of your visit. Maikoya Osaka's Kimono Collection, has a range of traditional Japanese costumes for you and your loved ones to choose from. Ever wanted to be a kimono wearing princess for a day? There are a range of traditional garments to choose from in a range of designs and sizes. There are also outfits from a range of anime TV shows if you wish to be a contemporary Japanese hero!
At Maikoya Osaka, you can also choose your own background for your kimono photo shooting. Ever wanted to visit the famous Mount Fuji? Or be awed by beautiful peace blossoms blooming in the Spring? Maybe you want to be inside a traditional Japanese tea room? You can do any of these while not leaving the comfort of the Maikoya Osaka building.
Kimono Rental Plan
Kimono (Yukata) &
Self Photo Shooting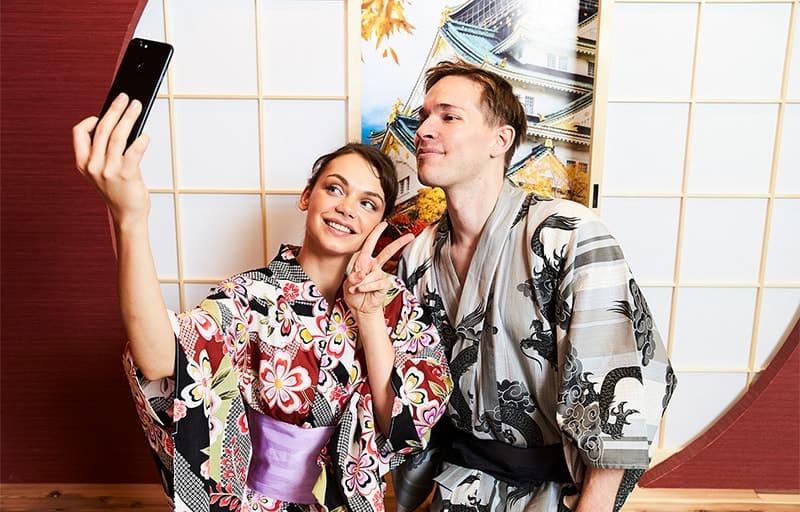 Wear the various styles of kimono for women, men, boys, and girls
Take many photos at Maikoya Osaka
Kimono (Yukata) &
Professional Photo Shooting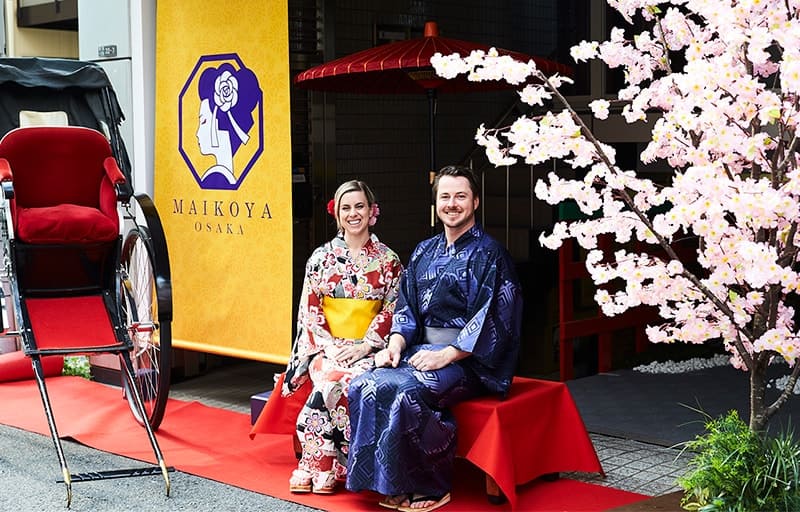 Wear various styles of kimono for women, men, boys, and girls
Experts who can dress you and apply appropriate make-up and hair styles
A professional photographer in a well-equipped photo studio
Kimono (Yukata) Tour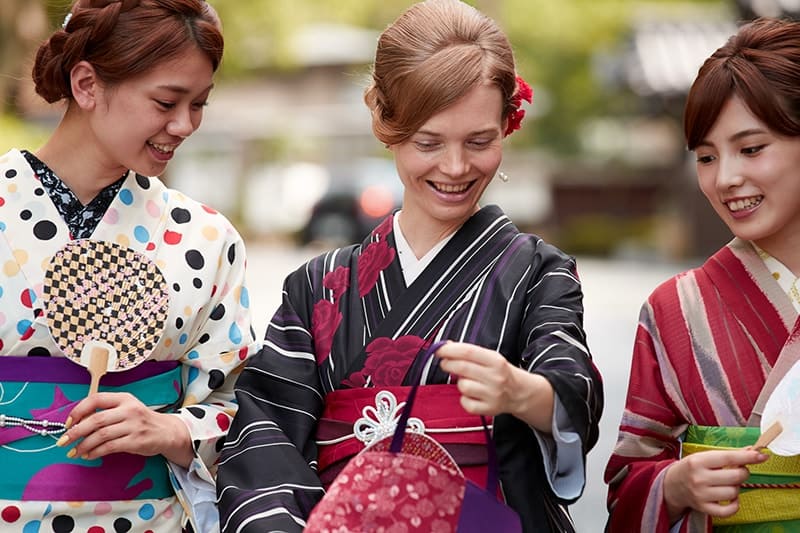 Wear various styles of kimono for women, men, boys, and girls
Stroll the streets of Osaka wearing kimono (yukata)
Kimono (Yukata) + Tea Ceremony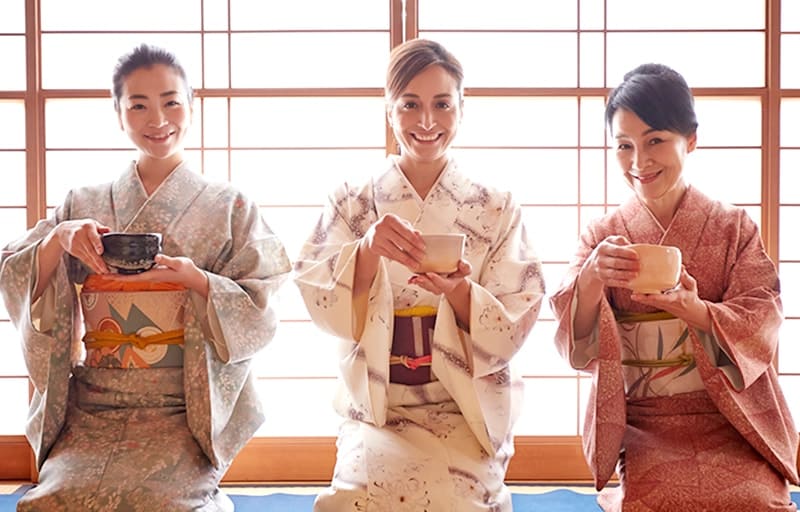 Wear traditional kimono or yukata
Enjoy the tea ceremony in Osaka and have Japanese sweets
Take many photos at Maikoya Osaka
Friendly English speaking staff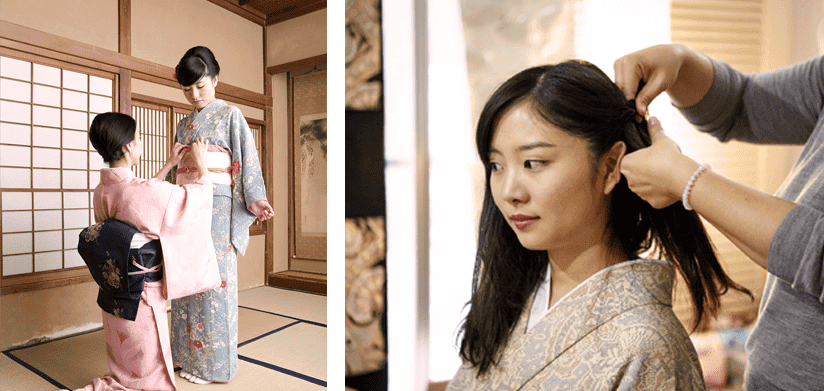 Your cultural experience in Osaka will be more fun, enjoyable and rewarding when you interact with and learn from bilingual Japanese staff most of whom speak multiple languages perfectly. We select the most friendly and approachable team members who are trained in hospitality and who have the best understanding of the Japanese "omotenashii" spirit. So make a visit to Maikoya Osaka a priority and make a memory that will last for years to come.
Traditional Japanese room
Maikoya Osaka is a brand new tourist and entertainment complex in the popular Shinsaibashi shopping area, Osaka. After the kimono activity, you can continue with a range of other activities and workshops at Maikoya Osaka or hang out at the relaxing Maiko Cafe to create a Japanese cultural experience you won't ever forget.