Virtual classes have become a common occurrence, not just among students, but also among adults who are finding new hobbies to fill the boredom, like cooking. Japanese cuisine has been a go-to for a lot of people for its health benefits, prompting online classes from places like Maikoya, airKitchen, and YUCa's Japanese Cooking.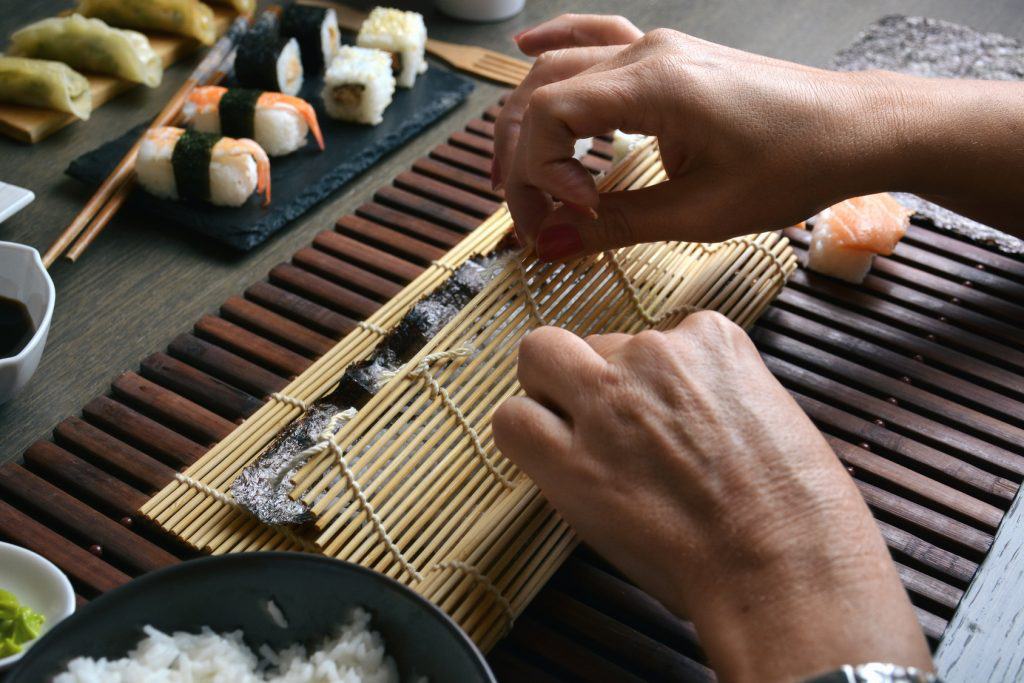 Experiencing the past year and series of historical events in 2020 has undoubtedly changed the course of our lives, with no one really knowing when we all go back to what we have considered as normal. 
Many countries were forced to go on lockdown and strict travel restrictions were put in place, making dining out or eating with friends close to impossible. So cooking at home became a popular hobby that the majority of people picked up, especially since most restaurants are either closed or didn't offer delivery at the beginning of the pandemic. 
Although most businesses did end up adapting around the restrictions to keep running, some went the extra mile to offer their services around the world and in the convenience of their customers' homes.
A few months into this newer, more hopeful year, the majority of us have learned to cook most of our favorite meals with the help of sites like Youtube, Facebook, Pinterest, and even Instagram. But what if you're craving something very specific that you could really only get from stores or certain countries?
In Japan, many sites and businesses have started moving from their regular cooking classes to online and virtual cooking courses. These classes range from making sushi, gyoza, and even wagashi.
Here, we've gathered some of the best cooking classes you'll find online, straight from Japan!
Summary Comparison:
| | | |
| --- | --- | --- |
| Classes | Price Range (USD $) | Dish Variety |
| Maikoya | 18 | two types of dishes for groups |
| Airkitchen | 22 – 50 | 133 available classes to try |
| YUCa | 48 – 334 | one kind of dish per session |
| Tokyo cooking studio | 20 – 286 | 2-7 menu items depending on which class |
| Tokyo Sushi Academy | 29 – 95 | 3 or more kinds |
| Chef Yoshimi, the chef and the dish | 299 | 2-4 including side dishes |
| dance your way to delicious noodles, byfood | 24 | |
| osaka-style okonomiyaki, byfood | 24 | |
| master sushi class, udemy | 100 | 3 or more kinds |
| Online wagashi making class, byfood | 29 | 2 kinds of motifs |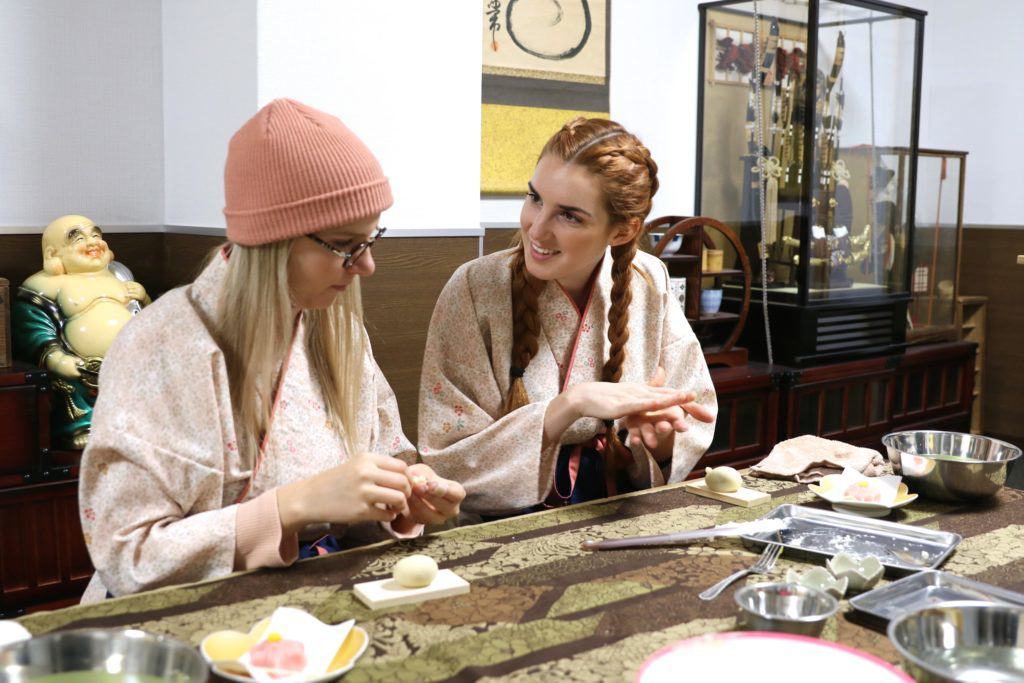 Maikoya is a leading cultural experience provider in Japan with branches in Kyoto, Tokyo, and Osaka. English cooking classes are offered all their branches, hosted by local chefs and experienced cooks in Japan.
The classes range from learning how to make sushi, okonomiyaki, and even sweets making classes, while online classes offer ramen making and Japanese fried rice cooking. Online virtual tea ceremonies are even offered to those who are interested.
Depending on the branch, students will be able to learn local specialties–the most popular classes are from the culinary capital of Japan, Osaka. The highly qualified instructors offer their guidance on customary Japanese meals and desserts, even offering bits of history on the food, ingredients, and preparation techniques.
Their online cooking classes can accommodate not only individuals but groups and teams, making it a perfect time to bond with friends, families, and coworkers!

airKitchen has been holding cooking classes covering international cuisine for years, the majority of which are located all over Japan. Their Japanese cooking classes offer a wide range of culinary options from sushi-making, ramen, bento boxes, and even vegan and vegetarian recipes. 
Now, airKitchen has evolved and added online cooking classes into their repertoire, making food preparation a breeze for their students, and bringing clean, healthy Japanese recipes into homes worldwide.
Their online cooking classes are shot from the kitchens in the homes of the experienced hosts, using apps like Zoom and Skype for the virtual cooking experience.


YUCa or YUCa's Japanese Cooking is a cooking class located in Tokyo hosted by a home chef, creator, and mom, YUCa. The classes are centered around simple, easy-to-do Japanese recipes that anyone can follow. 
They have limited, private classes held in person in Arakawa, Tokyo, and the recently introduced online virtual cooking course. Students will be able to sign up for individual classes or entire courses. A schedule is also provided on the website to accommodate international students and coordinate with the timezones in Japan.
YUCa's Japanese cooking also features cooking videos and mini food tours in Japan on their Youtube channel and provides updates on social media sites like Facebook and Instagram.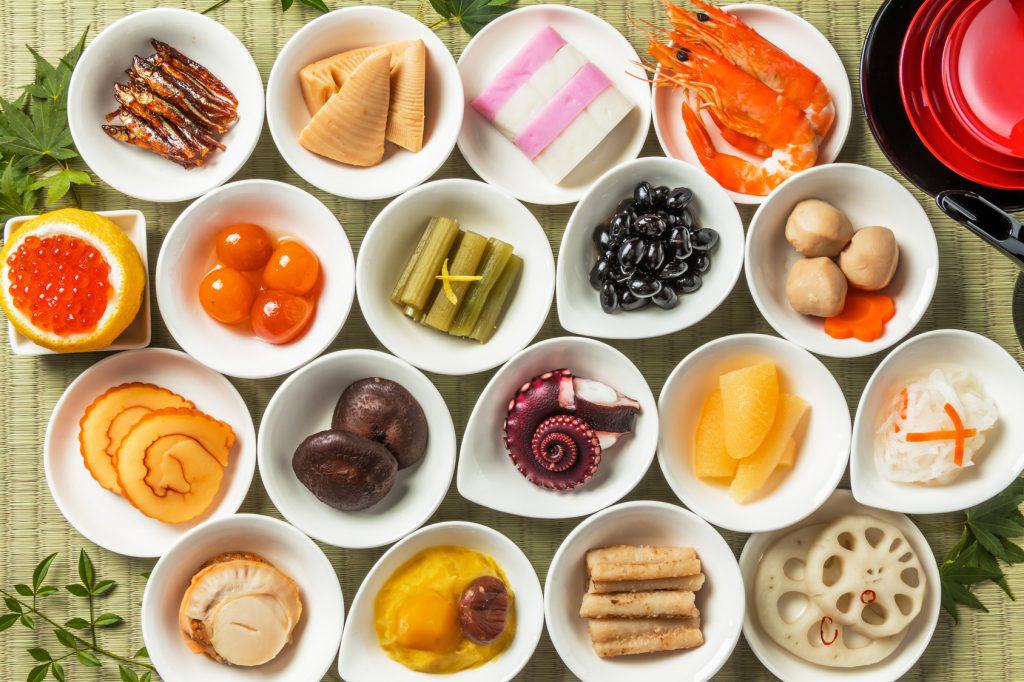 Tokyo Cooking Studio specializes in providing an enriching culinary and cultural experience through Japanese cuisine. The activities not only provide instructions and ingredients to follow but gives students the opportunity to learn about traditional ingredients and how they are grown and prepared using techniques and tools used in Japanese cuisine.
Their online cooking classes have been around since before the pandemic started, catering to students and guests from all over the world. To accommodate international students, Tokyo Cooking Studio chooses recipes that require ingredients that are easily accessed or substituted with. Special group classes can even be requested to have a cooking session with friends and family online.
Tokyo Sushi Academy offers a multitude of cooking classes, both short-term and long-term courses to students in Japan all over the world. Their in-person classes are held at their branch in Tsukiji, Tokyo, and takes pride in being the first sushi school for international students in the country.
Their cooking courses vary in length, from the 5-day course covering ramen, yakitori, and tempura, to a 5-6 week complete course for sushi, sashimi, and other Japanese dishes.
A new, upcoming course and lecture is anticipated from Tokyo Sushi Academy that provides a certificate for the basic knowledge of sushi and preparation techniques.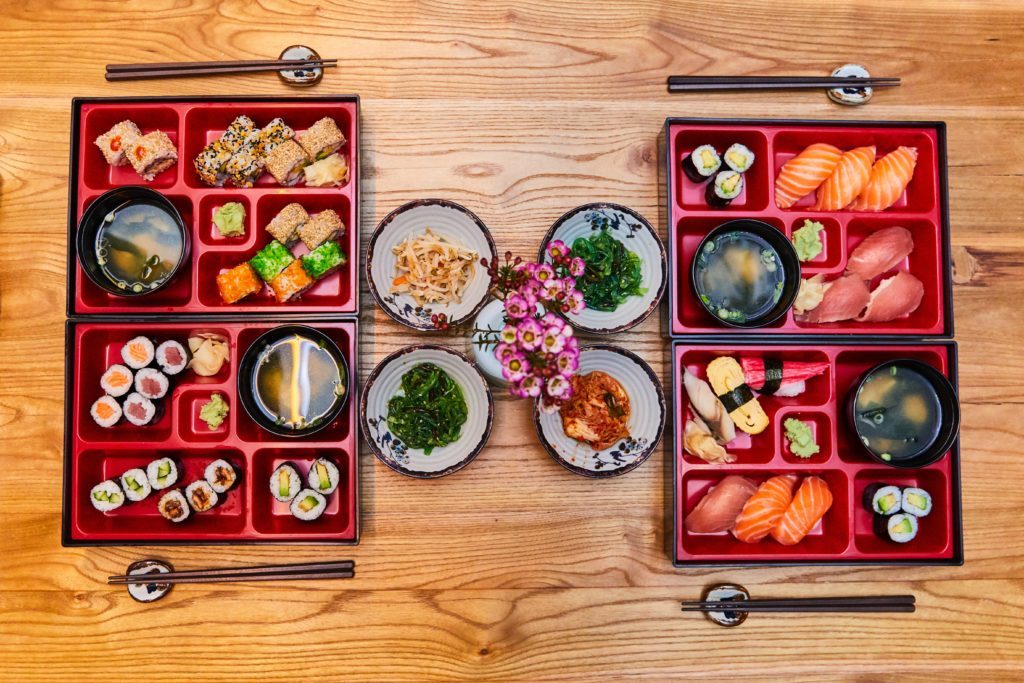 Mosaic Sushi Rolls class is hosted by Chef Yoshimi from her home in Tokyo, Japan. The class covers two different sushi rolls–mosaic rolls, and rice rolls with salmon flakes, a Japanese style omelette with seasoning, and two traditional Japanese side dishes like spinach and miso soup.
Chef Yoshimi will be able to provide guidance for anyone to roll sushi like a pro–whether or not they're experienced. The two and a half hour class is held over Skype and comes with a recipe booklet for students to revisit and recreate the dishes outside of class.
Her other classes on The Chef and The Dish website include Gyoza and Miso Soup, Bento Box, and Okonomiyaki, as well as the previously mentioned Mosaic Sushi Rolls.
The Chef and The Dish also features more cuisines and online virtual culinary classes on their website.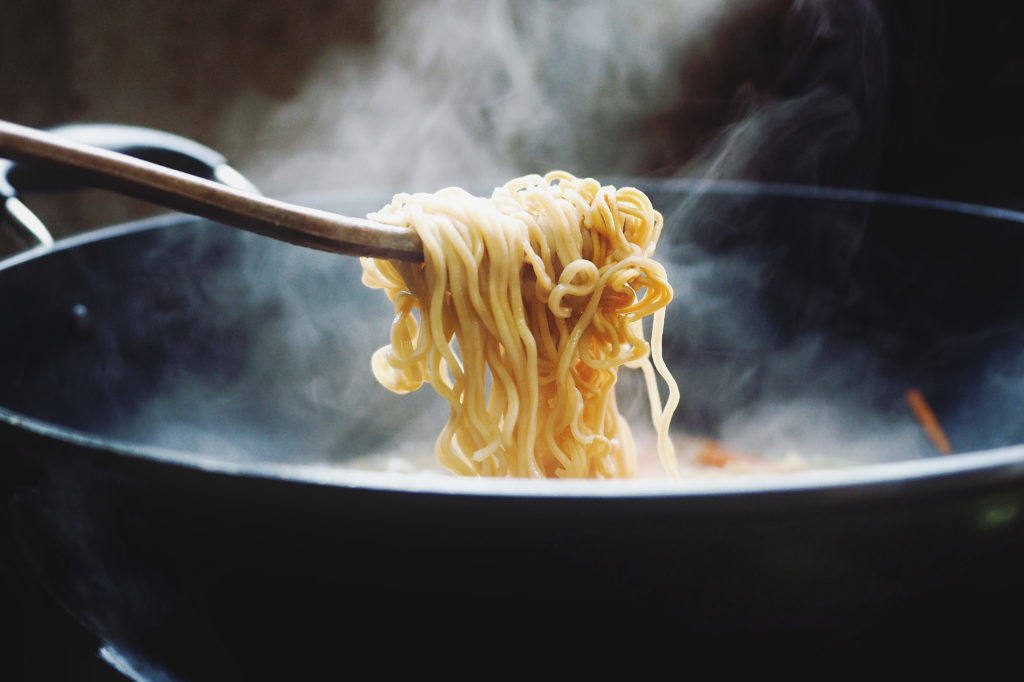 This online cooking class from byfood.com is led by Manami-sensei, and teaches students a specific technique called "dancing on the dough" that makes use of an old practice of kneading the covered noodle dough without the use of hands. The fun and interactive lessons will get students to move along to J-pop and anime songs, making the work of making ramen noodles a piece of cake. 
Students will be able to make their own hearty chicken broth and pork broth to go with the noodles, as well.
This okonomiyaki class is hosted on byfood.com and is conducted using apps like Zoom. This class focuses on making the beloved "Japanese pizza" or okonomiyaki, popular party food that's enjoyed all over Japan. This class will also cover how to make the special okonomiyaki sauce that's used as a topping on the dish, along with mayonnaise.
This online course accommodates international students, as the instructions will be given in English and in Japanese, along with a recipe sheet for additional guidance to complement the virtual instructions.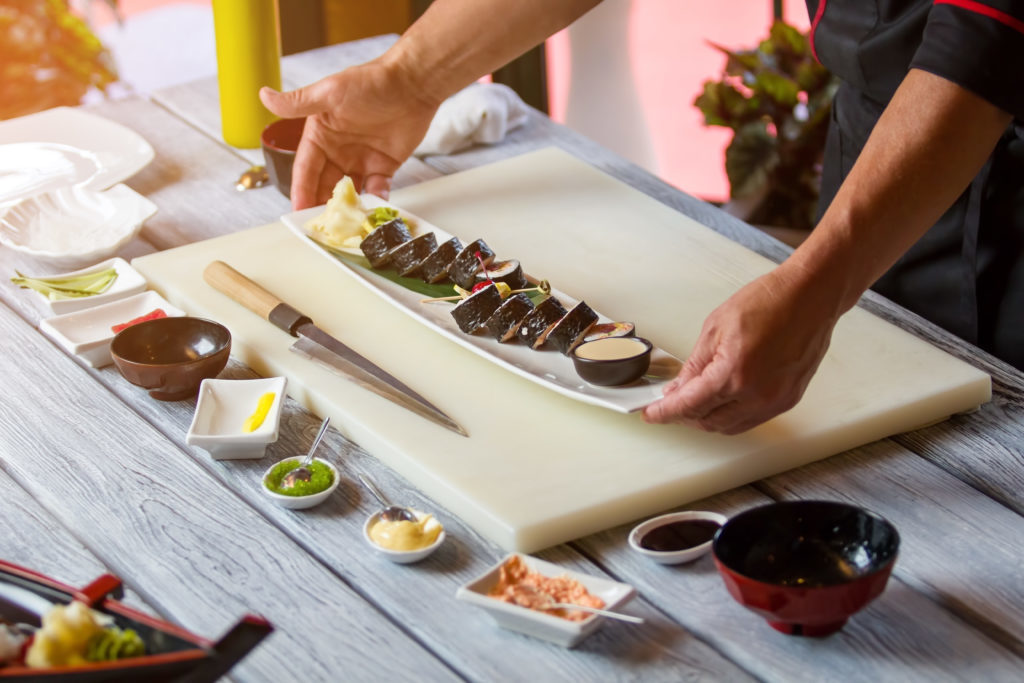 Keiko Yamamoto, a professional chef and "Sushi Queen" will be the one hosting this masterclass, and provide a guide on how to make various types of sushi so participants will be able to learn how to make the dish exactly how they prefer it, without the hassle of going out.
The course is designed for all, from beginners to private chefs, covering a wide scope of how to prepare sushi from cooking the rice, to making homemade sushi vinegar and wasabi. This 2-hour course is broken down into shorter sections and even comes with an ingredient and recipe list, along with instructions.
Some of the dishes featured in this class include, but are not limited to nigiri sushi, inari, sushi rolls, and dragon rolls.
Wagashi are traditional Japanese sweets that can be a little complicated to make for someone who isn't experienced. Wagashi are normally enjoyed during tea ceremonies in Japan and the handmade sweets require careful attention to detail.
This online class on byfood.com is headed by a certified instructor and teaches participants how to make the beautiful snack using traditional techniques and ingredients. Students will be able to learn how to shape the decorative treat and try nerikiri wagashi. 
The lesson will include a complete list of tools and ingredients upon booking, as well as a recipe sheet so students will be able to recreate their treats outside of class.