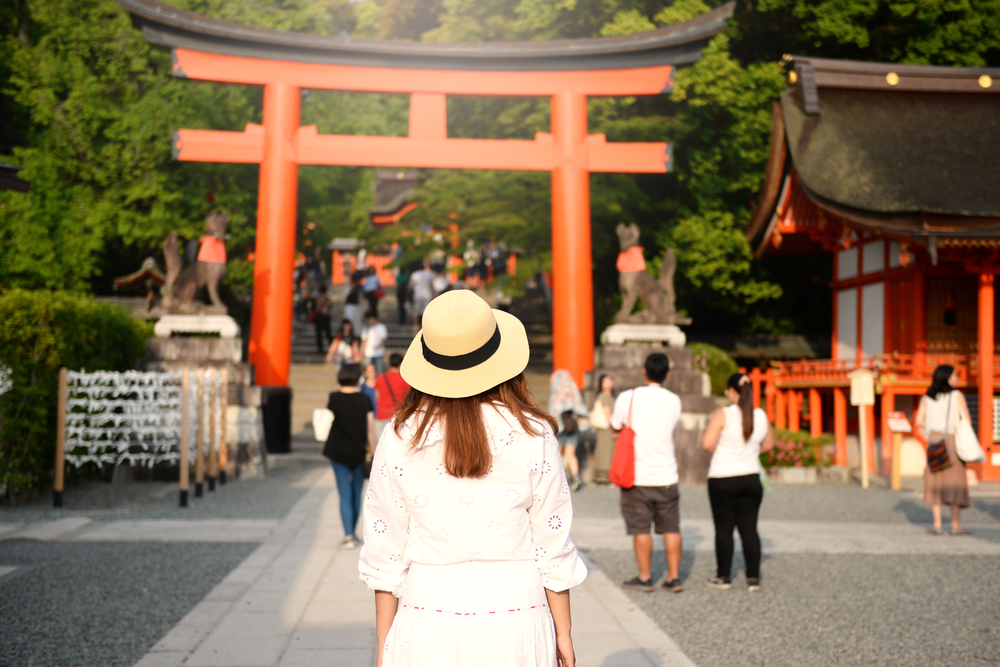 Japan is home to scenic locations and historical sites which attract a lot of people worldwide. The mixture of colorful pop culture and traditional venues are what make the country so eye-catching. Japan is also the collector of exclusively-flavoured Kitkats and delicious meals, which is surely enticing to food-lovers. One may have a passport and is ready to travel the country, but little do people know the importance of booking to a travel agency. Here are reasons why one should opt for a Japanese travel agency when travelling to Japan.
Purpose of Travel Agencies
Travel Agencies Know Where to Go. 

Travel Agencies have already collected travel experiences with multiple clients. They know the destinations and the information about the location one is about to travel to. Agencies also know activities which guests might be interested in.
Travel Agencies are Time and Money Savers. 

Since travel agencies know Japan destinations better and travel options, their clients can save time in planning. Clients can also save time by knowing on what to spend on and can prepare their travel budgets with ease.
Travel Agencies Provide Travel Guidance. 

Travel agencies can help with the events or festivity a client wants to go to. They know about the seasons of Japan and can advise a client what month is ideal to see the popular cherry blossoms or see thick snow.
Travel Agencies are Also Advocates. 

If there are unexpected and unavoidable that can disrupt a travel of a client, travel agencies can help in resolving the case so clients can still enjoy their trip in Japan.
Best Travel Agencies for Japan Travel 2021
After knowing the benefits of a travel agency, this list will guide readers through the most recommended travel agencies in Japan. The following are considered to have topnotch connection with customers and quality service in travel planning:
InsideJapan Tours
View this post on Instagram
InsideJapan is one of the leading travel agencies in Japan. The agency is an award-winning, market-leading specialist that offer group tours, personalized travel options, and cultural travel experience to clients. The agency has years of experience in giving quality service to travelers coming from different countries around the world. InsideJapan has branch offices located in the USA, UK, Australia, and Japan.
Travel Package
The Exclusive Private Journey package of InsideJapan offers a 5-day trip to Hiroshima and Miyajima, a 7-day art and culture trip to Shikoku, and a 5-day trip focusing on the highlights of Hokuriku. Clients can also opt for a 4-day tour of Samurai experience and snow monkey meet and greet, a 5-day Kyoto city and country tour, or a 5-day trip focusing on Tokyo.
Their Small Group Tour has different travel styles ranging from IJT essential, classic, and all-inclusive to superior and deluxe packages. The agency has a total of 12 options, with day trips ranging from 9 to 15-day trips around Japan.
For those who would like to go on a solo trip or with their significant other, their Self-Guided Adventures package is the most recommended tour. InsideJapan offers Essential, Classic, Superior, and Deluxe Tailor-made tours. The agency has over 60 travel options clients can choose from. Their trips range from 4 to 18-day trips around selected areas in Japan.
Booking Themes
Travelers might be overwhelmed with the wide range of InsideJapan Tours travel selections. The agency has put these into categories like Honeymoon trips, Family trips, Skiing & Winter Sports package, Diving Trips, Active Tour Packages, Accessible Travel, and even Photography Tours for people who are passionate about their skill.
Exo Travel
View this post on Instagram
Exo Travel is a travel agency that patronizes the sites and beautiful locations around Southern Asia Continent. It was the first-ever foreign-owned travel company that received a tourism license in Vietnam during year 1993. In the year 2015, it has 20 offices and around 700 staff. The agency opened their tourism services to the 10th country in their travel list back in 2017. It has offices in Thailand, Germany, France, Australia, the United States, Ireland, the United Kingdom, and Latin America.
Japan Travel
Exo Travel offers complete cultural experience and leisure travel to its clients. The agency has a wide range of travel packages to Central Japan and the Alps, Tokyo and North Japan, Hiroshima and West Japan, Shikoku, Kyoto, Nara, Osaka, Mie, Wakayama, and Kyushu. Travel Packages of the agency also offers tours with exciting activities to do in Japan. Clients can choose from cycling, water adventure, trekking, exploring, and multi-activity adventures.
Travel Destinations
Guests will surely appreciate the culture and traditions of Japan through Exo Travel. Guests are also welcome to explore other travel destinations packages in Myanmar, Vietnam, Thailand, Laos, Indonesia, Cambodia, Malaysia & Borneo, and also offers multi-country tour options.Website:
Destination Asia
View this post on Instagram
Started in 1996, Destination Asia is one of the leading travel companies in Asia. The agency manages around 29 local offices around the Asian continent. They bring passionate and quality travel services to clients through patronizing treasured locations and sites. Destination Asia Japan also helps clients to travel to cultural festivities and events, especially in Japan.
Japan Travel
Destination Asia does not only offer awesome travel packages, but also unique experiences in Japan. Booking a trip at the agency will have guests tour Technology Island and spend an evening at a local gourmet. Guests can also experience and participate in the Japanese swordsmith workshop and learn about the heritage of Nara. Animal-lovers can also opt to witness the stunning and once-in-a-lifetime whale-watching season.
Travel Destinations
Even during this pandemic, Destination Asia continues to update and accommodate guests for their future travel plans. Clients can check travel packages to other countries like Thailand, Laos, Vietnam, Myanmar, China, Malaysia, Hong Kong, Cambodia, Indonesia, and Singapore.
G Adventures
View this post on Instagram
For 30 years, G Adventures has been continuing to offer small group adventures for travel enthusiasts. Clients have the option to join small travel groups and make friends while travelling. The agency does not have tour guides but have assigned officers that are locally based on the country or area guests are travelling to. They offer flexibility in travel and encourages their guests to have fun and make the most of the experience.
Japan Travel
G Adventures has a total of 10 trips that highlight different aspects of several Japanese areas. They have packages classified as Classic, a tour that focuses on Japan roads, trains, street food, and rail tours that stretch from Japan to China. The agency also offers National Geographic Family Journeys that highlight ancient history and the modern side of Japan. Lastly, the 18-to-Thirty-Somethings packages cover ramen, railways, castles, and Japanese cuisine.
Travel Destinations
G Adventures also offers awesome tour packages to several countries in Asia, Europe, South America, Africa, Central America and the Caribbean, North Africa, the Middle East, North America, Australia, New Zealand, and the Polar Regions.
Intrepid Travel
View this post on Instagram
For over 30 years, Intrepid Travel has been planning and making adventures for their clients. The travel company has full-time travel industry experts that have provided quality service for several years and are trusted by seven continents. They have also arranged a large number of trips and provides a quality travel experience. The agency remains the world's largest B Corporation and leads adventures with leadership and responsibility.
Japan Travel
Intrepid Travel offers 11 Japan Travel Packages namely the Land of the Rising Sun tour, Japan Express tour, Essential Japan tour, and Classic Japan package. Clients can also opt for the Japan Real Food Adventure package, Japan: Hike, Bike, & Kayak package, and Japan Highlights tour. Others can explore Southern Japan Experience, Ultimate Japan tour, Cycle Japan tour, and Japan Family Holiday package.
Travel Destinations
Intrepid Travel also offers awesome tour packages to several countries in Africa, Asia, Australia, Oceania, Central America, Europe, Middle East, North America, Polar Regions, and South America.
Booking Themes
Travelers might be overwhelmed with a wide range of Intrepid Travel selections. The agency has put these into categories like 18 to 29s, Adventure Cruising, Cycling, Family tours, Food tour package, Retreat travel package, and Tailor-Made adventures. Clients who like to take things a bit slow can opt for Walking and Trekking tours.
Walk Japan
View this post on Instagram
Walk Japan is a widely recognized travel agency that is featured in the South China Morning Post, Bazaar, Forbes, CNN Travel, Vogue, The Telegraph, and other well-known companies. Established in 1992, Walk Japan has pioneered innovative walking tours throughout the country. Since its start, it has been independently owned and managed. The company provides the best travel guides and tours in Japan and aims for quality customer service.
Travel Package
Walk Japan has 22 Guided Tours with trips ranging from two to eleven days of touring. Guests can choose from packages that features places like Basho Tohoku, Hokkaido, Izu Geo Trail, Kumano Kodo Pilgrimage, and Kunisaki. Other tours also feature the beauty of Kyoto, Tokyo, Nagano, the Oita Hot Spring Trail, and other temples.
The Specialty Tours of Walk Japan is inclusive of walking tours and unique travel elements that enhance the experience of the traveler. Guests can choose from four special tour packages with trips ranging from five to seven days. These packages tour clients to Kunisaki, Onsen Gastronomy in Gifu, Onsen Gastronomy in Oita and Kumamoto, and experience the Okinawa Voyage.
If a client is more of a DIY type, then he or she can opt for the Self-Guided Tours. Guests can travel at their own pace and experience the rich nature of Japan. Clients can choose from seven travel packages with trips ranging from five to seven days. They can venture into Basho, Kiso, Kumano, Kunisaki, Nakasendo, Shikoku, and Tokaido. Guests are also welcome to consult for a customized package tour or opt for school trips.
Travel Destinations
If travelers are overwhelmed with the amazing tour packages Walk Japan offers, they can think of the places they want to explore first in their Japan travel bucketlist. Walk Japan can take their clients to Hokkaido, North Honshu, Central Honshu, West Honshu, Shikoku, Kyushu, and Okinawa.
JTB
View this post on Instagram
Founded in 1912, JTB first started with 11 employees which has now grown to 25,000 staff based in Japan and over 3,000 staff outside Japan. From its humble beginning, the travel company has now become the No. 1 travel agent in Asia. The company has offices in 34 countries and regions around the world. Today, JTB has 516 offices that cover about 36 countries worldwide.
Travel Destinations
Wondering where to start the journey in Japan? JTB can take clients to several places in the country, from the discreet and humble sites to the most popular attractions. Guests can choose travel packages in Tokyo, Kamakura, Osaka, Niseko, Sapporo, Hakone, and Okinawa. Clients can also opt for other destinations like Fukuoka, Hokkaido, Nagasaki, Takayama, Kyoto, and Furano. 
Travel Services
Aside from travel arrangements, JTB offers wide range of services from JR Rail Pass, Land Arrangement, USJ Admission Ticket, Airline Tickets, Visa Assistance, MICE & Incentive Tours, Travel Insurance, and Customized Tours.
HIS Tours
View this post on Instagram
HIS Tours is a company that provides services worldwide. The company has a total of 200 branches in 130 cities outside Japan and has 303 local retail stores. They have highly experienced and knowledgeable staff the helps clients with their requests and demands. HIS Tours provides services in travel, airline arrangement, ticket booking, and hotel reservations.
Travel Destinations
HIS Tours offers travel packages that will take clients to Tokyo, Osaka, Kyoto, Nagoya, and Sapporo. They also offer travel activities and sightseeing tickets to popular locations in Japan. They help their clients with transportation assistance and connection services like WiFi and SIM connectivity. The most ideal package tour for this pandemic is their virtual tour via Zoom.
Supera Tours
View this post on Instagram
Supera Tours started as a sister company of renowned Taiwanese-American Signet Tours. The Travel Company later changed its name from Super Value Tours to Supera Tours. They provide hands-on quality service to their clients and assures them that there are no tricky charges or tourist traps. The travel company aims to provide excellent customer connections during their travel arrangements and journeys of their clients.
Japan Travel
Clients of Supera Tours can choose from seven amazing tour packages with trips ranging from six to eleven days of touring. Clients can choose tour packages like the 6-day trip to Japan Kanto, the 7-day trip to Japan Kansai, or visit classic attractions in Japan for 10 days. Guests can also opt for combination trips like 10-day tour in Hokkaido and Tohoku, 11-day trip in Niigata, Nikko, and Sado Island, or make most of a 10-day trip in West Japan and Naoshima Island.
Travel Destination
Japan Travel also offers awesome tour packages to several countries like China, Peru, Russia, Taiwan, Ecuador, and to other stunning locations in South East Asia.
One Life Adventures
View this post on Instagram
One Life Adventures provides cultural activities and experiences to each travel destination their clients choose. The agency will tour their guests to local cuisines, let them participate in traditional crafts, and help make once-in-a-lifetime memories. The company values its clients by connecting with them and making sure they have quality service to have an extraordinary journey.
Japan Travel
One Life Adventures offers two awesome travel packages that range from 10 to 14 days of Japanese Culture and experience. The 10-day tour is where guests get to witness the combination of traditional and modern Japan. Guests will tour Kyoto where they can see professional Geisha. People will also enjoy Tokyo and Osaka where they will learn how to roll sushi and experience sleeping in a temple. The 14-day tour is the extension of the 10-day trip where guests get to visit Hiroshima Memorial and see Miyajima.
Travel Destinations
Japan Travel also offers awesome tour packages to several countries like Indonesia, India, the Philippines, and Sri Lanka.