Tattoos or irezumi (入れ墨 ) are often taboo topics when it comes to Japan, especially to bathing establishments like onsens. The banning of tattoos has long been included in the history of hot springs, avoiding service to any tattoo-wearer who visits. This rule is still observed by many facilities today, but one may question why. Before thinking that this may be a rude gesture, the Japanese just want to steer clear out of trouble from crime-related figures.
In Japan, people who have tattoos are perceived to be gangsters, the Yakuza especially. It was once seen as a form of punishment for illegal activities and antisocial groups, signaling establishment owners to take measures by not associating with these people. Though not all people who have tattoos are criminals or gangsters, it is sad to think how a cultural experience could have a limit because of ink marks on a person.
Fortunately, some hot spring facilities have opened their services to tattoo-wearers, allowing them to enjoy relaxation and comfort. This list is composed of recommended onsens for inked people so they will be able to add items to their Japan travel bucket list.
Hasunuma Onsen
Hasunuma Onsen is the go-to onsen for tattoo-wearers located in the Ota City of Tokyo. Its baths are filled with natural hot spring waters considered the "beautiful skin bath", which help smoothen skin. Renovated back in 2017, the inn has its designs that display the nostalgic aesthetic of the Taisho Era, creating a relaxing ambiance. Guests can find three tubs in the bathing area, one filled with hot spring, the other carbonated spring, and the third filled with natural spring. The onsen also has sauna rooms majorly made from Japanese cypress wood, giving an aroma and rejuvenating vibe. 
Konparuyu Onsen
Konparuyu is a public hot spring facility in Ginza of Tokyo. The onsen is tattoo-friendly and has served bathers since 1863. Konparuyu sometimes mix seasonal herbs and flowers to its onsen waters, which gives a pleasing fragrance to bathers. Shampoos and conditioners are also provided by the onsen, however guests are encouraged to bring their own toiletries especially on Fridays as the place can get a bit full.
Kosugiyu Onsen
Kosugiyu Onsen is a public bath located in the Suginami City of Tokyo. The onsen has a long history of 90 years and has evolved as a creative place, displayed by its interiors. Some of its special baths feature milk baths, floating oranges, and tomato juice. Its offers are unique as these are only available based on the seasons. Events are also held in the onsen like concerts and performances, making Kosugiyu one of a kind.
Mannenyu 
Mannenyu Onsen is a hot spring bath located in Shinjuku City in Tokyo. Since the 1960s, the onsen bath has been welcoming its customers right in the middle of Tokyo. It has undergone renovations over several years, having a contemporary and clean look. The onsen has preserved the classic style of wooden walls and served a 45-degree hot water bath that will surely rejuvenate skin. A denkiburo can also be enjoyed here.
Mikokuyu
Mikokuyo offers public baths in Sumida City in Tokyo. It displays a traditional Japanese aesthetic of a bathhouse that welcomes tattoo-wearers and elderly visitors. Renovated in 2015, the onsen has the look of contemporary style, which can be seen in its exteriors and interiors. It has gender-segregated baths with creative bathing concepts that change regularly.
Hottarakashi Onsen
Hottarakashi Onsen, also translated as the Neglecting Hot Spring, is a hot spring bath located in Yamanashi City. It has a popular open-air onsen facility that offers bathers a magnificent view of the famed Mount Fuji, known as the tallest mountain in Japan. Its natural hot spring waters are Alkaline Springs, which give the skin a beautiful and smoothening glow after bathing.
Ishidan no Yu
Ishidan no Yu is a hot spring located in Shibukawa City right in the middle of the stone steps of the Ikaho Spa Town. These stone steps represent Gunma, which leads to other onsen facilities. The source of its onsen waters appear brownish, also referred to as "golden hot water". It is a humble facility, having only an indoor bath, which sometimes gets crowded with locals and tourists. Guests can also have a look around the hot spring town and check out souvenir shops.
Kagoiwa Onsen Ryokan
Kagoiwa Onsen Ryokan is an onsen ryokan, with Nikko being the closest city. It is here where guests go to for a pure hot spring experience. The area of the onsen sits within the famous Nikko National Park, a venue known for activities and attractions that are celebrated throughout the year. The bath of Kagoiwa is an open-air hot spring paired with distant mountain views and the Kinugawa River. The area is surrounded by nature and is open to non-staying guests like backpackers.
Kurone Iwaburo
Kurone Iwaburo is a tattoo-friendly onsen located in the town of Higashiizu Cho, which is a 3 to 4-hour drive from Tokyo City. It has open-air baths that boast views of the ocean, giving a relaxing sight of nature right from its bathtub. Three baths are located outdoors, having two rock baths for men and a circular bath for women guests. The ladies also have special scheduled hours for bathing, allowing them to use the rock baths around 7 to 9 in the evening.
Visitors must not use soap when cleaning their bodies. They are also advised to take a shower after hot spring bath hours. Guests who are not used to open-air baths are allowed to use a bathing or bath towel, however, swimwear is not allowed. Bathing in the onsens of Kurone Iwaburo is free for staying guests. Yukatas are also provided for a rich cultural experience during the stay.
Hoshi Onsen Chojukan
Hoshi Onsen Chojukan is a 140-year-old onsen in Minakami Town, which is a three-hour drive from Tokyo City. The onsen offers konyoku, also referred to as the mixed-gendered bath. The place is a recommendation for bathers who dare to experience an old-fashioned type of bathing. Though this may be unusual to some, konyoku has long been the norm of the Japanese people. This practice dates back way before Westerners set foot in the country.
Jigokudani Onsen Korakukan
Jigokudani Onsen Korakukan is a hot spring ryokan in Shimotakai District, with Nagano being the closest city to the facility. The onsen sits near the Snow Monkey Park, an attraction famous for the Japanese Macaque or the Snow Monkeys. The ryokan features indoor and open-air baths for guests and also welcome non-staying travelers. Guests, however, must take care of their belongings, especially when snow monkeys approach.
Tsubame Onsen Kawara no Yu
Tsubame Onsen Kawara no Yu is a hot spring facility in Myoko City. The area of the onsen is considered as one of the best highland resorts of Japan. The onsen is surrounded by the forest, a little further away from the onsen town. Its gender-segregated baths are filled with natural onsen water that displays a "milky white" appearance. Its waters are white due to the mineral content of the spring.
Funaoka Onsen
Funaoka Onsen is a public bath situated right in Kyoto City, a place famous for its Geisha District in Gion. The onsen has many types of baths, ranging from vintage tiles of walls and wood carvings to denkiburo. Funaoka is considered to have the first electric bath in Japan. It has a low-level current that travels through the hot spring waters that intend to soothe muscles and aches for a unique bathing experience.
Shirahama Onsen Saki no Yu
Saki no Yu is an onsen located in Shirahama of Wakayama City, which continues to be a top recommendation of tattoo-wearers. It is considered as one of the oldest hot springs in Japan, joining the same category where Dogo Onsen and Arima Onsen are listed. The onsen features open-air baths that boast the beauty of the Pacific Ocean. Waves would also sometimes playfully splash bathers, making the experience more refreshing.
Dogo Onsen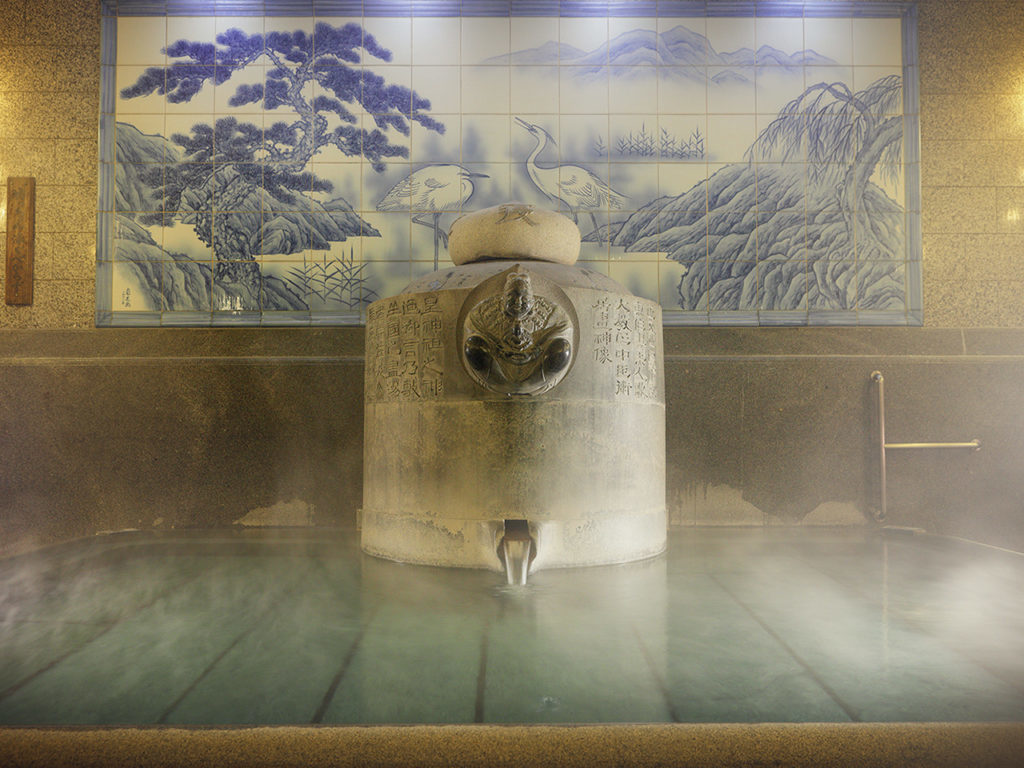 Dogo Onsen Honkan Kami-no-Yu, dogo.jpDogo Onsen is one of the oldest and most renowned hot springs in Japan. It is located in Matsuyama City and has attracted both tourists and locals with its bathhouses and ryokan accommodations. The Dogo Onsen has also been relevant through the years, serving as a reference to one of Japan's most renowned movies entitled Spirited Away, an award-winning film by Studio Ghibli. The water of its onsens are rich in minerals and are capable of soothing tensions found in the muscles.
Hoheikyo Onsen
Hoheikyo Onsen is a popular hot spring facility located an hour-ride away from Sapporo City. Situated in the onsen town of Jozankei, Hoheikyo is especially most stunning during the winter seasons. Guests will be able to bathe while snow falls around the onsen. Their open-air hot spring bath is known to be the largest rotenburo in Japan that can reportedly fit about 200 bathers.
Beppu Beach Sand Bath

Beppu is located in Oita Prefecture, known for its collection of hot springs that can be found around the city. Beppu is considered as the city with the largest number of onsen water sources. It is where the Shoningahama Beach and the Beppu Beach Sand Bath is. Guests lie on natural hot sands while having an umbrella as a shade and can wash at a nearby traditional onsen after the sand bath.
Ekimae Koto Onsen
Ekimae Koto Onsen is an onsen resort that has continued to operate in the same building for 90 years. It is located in Beppu City, a place known for its collection of hot springs and is considered the city with the largest number of onsen water sources. The facility is already century-old and remains to feature bath temperatures ranging from 44 to 48 degrees celsius. Ekimae Koto is close to the Beppu Station and is an ideal spot for relaxation, especially for backpackers.
Onsen Manners and Etiquette