Need some tips on where to stay in Kyoto, Japan? Looking for Kyoto accommodations that will give you a cozy and authentic Japanese experience? Then, make sure to book a stay at one of the best ryokan in Kyoto!
A time-honored tradition, a ryokan is a traditional Japanese guest house where guests get to immerse into the charming culture.  Plus, a stay at a ryokan in Kyoto lets you indulge on the city's mouthwatering seasonal cuisine, learn the language and even soak in reinvigorating hot springs.
To top it all off, today's ryokan in Kyoto comes with a variety of amenities and cool features, including luxurious spas as well as gorgeous tatami and bamboo accents.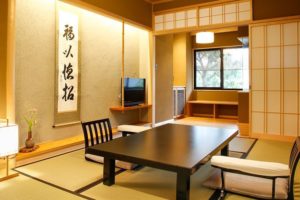 Explore the most picture-perfect locale in Kyoto – Arashiyama – by staying at the picturesque Togetsutei. Located west of the city's urban area, Arashiyama is truly an awe-inspiring natural wonder with beguiling creatures, architecture, rivers and scenic mountains. And, the rooms of this ryokan offer a plethora of luxurious amenities, private gardens and mesmerizing views
When not venturing into the wonders of Arashiyama, you can also enjoy the ryokan's gift shop, onsen and spa.
Phone number is +81 75-871-1310, and starting price is around JPY 13,000.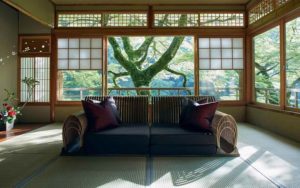 They don't call Hoshinoya as the best ryokan in Kyoto for nothing. Nestled perfectly at the heart of Arashiyama, this picturesque ryokan in Kyoto will sweep you into bliss with its river views and magnificent scenery.  Originally built in the Meiji period, this luxury Japanese inn is beloved for its cozy ambiance as well as eye-catching decorations, including lanterns and handcrafted furniture.
Of course, Hoshinoya Kyoto also boasts extremely snug rooms, first-rate service and delectable meals created by the well-known chef Kubota Ichiro.
When staying at this ryokan in Kyoto, don't forget to check out its water and atmospheric open-air tearoom. Phone number i +81 570-073-066 and starting price is JPY 42,500.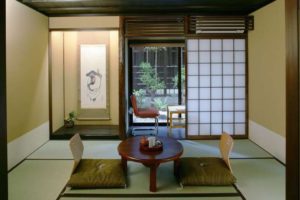 With its convenient location and versatility, it's no wonder Matsubaya Ryokan is often billed as one of the best ryokan in Kyoto, Japan. Offering both Western-style and Japanese accommodations, this ryokan is literally steps away from the celebrated Higashi-Hoganji Temple.
Not to mention, it's located in the serene area in Matsubaya, meaning it's an excellent choice for couples as well as those traveling in Kyoto with kids.
Whether you're strolling through its lush garden or lounging in a cozy guest room, you can experience pure and unadulterated relaxation, here.
Contact number is +81 75-351-3727, and starting price is JPY 12,500.
Kinse Inn was once an ageya, which in English is an elite pleasure house during the Edo period. Today, it has been renovated into a café and ryokan in Kyoto. The café's ground floor has stained-glass windows and vaulted ceilings that serve as remnants of the Westernization period of Japan during the 1900s.
Upstairs, guests will find a small traditional Japanese bath where you can unwind after a day of non-stop sightseeing in Kyoto. Additionally, it has a more authentic Japanese charm, with calligraphy scrolls and paper lanterns that decorate the inn's rooms.
The whole second floor can be privately rented for those who want to immerse themselves fully in this extraordinary ryokan in Kyoto with more than 200 years of history. Contact number is +81 75-351-4781, and starting price is JPY 17,000.
5. Ryokan Sumiya Kihoan
Searching for the perfect place to pamper yourself or spend a retreat with your loved one in Kyoto? Why not book a stay at Ryokan Sumiya Kihoan? With this ryokan in Kyoto, you get to choose from a private hot spring bath or a traditional Japanese guest room with impressive mountain views. What's more, the inn has a full-service spa offering therapeutic treatments, like Ayurveda.
Plus, it has an impressive Japanese architecture and lovely grounds wherein guests can immerse into classic practices like tea ceremony. Contact number is +81 771-22-7722, and starting price is JPY 19,500.
Gion Hatanaka is located in a celebrated historic district known for its ancient architecture and intriguing geishas. And, while the ryokan's location is one of its top features, there's surely a whole lot more to love about Gion Hatanaka. For one, guest rooms have their private baths and overlook private gardens.
And, it includes a wondrous and one-of-a-kind culinary course that features a maiko – a geisha apprentice – to eat with you. And, did we mention that it's a few feet away from the Yasaka Shrine? Contact number is +81 75-541-5315, and starting price is JPY 25,200.
7. Seikoro Ryokan
Seikoro Ryokan, built in 1831, offers guests snug and modern Kyoto accommodations in the Higashiyama neighborhood. This ryokan Kyoto inn is decorated elaborately with artistic touches blending contemporary features with traditional aesthetics in Japan.
As a guest, you can select between sleeping plush beds or comfortable futons. Facilities of this ryokan in Kyoto include a communal bathing area, verdant courtyard, lounge, café and a restaurant. Contact number is +81 75-561-077 and starting price is JPY 20,520. You can find more information at their website.
8. Tawaraya Ryokan
Tawaraya is, no doubt, one of the best ryokan in Kyoto, Japan. For years, this ryokan Kyoto inn has been luring travelers from all over the world with its top-notch service and cushy accommodations. As a matter of fact, the legendary and late Steve Jobs was once a guest of this ryokan in Kyoto.
The ryokan is renowned for its laid-back atmosphere, thanks to its tranquil Japanese style rooms, expertly maintained garden and sumptuous seasonal meals. While there, make it a point to buy their popular original soap. Contact number is +81 75-211-5566 and starting price is JPY 55,891.
9. Momijiya Honkan Takao Sansou
Located near Mount Takao, Momijiya Honkan Takao Sansou was renovated as well as reopened in 2014. Here, you can savor the fresh mountain breeze and feast your eyes on its gorgeous foliage. And, when nighttime comes, you can gaze in amazement at the million of stars above you.
Alternatively, you can unwind on its open-air elevated bath known as the "bath of the sky".
Contact number is +81 75-871-1005, and starting price is JPY 15,000.
10. Hiiragiya Ryokan
Established in 1818, Hiiragiya Ryokan is an enthralling, refined Japanese-style, two-story ryokan in Kyoto, Japan. It was built to make the visitors feel like they are at home.
One of the ryokan's charms is its Kyoto-style garden than can be viewed from its inviting rooms. As an added bonus, this ryokan in Kyoto offers instant access to Gion and Shin-kyogoku.
Phone number is +81 75-221-1136, and starting price is JPY 34,000.
You can't leave Kyoto without a quick visit to Maikoya. From tea ceremonies to kimono photo ops, Maikoya offes a variety of fun and authentic Japanese experiences.
Photo credits:
Photo number 1: www.togetsutei.co.jp
Photo number 2: Hoshinoya
Photo number 3: Matsubaya Ryokan
Photo number 4:  Kojiro and Seanace (Airbnb)
Photo number 5:  Expedia
Photo number 6: Gion Hatanaka
Photo number 7: Expedia
Photo number 8: Booking.com
Photo number 9: Booking.com
Photo number 10: Ikyu.com
Related Articles
---