Characteristically Kyoto, the traditional Japanese T-shaped dress,usually in silk and consisting of 12 parts, continues to intrigue and attract the worldwide audience. Find your own perfect version while in Japan, with some exquisite choices available, complementing your personality and bringing that mysterious oriental touch to the whole appearance. Prices can go very high, but luckily there are many reasonable options including a rental for a few awesome selfies. What are the best places to buy kimono you may wonder? Coming right up;
The little shop is located near the main shopping area of the downtown Kyoto. You will find it in a small street on the second floor with a sign out front. Touristy yes, but with a great selection and English speaking staff that will help you choose this enchanting garment. Prices? Very reasonable, you can find a lovely outfit for a fraction of the costs. Rental is also an option here.
Address: 235 Sendocho Shimogyo, Kyoto                                                                      Web: https://www.fuukakimono.com/
Mastering the art & science of the hand made kimonos, Chiso is a kimono brand establishing Japanese fashion credentials in 1555. Here we are talking about Haute Couture,  luxurious hand painted, hand made, top quality kimonos using the finest of the domestic materials, labelled with made in Kyoto label and using the yuzen dyeing technique. Their speciality store Sohya Tas is an extravagant stretch of the kimono accessories as well as modern products, made in collaboration with the Japan's famous designers. Definitely worth a look and bring the credit card with the highest limit, temptation is big.
Address: 80 Mikuracho, Nakagyo-ku | 2f,Kyoto 604-8166, Kyoto Prefecture
Web: http://www.sohya.jp/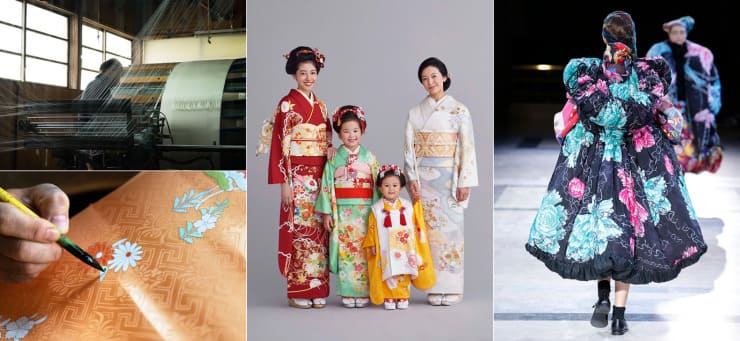 If you're not an avid shopper, introducing Ochicochiya, a kimono store spread over two floors specializing in home washable cotton, truly a practical option and a good place to pick up a bargain. Easy to find in the downtown Kyoto, friendly, attentive and English speaking staff.
On the first floor you'll find new, and the second gives the vintage section, pre-owned kimonos with some very nice and well preserved pieces. Women and men alike can find something without much fuss and expense.
The prices start at 3000 Yen (25$)
Address: Japan, 〒600-8054Kyoto Prefecture, Kyoto, Bukkoji Higashimachi
Web: https://www.ochicochiya.com/
Similar store is Chicago Kyoto, a second – hand clothing store chain in Kyoto found at the address: Japan, 〒604-8061 Kyoto Prefecture, Kyoto, Nakagyo Ward,Web: http://www.chicago.co.jp/store_kyt.html
4. FLEA MARKETS
If you will visit Kyoto on the 15th, 21st or 25th, pop in one of the flee markets to pick up a vintage kimono, souvenirs and so much more from the shops and stalls clustered within. The two largest and most popular are the ones at To-ji located south-west of Kyoto Station, an easy walk from the station, happening on the 21st of each month and Kitano Tenman-gu on the 25th , located near the temple, just make sure to get off at the Kitano Tenmangumae bus stop. Seize the day here, as you will have plenty of choices and opportunity to find a real gem.
Imagine a really fun day, a unique sightseeing adventure that starts at Kyoto Kimono Pro located in the heart of the city, 5 minutes from the Hankyu's Karasuma station, and if you can't be bothered looking for it, just let them know beforehand about your arrival time and they will come to meet you at the station. Apart from their own dress up plans, you can have your fun picking a combo of the day, matching colours and accessories to take out for a stroll. Rental prices start at 3000 yen.
Shop address: Japan, 〒600-8432 Kyoto Prefecture, Kyoto, Shimogyo                        Web: https://kimono-pro.com/english