Renting a kimono in Kyoto and wandering the historic streets in the traditional garment is listed as one of the top things to do for Japan travelers. In the past, only licensed kimono shops were allowed to offer the kimono rental in Kyoto. Recently, because of the tourism boom, any place can offer this service. But how to decide. Here are the things you should consider:
–Price: But don't get trapped. Many cheap kimono places will charge you for accessories or offer only 1 hour rental.
–Location: Usually people tend to rent around Gion where you can find many historic streets and train stations (Gion-Shijo stationa nd Kawaramachi Station) that will directly take you to the bamboo forest and Fushimi Inari 10,000 gates. Check out this guide to get more inspiration and ideas.
–Variety: Some places offer only out of fashion line up and limited colors.
–English Speaking Staff: Almost all shops have clerks who can speak basic Japanese but you may get in to trouble if you want adjustments or late return if the staff has limited English.
–Interior: It sometimes rains in Kyoto and you may want to chose a place that has backdrops and studio, just in case.
Before I reveal my top picks, please spend a moment reading our Kyoto Kimono rental guide. From the renting process to the wearing tradition, this guide has everything you need to know about the kimono in Kyoto. Likewise, check out these quick and interesting facts about kimonos.
Top picks Kimono Rental in Kyoto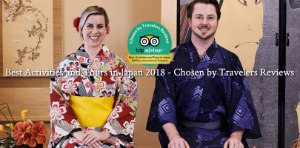 With hundreds of five-star reviews, MAIKOYA is truly the best kimono rental experience in Kyoto. What makes it a standout among the rest is its all-inclusive set, standard pricing (JPY 3,750) and a vast selection of traditional kimonos. MAIKOYA also has many different types of men's kimono, children's kimono and recent trendy style of kimonos. MAIKOYA has 2 convenient locations in the historic Gion area both of them are near main train stations.
In certain times of the year, MAIKOYA offers free guided Gion walking tours and can be combined with other cultural activities like sweets making and tea ceremony. And, if the weather is bad, you can still take tons of incredible photos inside Maikoya, thanks to the numerous backdrops. ***See Instagram photos ***Location and reviews.
Kyo Temari
 is a Kyoto kimono hire shop that specializes in providing 
silk kimonos.
 The designs they offer are beautiful, the colors are vibrant, the embroidery intricate and they have over 300 kimonos to chose from . Each Kimono in their delightful shop is exquisite. ***
See Instagram photos
 ***
Location and reviews.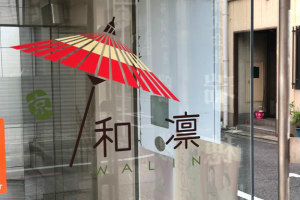 Walin is a decent kimono rental shop, and this is where the Japanese locals come to rent the very best Kimonos in Kyoto. If Japanese ladies have a high-class event to attend, they often visit Walin to hire one of the most stylish kimonos in town. The only issue may perhaps be the staff are not that fluent in English as much as Maikoya or other popular kimono shops in the central areas. ***See more Instagram photos***Location and reviews.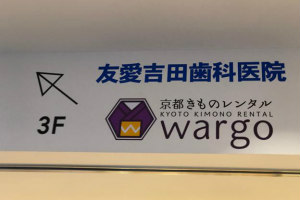 This is a budget-friendly kimono rental shop with a few branches. If you are on a tight budget, and looking for some basic kimono in Kyoto, then check out Wargo. Please remember you have to pay extra for the accessories and the staff has limited English. As the place is frequented by students the environment may be different from your expectations. ***See more Instagram photos***Location and reviews.
5. Yume Kyoto Kimono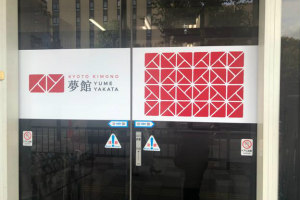 Along with Wargo, Yume Yakata also offers cheap kimono rental. If you are looking for a basic kimono then Yume Yakata is a good option. Their most popular store is in Gojo. For an additional price you can also get some photography services. Other than kimono rental, though, there's no other cultural activity available at Yume. ***See more Instagram photos***Location and reviews.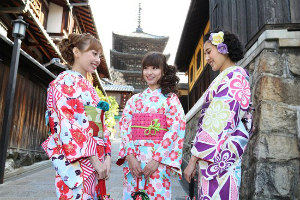 For more than 120 years, this company has been in the Kyoto kimono business, meaning they are trustworthy, as far as dressings and selection. For a basic kimono wearing plan with a walking tour, you'll just have to shell out JPY 4,000. Of course, there are upgrade options for fancier hairstyles, accessories and outfits.  Booking on their website, however, may not be a breeze because it's in Japanese. ***See more Instagram photos***Location and reviews.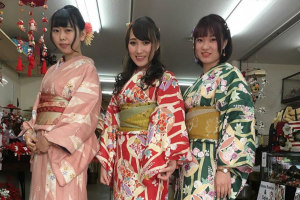 With a handful of yukatas and kimonos on display, Akahime is a nice option for a kimono experience in Kyoto. Prices are relatively inexpensive starting at JPY 1,900, and you get to wear it for about a couple of hours. Alternatively, you may also try their Edo-style kimono or hakama, which costs JPY 5,800 for the whole day. ***See more Instagram photos***Location and reviews.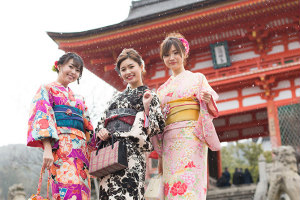 Okamoto claims to be the first store to offer sightseeing in Kyoto in a kimono. With many yukatas and kimonos on their arsenal, and a wide array of package plans to suit everybody, they are a decent rental store and a well-oiled machine. Additionally, they have some good English,Chinese and Korean support. ***See more Instagram photos***Location and reviews.
So, which is the best option, when it comes to kimono rentals in Kyoto?
If you are looking for a decent kimono rental experience with free cultural experience and convenient location then I recommend MAIKOYA. If you are looking for a very basic kimono with the cheapest price and the location is not important then you may consider Wargo or Yumeyakata . In general most Kyoto kimono shops are OK. They provide satisfactory services as well as show the Japanese culture's omotenashi service.
Related Articles