With its rich history, fascinating culture, stunning seasons, and culinary creativity Tokyo is an incredible city to visit no matter the occasion. But if you plan to celebrate your honeymoon with a visit to this wonderfully romantic destination, you're in for a real treat. With so much to see do and experience, it can be difficult planning the perfect honeymoon in Tokyo, so from why you should visit, to where to stay, and what to do, we've crafted a tidy little guide so you can have the honeymoon of a lifetime.
Why you should choose a honeymoon in Tokyo? 
Spirituality: The city is populated by plenty of traditional temples and shrines perfect for those who want to explore the rich cultural history of the nation's more religious side. Also, if you're looking to have a Japanese wedding, Tokyo is home to a high population of wedding planners and celebrants to help you celebrate that special day.
Sights: From the sprawling green of Yoyogi Park and Shinjuku Gyoen, the eye-wateringly high skyscrapers of downtown Shinjuku, the traditional charm of Nippori, the rich history of Asakusa, and the modern trends of Harajuku, Tokyo has all the variety you could wish for and more.
Centrality: Easily accessible from most areas of the nation by bullet train (shinkansen), Tokyo is the perfect destination to start your Japan adventure. If you're looking for day trips to the mountains or the coast, Tokyo is close to both as well. City, nature, and centrality, you can have it all. 
Accommodation options in Tokyo
Treat yourself and your loved one to something a little more special by staying at one of the city's most impressive luxury hotels. In Japanese culture, offering the highest of hospitality to guests is of the utmost priority, so you won't be disappointed.
Shangri-La Hotel
The Shangri-La Hotel is the most luxurious of hotels in a very impressive location, sitting just a 10-minute walk from both the Imperial Palace and the heart of the upmarket Nihonbashi area. The hotel occupies the top 11 floors of the Marunouchi Trust Tower Main Building and boasts incredible city views, excellent spa facilities, and three world-class restaurants. The best of the best in one of the city's most enviable locations, it's hard to beat.
Address: Japan, 〒100-8283 Tokyo, Chiyoda City, Marunouchi, 1 Chome−8−3 丸の内トラストタワ 本館 (map)
Website: shangri-la.com
Hours: Open 24 hours
Phone: +81367397888
Hoshinoya Tokyo
By combining traditional ryokan hospitality with the modern hotel luxury, Hoshinoya Tokyo is one of the chain's most stylish outposts. Featuring 84 rooms, this hotel feels like a collection of intimate ryokans, with each of each all of the 17 floors having a unique ambiance and central lounge space. Following the precedent set by classic ryokan inns, breakfast is served in the rooms, and many on-site onsen baths are open-air.
Address: 1 Chome-9-1 Ōtemachi, Chiyoda City, Tokyo 100-0004, Japan (map)
Website: hoshinoya.com
Hours: Open 24 hours
Phone: +81570073066
Park Hyatt, Hotel
This hotel was made internationally famous thanks to Sophia Coppola's 2003 cult hit film Lost in Translation, starring Bill Murray and Scarlett Johansson. But Hollywood fame aside, the Park Hyatt is inner-city luxury at its best. Nestled in the middle of the action in downtown Shinjuku, it's surrounded by bars, cafes, restaurants, and other nightlife hangouts. But once you arrive, it'll be hard to leave given that on the 52nd floor of the hotel, sits one of the area's most famous attractions, the New York Grill – a luxury bar with world-class cocktails and live jazz performances as well as one of the best views in the city.
Address: 3-7-1-2, Nishishinjuku, Tokyo 163-1055, Japan (map)
Website: hyatt.com
Hours: Open 24 hours
Phone: +81353221234
Ryokan Kamogawa
You'll find the charmingly traditional Ryokan Kamogawa standing proud in Tokyo's most historic neighborhoods, Asakusa, just a two-minute walk from the famous Sensoji Temple (the city's oldest temple) and a five-minute walk from Asakusa Subway Station. The ryokan inn combines modern comforts with traditional Japanese aesthetics, like tatami-mat rooms with Western beds. The ryokan also has an on-site restaurant and grill restaurant called Kura, making it a must not miss for those who want an authentic Japanese experience.
Address: 1 Chome-30-10 Asakusa, 台東区 Taito City, Tokyo 111-0032, Japan (map)
Website: f-kamogawa.jp
Hours: Open 24 hours
Phone: +81338432681
Andon
This hybrid luxury hangout is considered by many to be Tokyo's first designer ryokan. Positioned about 20 minutes from Asakusa by foot, Andon Ryokan is where modern convenience meets classical Japanese style. It's perfect for those who want to embrace both traditional and contemporary sides of Tokyo in luxury. Andon Ryokan also hosts several classes for those who wish to immerse themselves in Japanese Culture through flower arranging, tea ceremonies, and origami workshops.
Address: 2 Chome-34-34番地10号 Nihonzutsumi, Taito City, Tokyo 111-0021, Japan (map)
Website: andon.co.jp
Hours: Open 24 hours
Phone: +81338738611
Ryokan & Day Shizuku
Central enough to reach the city's main tourist attractions like Tokyo Skytree and Sensoji Temple in 30 minutes by train, but far enough away from the manic energy of the city's crowded central hubs to feel like a tranquil retreat is Adachi ward's Ryokan & Day Shizuku. This romantic retreat combines classic traditional Japanese ryokan design with familiar comforts like large Western beds and open-plan rooms. What's even better is that the rooms also come with a wooden bath and small private garden, for that extra added romantic luxury.
Address: 2 Chome-8-5 Umeda, Adachi City, Tokyo 123-0851, Japan (map)
Website: tryangle-web.com
Hours: Open 24 hours
Phone: +81338871101
Day trip getaway destinations from Tokyo
Hakone
Need a little break from the nonstop, high-speed energy of the city? Then a night or two in nearby Hakone is just what you need. Known for its stunning mountain views, picturesque parks, and relaxing onsens, Hakone is a mountain resort town that can easily be added to any Japanese honeymoon itinerary. In fact, locally, it's long been known as an ideal couple's getaway, where love up pairs can spend some quality time in the relaxing private onsens and locally run ryokans. 
Kamakura
A popular summer destination for Tokyo and Yokohama locals, the Kamakura and Enoshima coast is the best place to escape the city's crowds and heat and embrace the laid-back beach life. Kamakura's impressively maintained architecture, Kamakura is known colloquially as 'Little Kyoto.' We recommend exploring the historic and stylish streets of Kamakura, grab a bite to eat, and then hop on the Enoshima Electric Railway to the coast of Enoshima to dip your toes in the sea and explore Enoshima's hidden island shrines.
Things to do on a honeymoon in Tokyo
Try something new with your loved one, and create memories you'll never forget. 
Book a private Japanese tea ceremony and take unique wedding photos
Add a little cultural education to your romantic vacation by trying a traditional Japanese tea ceremony. It'll help you really appreciate the intricacy of Japanese culture and offer a meditative opportunity for contemplation, plus it's fun! Maikoya also offers a tea ceremony experience where guests can get dressed up in beautiful Japanese style kimonos and get their honeymoon pictures snapped during the experience. If you're feeling inspired, they offer love-themed calligraphy classes too.
Enjoy a romantic picnic at Shinjuku Gyoen National Garden
Looking for cheap romantic things to do in Tokyo? Then, pack a picnic lunch, filled with Japanese bento lunch boxes and treats, and make your way to Shinjuku Gyoen National Garden. This postcard-perfect park is the perfect place for a lazy and relaxing picnic date and some people watching. Featuring traditional Japanese, English landscape, and formal French gardens, the expansive ground offers enough to keep you occupied for a significant portion of the day. When you're done, head to the nearby Tokyo Metropolitan Government Building and admire the city view, entry is free.
Enjoy a Michelin meal at Kanda: Kaiseki for today
A kaiseki restaurant for the modern age, Kanda is the creation of chef Hiroyuki Kanda who spent time working in Paris and trained in Osaka. The sleek minimal restaurant is decorated only by a collection of earthenware jars, but it's the culinary masterpieces Kanda serves that will have you enthralled. Also, every night the menu is different, so no matter when you visit, you'll be guaranteed a surprise. 
Spend a day full of thrills and fun at Tokyo Disneyland or Tokyo Disneysea
They don't call Tokyo Disneyland as the happiest place on earth for nothing. Perfect for kids and kids at heart, Tokyo Disneyland as the happiest place on earth for a good reason. This amusement park has it all, rides, attractions, fun food stands, and plenty of photo opportunities. If you're looking for something a little more adult, try Disney Sea, the one of a kind Disney amusement park that also sells alcohol.
Savor a breathtaking bird's eye view from Tokyo City View
Set 250 meters above sea level, Tokyo City View in Roppongi's Mori Tower observation deck offers one of the most magnificent panoramic views in the city. A popular destination among couples, thanks to its views and eye-catching interiors, it's the perfect place to visit any time of day, but if you can get there for sunset, you won't regret it. There are also art exhibits displayed regularly on the deck, so do keep an eye out for those. 
Be swept away by the artistry of Team Lab
Officially titled MORI Building DIGITAL ART MUSEUM: teamLab Borderless, or Digital Art Museum for short, is a constantly evolving world of tech, art, and endless inspiration. This uniquely futuristic museum is a labyrinthian network of exhibits featuring displays that blur the borders between art, science, and our human senses. Put aside plenty of time to explore as the museum is broken into five separate sections: Borderless World, Athletics Forest, Future Park, Forest of Lamps, and the En Tea House, within which contain additional mini displays. Get lost in the world of art.
Maikoya's Tokyo honeymoon package
Let someone else do all the hard work, and save your energy for the vacation. Maikoya's Tokyo honeymoon package includes a range of cultural experiences and photo opportunities. Some of the highlights include honeymoon photo ops, wedding kimono dressing, a private Tea ceremony experience, sushi making, and calligraphy classes. 
You should definitely try these Tokyo honeymoon activities! 
Need some tips for your Tokyo honeymoon getaway? Well, guess what? Tokyo offers an exciting blend of modern and cultural experiences for newlyweds on their honeymoon. Check out our carefully curated 4 day Tokyo honeymoon itinerary, filled with a mix of must-do's and more unique activities that any couple will enjoy.
There is even a unique opportunity to be dressed in a Japanese wedding kimono and participate in a private tea ceremony and calligraphy class. If you would like to find out more about this exquisite Tokyo honeymoon package, please click here.
Fun and romantic things to do in Tokyo for couples:
Day 1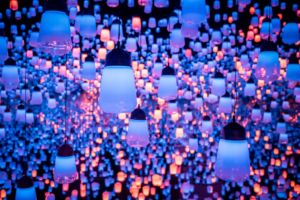 Toward the top of Roppongi Hills Mori Tower lies a modern art museum that will leave you feeling invigorated and challenged in your thinking. Even the least enthusiastic visitor will be intrigued at the variety of exhibitions regularly rotated in the museum. Trust me, it's something that should be on your Tokyo honeymoon travel itinerary!
Contact number is +81 3-5777-8600. Opening hours are 10:00 AM to 09:30 PM from Wednesday to Monday, and 10:00 AM to 04:30 PM on Tuesdays.
Snap a birds-eye view of Tokyo from Tokyo City View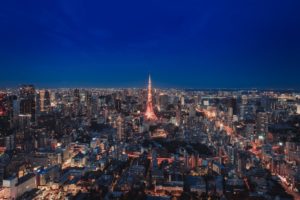 Still within Mori Tower is an observation deck called Tokyo City View, where you can get an almost 360° view of the city. Art exhibitions are regularly on display on the deck as well.
The tall and lush trees all around Meiji Jingu Shrine appear to form a wall between the sacred grounds and bustling outside world. Once you have explored the shrine, visit the Meiji Jingu Museum which displays artefacts belonging to the late Emperor Meiji himself.
Whether you're a history buff or a casual tourist, a visit here should on your Tokyo honeymoon itinerary.
Opening hours are 05:00 AM to 06:00 PM daily.
Looking for some free things to do in Tokyo, Japan on your honeymoon? Then, make sure to include a pit stop to Yoyogi Park to your Tokyo honeymoon itinerary. Just adjacent to Meiji Jingu Shrine lies Yoyogi Park which regularly has street performers including magicians, stuntmen, and our personal favourite – a rock 'n' roll dancing troupe that never fails to pull applauding crowds on Sundays.
Contact number is +81 3-3469-6081. And, it's open 24 hours a day.
Look for the lively sign that says 'Takeshita Dori' and follow the sea of people buying wacky snacks and outrageous gifts. Don't be afraid to wander beyond the main street into the back alleys, where hidden restaurants and shops await.
Cap off the first day of your Tokyo honeymoon by snagging a window seat at the Starbucks above Shibuya Crossing. Once there, take in the view of the world-famous scramble with a seasonal flavoured latte in hand.
Day 2
Want to take a break from the non-stop sightseeing in Tokyo? Searching for relaxing must do experiences on your Tokyo honeymoon getaway? Buy all the unique foods on offer at a convenience store and have a lazy brunch picnic in the tranquil Shinjuku Gyoen National Garden, an expansive park which boasts French Formal, English Landscape and Traditional Japanese gardens.
Contact number is +81 3-3350-0151. Opening hours are 09:00 AM to 04:30 PM from Tuesday to Sunday. Closed on Mondays.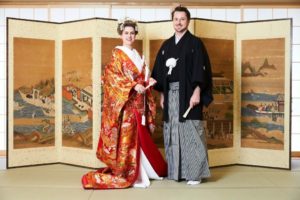 Many visitors to Japan add 'trying on a kimono' to their bucket list, but rarely do they get the chance to wear a kimono that is saved for special occasions like a wedding. In this unique opportunity, you will be fully fitted in exquisite wedding kimono for you and your spouse and participate in a private Tea ceremony, sushi making class, calligraphy class, and professional photoshoot. Make a booking here so you don't miss your preferred timeslot.
Craving for something sweet on your Tokyo honeymoon getaway? This café serves mostly red-bean paste desserts. Take a moment to pause and sip on some coffee as you sample their creative range of sweets in a minimalist setting.
Contact number is +81 3-6273-1073. Opening hours are 10:00 AM to 09:30 PM on weekdays and 10:00 AM to 09:00 PM on weekends.
Dinner and drinks are always a sure-fire way to wrap up a romantic day out. Slip into any one of the 60 small bar and restaurants for some quality yakitori (barbequed skewers) and other savory drinking foods. And, it's open 24 hours a day.
Day 3
The Disney parks in Tokyo are commonly referred to as the best Disney parks outside of the USA. The food here is Disney-themed, the cast members are unbelievably hospitable, and the joy and magic in the air is infectious. Couples on their Tokyo honeymoon vacation will not feel out of place here because much of Tokyo Disney's demographic are adults and couples on dates. Purchase a park ticket online beforehand or visit the top level of the Disney Store in Shibuya to buy tickets.
Day 4
Enjoy a taste of Europe at Jiyugaoka
Jiyugaoka is known for Venice inspired architecture, cobbled stone pathways, stylish boutiques, numerous European style bakeries, and posh cafes. Have a refreshing fruit parfait at The Tokyo Fruits, a café known for its delicious and vibrant fruit sourced from the best growers across the country. It's truly a great stroll for couples enjoying their Tokyo honeymoon break.
Do some window shopping in Ginza
Rub shoulders with the upper-class as you admire the high-end stores in Ginza. Stop by a stylish Japanese-style café called Bongen which serves onigiri (filled rice balls) and amazing coffee. '
Replenish your energy by having one of the best sushi restaurants in Tokyo to end your day-long romantic date. Order the toro (fatty tuna) and the uni (sea urchin) for a mind-blowing meal that you will both remember for years to come.
Let us know in the comments below what other things you would include in a Tokyo honeymoon itinerary!
Photo by Luca Florio, Moralis Tsai, Tim Foster, Emran Yousof, freddie marriage,  Josh Wilburne, Charles Postiaux, Joseph Costa, Manuel Cosentino, Laurentiu Morariu on Unsplash and Seraphina Seow