Ponto-chō (先斗町) is known either as a street, alley, or district in Hanamachi. There is a saying that "Pontocho" is a combination of Portuguese and Japanese words. Pontocho was said to be from the words "Ponte", the Portuguese for "bridge", and "cho" the Japanese for either block, street, or town. It is home to one of the most stunning and aesthetic dining areas of Central Kyoto. Its narrow form stretches from Sanjo-dori to Shijo-dori, which is west of the Kamogawa River and south of Kiyamachi.
The cultural area has a collection of restaurants that offer wide dining choices, from traditional Kyoto cuisine to modern and foreign dishes. The majority of the restaurants face the Kamogawa river. Guests may also witness Kawayuka, a type of dining that occurs from May until September. That season is when temporary platforms are built over the river so people can dine in an open-air setting. Kawakuya was designed to combat the heat of summer and to enhance the experience of traditional Kyoto dining.
Aside from its strategic and atmospheric kawayuka, Pontocho is also home to official geisha areas. Some find the area magical because of its careful preservation of traditional Japanese architecture and entertainment. Here is where guests can find tea houses, and geiko and maiko professionals. Tea houses are made with wooden materials and are buildings with no signs, though some may have handwritten ones. However, tourists are not quickly allowed into the establishment. These are usually preserved and reserved for those who are already known to the tea house. Guests are still welcome to experience the feel of the magical area of Pontocho and have a good time during their visit.
Pontocho Kyoto History
The history of Pontocho dates back to four centuries ago. Since its existence way back 400 years, the district was established in the year 1670. This happened under the reign of the Edo government when it reinforced Kamo River and the riverbank, which formed a new land, now known as the Pontocho district in Hanamachi.
During the 1500s, trained performing artists and artisans, also referred to as the geisha, started moving and working in the area. The place was one the five areas of Kyoto. It was also called the "flower town". Due to the working lifestyle of the geisha, the district gained the reputation of being the place of "nightlife". During that time in the 16th century, aside from geiko and maiko cultural entertainment, prostitution became a larger factor in Pontocho.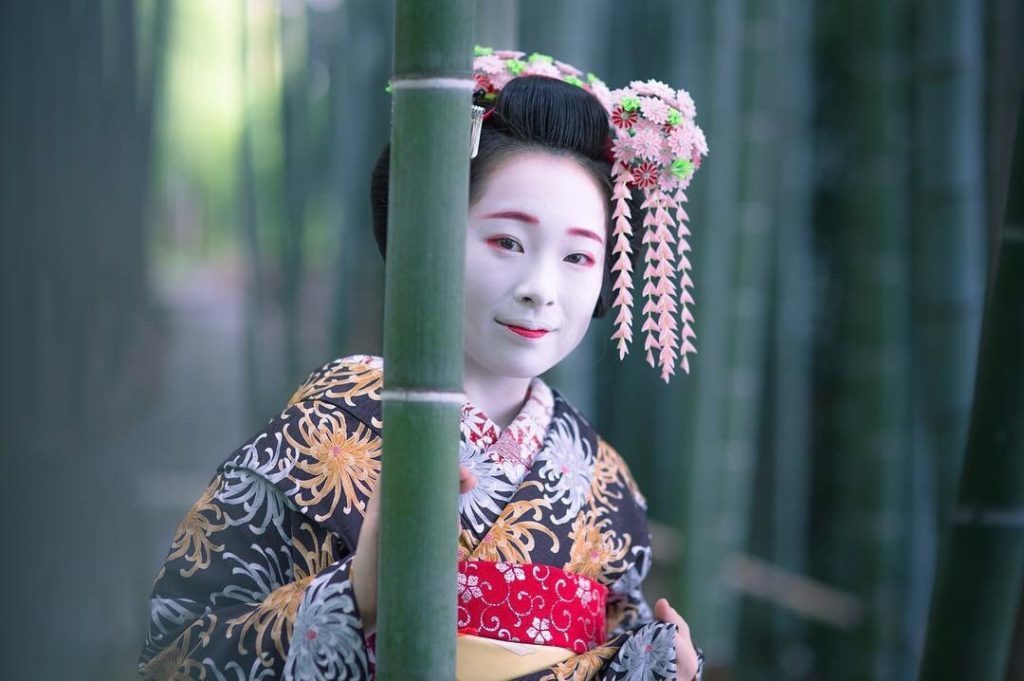 Pontocho became home to geisha entertainment, tea houses, and male and female prostitutes. Though prostitution was disapproved, it was tolerated. These practices, however, had damaged the reputation of the geisha who were professional performing artists. The misconception was from the West merging Japanese courtesans, the oiran (花魁), who were to ranked above the yūjo (遊女) or the common prostitutes. Sex workers also dressed in kimono which also played to modern-day misconception. Prostitution later became illegal.
Today, the beautiful street of Pontocho is decorated with night lanterns that create cultural Japanese aesthetic over the restaurants. Geisha performances are also one of the most sought-after event since it can be only seen twice a year at Kamogawa Odori. People can dine outdoor on the wooden patios or visit geisha and tea houses, bars, and if they find restaurants expensive, they can always opt for cheaper options available around the area.
Notable Pontocho Restaurants
Kushiemon. Kusheimon is considered one of the best restaurants in Pontocho. It is situated on the second floor where guests will be able to see the Kamogawa river during their dining experience. 
Kyo no Yakinikudokoro Hiro Pontocho. If guests are craving for authentic Japanese beef goodness, Yakiniku is the ultimate go-to place. The restaurant serves quality-selected Wagyu beef. It is run by a famous beef shop and extends its services to its branches in Central Kyoto.
Kyoto-Style Beef Cutlet Katsuushi. Kyoto Katsugyu is a restaurant that features beef cutlets, also referred to as the sought-after Gyukatsu dish

. The carefully selected ingredient is breaded and fried until it gives a crispy outside appearance.

Nagamegawa Pontocho Hana. Guests in this restaurant can enjoy a Japanese multi-course meal and the calming view of the Kamogawa River. Diners are welcome to choose from regular lunch set to traditional kaiseki dinner. Sake is also offered to enhance the dining experience.
Pontocho Robin. Robin is a recommended place for those who aim to taste seasonal dishes. Its dishes are made with seasonal ingredients, which are offered in the multi-course menu. Dishes like sashimi and fresh seafood are featured in their dining offers.
Ukiya Pontocho. Ukiya is famed for its delicious Soba, the popular buckwheat noodle of Japan. The noodles are made by hand which is to ensure that their dishes are authentic and fresh. Tempura dishes can also be enjoyed here.
Uryu Pontocho Hana. This restaurant serves authentic Japanese cuisine that features careful and quality selected ingredients. Guests can try rare dishes like "Hamo" eel, a dagger tooth pike conger, and the "Pufferfish".
Yamatomi. For a rich Kyoto dining experience, Yamatomi offers various dishes from their menu with ingredients ranging from seafood and beef to vegetables. The restaurant has served guests for more than 50 years, making it a must-visit venue.
Yasube Pontocho. Okonomiyaki is a favorite Japanese delicacy that one must try when visiting Kyoto. It contains a variety of ingredients that make it savory, flavorful, and scrumptiously unforgettable.
Yuzugen Pontocho. Citrus is a beloved ingredient by the Japanese, often used for their dishes. Yuzugen is a restaurant that features "Yuzu", which is served in various dishes on their menu. If guests are up for Japanese citrus, then this is the place to go to.
Pontocho Location
Pontocho Kaburenjo Dance Hall
In 1925, the construction for the Pontocho Kaburenjo began. The hall was designed by Tokusaburo Kimura, who was an architecture expert from the Obayashi group. The group was the genius behind the Osaka Shochikuza Theatre built in 1932, and Tokyo Gekijo built in 1927, the same year the construction for Pontocho Kaburenjo was finished. The hall is made of concrete and has four above-ground floors paired with a basement floor. It was critically acclaimed and was hailed as a "modern architecture with a taste of the orient" during its early existence.
The Kabuki Association is the one responsible for events held like the Kamogawa Odori. Pontocho Kaburenjo can be used for the public especially for special and highly anticipated events. Its facilities are prepared for a large number of audience and performers. Pontocho Kaburenjo is usually used for traditional Japanese performances, but has never shied away from events like recitals, lectures, and concerts. Its third and fourth floors are also flexible and can be used as space like a gymnasium for exhibits and rehearsals.
Pontocho Kaburenjo Location
Kamogawa Riverbank
The Kamogawa River, also known as the "duck river", is a riverbank located in Kyoto, Japan. The river stretches from north to south of the downtown Kyoto area. It is also a recommended spot for people who want to see the stunning change of the seasons. It is a favorite location, winning the hearts of locals and tourists, especially couples. The Kamogawa River is also a good place to spot a geisha or its apprentice, the maiko.
Riverbanks are a favorite walking area for people visiting Kyoto. During the summer season, restaurants showcase their balconies that overlook the river. Paths found on the side of Kamogawa sometimes feature stepping stones that allow people to cross the river. Usually, the water level does not rise high that much, but it could rise to a higher level during the rainy seasons.
Kamogawa Riverbank Location
Kiyamachi Street
The Kiyamachi Street or the Kiyamachidori (木屋町通) is a widely known historical street in Japan. The street flexes from north to south of Kyoto, right between Kiyamachi Nijo and Kiyamachi Shichijo. Kiyama Bars Street was constructed during the digging of the Takase River. The event was taking place during the Edo Period. The word "Kiya" from Kiyamachi is from an old Japanese term, meaning "woods stores". In 1895, a rail vehicle ran between Kiyamachi Nijo and Kiyamachi Gojo, which caused the tram line to move to Kawaramachi Street.
Today, cherry blossoms have added charm to the street, which was planted along the river. Though many visitors have witnessed the beauty of Kiyamachi, its road continues to add touches for improvement. Near the area, coffee and tea shops can be visited. There are also restaurants and bars that offer Japanese and foreign dishes.
Kiyamachi Street Location

Pontocho District
ChaJSaint
●●●●○
Loved it
Its this narrow long alley full of small bars and restaurants. Its so charming and remenicient of old Kyoto!
---
Emma C
●●●●●
Go at night
I've walked Ponto-cho several times before but on this visit was the first time I did at properly at night and it was like a different world. Feels like the Japan of old and a place where you can really feel Kyoto. It is a narrow alleyway filled with bars and restaurants all with lanterns outside plus the occasional wind chime and lots of wooden shutters. It's a great place to stop for a meal or drink but equally it's great just to be there.
---
Didge432
●●●●○
Thin but long historical street in Kyoto
Quaint but long and old street in Kyoto. Great to walk through and see all the old buildings as well as the many restaurants. They are currently undertaking a project to bring all the overhead electric wires underground which should make the street even better when finished.
---
Vivi Brafmann
●●●●○
Night out - fun and drinks
Nice to walk around for drinks and dinner. The best restaurants all need reservation or if you see people standing outside the place on a line, don't just stand there - make sure you go inside the place and write your name on the waiting list. Then you go back to waiting outside.
---
Merrowmum
●●●●○
Night atmosphere
You need to walk along here to soak up the atmosphere at night - it's great, with so much choice of great restaurants and bars as well, all lighting up the area. And so safe too - don't be scared of wandering down the little back alleys in the area!
---