Osaka – the third largest city in Japan – is truly one of the best and most trilling urban destinations in the world. Vibrant, colorful and unique, it's a city filled with eye-opening, cultural and culinary experiences that you won't find elsewhere in the world. And, like the rest of Japan, the metropolis also teems with fascinating and mind-blowing experiences for the whole family. From a world-class theme park to Kids Plaza Osaka, there's no short of memorable things to do in Osaka with kids.
Headed to the city, but got no clue on what to do in Osaka with kids? Then, make sure to check out our list of the best things to do in Osaka with kids.
This is the Osaka branch of Samurai & Ninja Museum in Kyoto . Maikoya offers you a chance to step back in time and get a taste of the samurai life. With the "Samurai Experience", you get to don authentic black samurai robes and learn the fighting techniques of Japan's legendary warriors. You also get to throw ninja stars in a ninja costume. As a matter fact, they offer lessons on how sheath your katana properly. You can choose to do this experience either in Osaka or Kyoto.
Popular but crowded and the location is a bit inconvenient. No Osaka trip family itinerary is complete without a visit to the lively Universal Studios Japan. After all, it's the second most popular and visited amusement park in the country, next to Tokyo Disney Resort. Here, you and your kids will have a blast exploring a plethora of thrilling and fun-filled rides and attractions. As you weave your way around the park, you'll explore 9 lively zones, including the Wizaring World of Harry Potter, Minion Park, Universal Wonderland, Amity Village, Waterworld, Jurassic Park, San Francisco, New York and Hollywood.
3. Ninja Cooking class for kids and families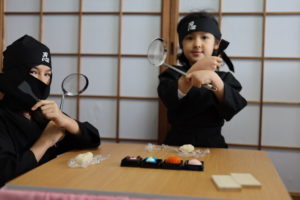 You wear ninja costumes and cook Japanese sweets as a family. Best way for a cultural immersion is a local cooking class but kids have slow attention span. The best way to get them engaged is a short edible sweets cooking class with exciting costumes. Not only will it teach your kids how to cook tasty sweets, but it will create some unforgettable memories for them.
4. Kids Plaza Osaka for Kids and families
Indoor playground suitable for little kids Kids Plaza Osaka. With its parent-friendly facilities and unique creative exhibits, it's a wonderland for the little ones, making it one of the must-visit attractions in Osaka with kids.Home to massive entertainment centers, this sprawling complex has a mammoth playground, a culture museum and arcades. Furthermore, it boasts a nature and science museum, a baby play area, workshops and cooking classes.However, it may not be engaging for kids 8 years and above. Additionally, it's relatively crowded on holidays and weekends, and the staff don't speak English fluently.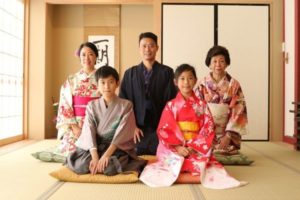 Unique family photo in kimono. A visit to the Maikoya Heritage House is an absolute must when traveling in Osaka with children.  As you visit Maikoya, you'll get to wear kimonos and have your hair done by a stylist, so that you'll like someone from Japan's past. Once you're dressed up, a photographer will snap a photo of you and your family. The backgrounds will include the Sengoku, Heian and Edo periods as well the exterior background of Maikoya. Afterward, you may spend your time freely roaming on your kimono inside the heritage house.
A visit to Osaka Aquarium Kaiyukan is, no doubt, one of the best and can't-miss things to do in Osaka with kids. Praised for immense size and exhibits, Kaiyukan houses more than 500 different types of marine life, such as sea lions, penguins, dolphins and a whole lot more. In total, there are 15 tanks inside the aquarium, including a massive one housing a couple of whale sharks, mantra rays and an array of fish. In 2013, Kaiyukan opened an interactive museum that lets you touch and get an up close look of the animals.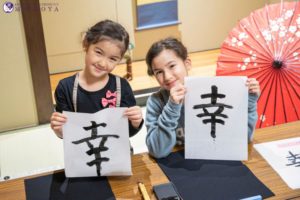 Hands on and interactive experience where kids make souvenirs. Another way to get kids excited about Japan is to give them a chance to make their own Japanese souvenirs. You would be surprised to see how engaged children get when doing a calligraphy workshop, origami workshop and kendama play workshop. The venue also has escape room like activities (origami papers are presented in boxed kids have to figure out to open, etc.
This place is next to the Kaiyukan Aquarium. Don't forget to include a visit to Legoland Discovery Center to your list of things to do in Osaka with kids. A diverse and engaging indoor playground, this center is made up for a Miniland, a bunch of LEGO Build and Play zones, a 4D cinema and some fun rides. Even better, you may experience a LEGO Factory tour and see how these beloved bricks are made. Alternatively, you may enroll the little ones in a Master Builder Academy course as you kick back and relax at the café.
This is the most pictureque castle in Japan but it also has a huge park with a children's playground. A visit to Osaka Castle is, hands down, one of the best things to do in Osaka with kids. An iconic symbol of the city, it's arguably the greatest and most renowned castle in all of Japan. Built in the 1500s, it's an important historic Japanese monument that beautifully represents the Azuchi-Momoyama period's great history. To make things even better, the castle grounds are picture-perfect, especially during the cherry blossom season.
Big park with zoo, the bird conservatory is cool. A popular among locals and those who are traveling in Osaka with kids, Tennoji park is a sprawling urban oasis home to a host of attractions. And, even better, these attractions are all family-friendly. Traveling in Osaka with kids who love animals? You'll surely have a swell time visiting Tennoji Zoo. Housing over 1,000 animals, the zoo has spacious zones that resemble quite like their natural environment.
Pokemon fanatics can't afford to miss this irresistible epicenter of Pokemon toys, fashion items, home-ware and merchandise. Additionally, the Pokemon center has a game center where visitors can spend hours playing machines and arcade games that dispense amazing capsule toys.
Great 360 degrees city view from the top of the building. The tallest building in Japan. A great way to spend an hour or two in Osaka with the kids is to savor the 360-degree views from the observatory deck of Abeno Harukas Building. Standing proudly at 300 meters, it is the undisputed tallest building in the country, meaning the views here are simply awesome.Plus, the observation deck has an open-roof food court serving tons of culinary goodies. And, did we mention that the building is home to Japan's largest department store? By the way, access is free until the 16th floor. You'll have to pay an affordable fee to get to the top.
This park is in the middle of the city located near the river. Good for kids to run around. Need to take a break from the nonstop sightseeing in Osaka with the kids? You should spend some time unwinding at Nakanoshima Park.Located right next to the river, the park is pretty serene with a laid-back ambiance and a gorgeous setting. It's a great place to stroll and meet the locals with their friendly dogs.
One of the largest public parks in Japan but a little outside the city. In 1990, the Tsurumi Ryokuchi Park hosted the International Garden and Greenery Exposition. Ever since then, it became of the top attractions in Osaka, Japan. Featuring a seemingly endless array of blooms, this park is a sight to behold at any time of the year. Of course, it's a great place to stroll in Osaka with the kids. There are plenty of photogenic structures in this place and you'll really want to spend a lot of time there.
This is a recently opened fancy chocolate store in the middle of the city which has very interesting variety of Japanese chocolates. Famous for its luscious chocolate treats, it's the best place to indulge on different Kit Kat flavors, like sweet potato, cream cheese, chili and sakura. While it's not exactly cheap, it nonetheless is a sweet and mouthwatering experience in Osaka with kids. 
This is a museum where you can see how cup noodles are made and you can even make your own personalized cup noodles. There are hands-on lessons for ramen making in these factories. Unfortunately, it's located outside the city, and you may get done in less than 1 hour.
As you can see, there's no shortage of kid activities in Osaka. Whether you're looking for indoor activities and yearning to do some sightseeing in Osaka, you'll find a heap of options for things to do in Osaka with kids.
Photo credits: