With its iconic landmarks, fascinating history, rich culture, sublime seasons, and culinary excellence Kyoto is an incredible city to visit no matter the occasion. But you're looking for a honeymoon destination with a twist; this is one incredible romantic place. With so much to see do and experience, you're in for a real treat. Here's a guide to Kyoto for loved up couples.
Why you should honeymoon in Kyoto
Culture: Kyoto is without question Japan's most culturally admired city. It's home to an endless array of traditional destinations and plenty of authentic charm, as well as many excellent classes to experience. From kimono photoshoots to meeting with geisha and partaking in traditional tea ceremonies, there's no shortage of things to discover, experience, and fall in love with Kyoto.
Food: Kyoto is not only Japan's culture capital, but many regards it also as the nation's culinary capital, home to a unique array of foods, and a passion for traditional cuisine. Today visitors from across the globe flock to the area to take in the historic ambiance of the city and sample the large population of internationally recognized award-winning restaurants.
Sights: From the sprawling golden Kinkakuji Temple to the lush green Arashiyama bamboo forest, the geisha of Gion wandering the historical weaving back alleys, and the bustling Nishiki Market, Kyoto is overflowing with unique and authentic Japanese sights, sounds, smells, and experiences.    
Kyoto is, no doubt, one of the most romantic cities for newlyweds to visit on their honeymoon. Check out the carefully curated 3-day Kyoto honeymoon itinerary, filled with a mix of must-do's and more unique activities that any couple will enjoy.
3-day Kyoto honeymoon itinerary
Day 1
Want to start your Kyoto honeymoon on the right foot? Wake up to a lively market selling fresh ingredients and tantalizing street food. Try as many dishes as you can to fuel up for the day ahead on the first day of your Kyoto honeymoon vacation.
Stroll the streets of Sannenzaka and Ninnenzaka
Not too far from Nishiki Market are two stone-paved roads lined with old-world Japan buildings selling boutique accessories and traditional garments.
Looking for romantic things to do in Kyoto, Japan? Wander up Kiyommizu Zaka, a sloped street lined with shops selling Japanese street food and souvenirs. Explore the beautiful temple grounds of Kiyomizu Dera. Then, find the love stones at Jishu-Temple nearby and observe the locals pray for true love.
Hike through the sacred red gates of Fushimi Inari Taisha
Before dusk, take each other's hand and make it your goal to trek up and down the entire length of the brilliant red tori gates. Trust me, it's one of the most romantic things to do in Kyoto, Japan.
Day 2
Be awestruck and inspired at Garden Museum Hiei
This incredible garden was designed to bring to life famous paintings by Monet and Van Gogh. Painting is placed in each section for reference so you can observe how closely it replicates the original artwork. Even if you're not a certified art lover, this garden still should be on your Kyoto honeymoon travel itinerary.
Let someone else do all the hard work, and save your energy for the vacation. Maikoya's Kyoto honeymoon package includes a range of cultural experiences and photo opportunities.
Kimono and dinner package: Perfect for newlyweds or those planning to get married soon? You and your partner will have a lot of fun dressing up in traditional Japanese wedding attire and having your photos taken by a professional photographer for some very unique wedding shots.
You can have your photos taken in the studio or in one of Kyoto's beautiful parks. During the experience, an expert will dress you in beautiful wedding kimonos for men and women while explaining all the intricacies of traditional marriage in Japan.
Many visitors to Japan add 'trying on a kimono' to their bucket list or Kyoto honeymoon, but rarely do they get the chance to wear a kimono that is saved for special occasions like a wedding. In this unique opportunity, you will be fully fitted in exquisite wedding kimono for you and your spouse and participate in a private Tea ceremony and photoshoot.
If you'd like, you can also have your hair styled appropriately and have make-up applied to make your experience more authentic, and you'll have a beautiful Japanese-style wedding cake and Kobe beef meal too.
Following the photo shoot, you'll be guided through the painting of a daruma doll, a symbol of good luck in Japan, which you'll be able to keep as a souvenir. The entire experience lasts about 3 hours, and you'll have memories to treasure for a lifetime!
If you want to experience the grace and beauty of the Japanese tea ceremony, another option is the wedding dress and photoshoot package. It includes kimono fitting, photo shooting in the studio or in the park, and a traditional Japanese tea ceremony, complete with wagashi Japanese sweets. This is a unique traditional experience with kimono wearing, zen, harmony, perfectionism, minimalism, and meditation. 
Similar to the dinner package, this deal also offers the chance to be guided through the painting of a daruma doll, a symbol of good luck in Japan, which you'll be able to keep as a souvenir. The entire experience lasts about 2 hours, but of course, the photos and memories will live on forever.
Make a booking here so you don't miss your preferred timeslot:
Maikoya Kyoto Kimono
Address: 565-4 Nakanocho, Nakagyo Ward, Kyoto, 604-8042, Japan (map)
Website: mai-ko.com
Hours: Monday – Sunday 9AM–7PM
Phone: +81756065303

Kamogawa river
On your way to Gion, take the route along Kamogawa, a river that is a popular date spot among the locals in Kyoto. If the tide is low, challenge each other to cross the river on turtle-shaped stepping stones. Then, grab a drink on a balcony overlooking the river as you watch the sun slip beneath the horizon and replaced by golden lights at dusk.
Wander the streets of Gion in the early evening
The largest geisha district in Kyoto, you will step back in time as you traverse the preserved historical tea houses and alleys in the soft evening glow. Complete your journey with a cosy ride in a rickshaw.
Book at least a night's stay at one of Kyoto's highly-rated ryokans, a traditional Japanese inn, that includes a private hot spring bath. Many couples on their Kyoto honeymoon say that this is their favorite thing to do in Japan. The ryokan hosts will ensure your stay is impeccable, and you will be well-fed with a kaiseki dinner banquet consisting of the freshest seasonal ingredients. It's simply a can't-miss on your Kyoto honeymoon.
Day 3
Start the third day of your Kyoto honeymoon on a high note by visiting the stunning Golden Pavilion to capture a photograph of it with its reflection in the still pond and take a walk around the lush temple gardens.
Discover the natural beauty of Arashiyama
No Kyoto honeymoon trip is complete without a visit to Arashiyama. After all, it's a beautiful town encircled by mountains where you can explore more food and gift shops, many hidden temples, and the remarkable Bamboo Forest. Try a multiple course tofu restaurant if you're both hungry for something you won't find in your home country.
From the ethereal Bamboo forest to its hidden temples, Arashiyama teems with wonders that will leave you speechless and in awe. This UNESCO World heritage recognized destination is a must-visit for any occasion, but it's the perfect place for a little romance. 
Hop on the Hozugawa River Cruise
Before the sun sets, embark on a two-hour scenic adventure led by charismatic boatmen through mild rapids and calm waters, soaking in the dazzling mountain scenery with your love. Amorous and wondrous, it's a beautiful experience that should be on our Kyoto honeymoon itinerary.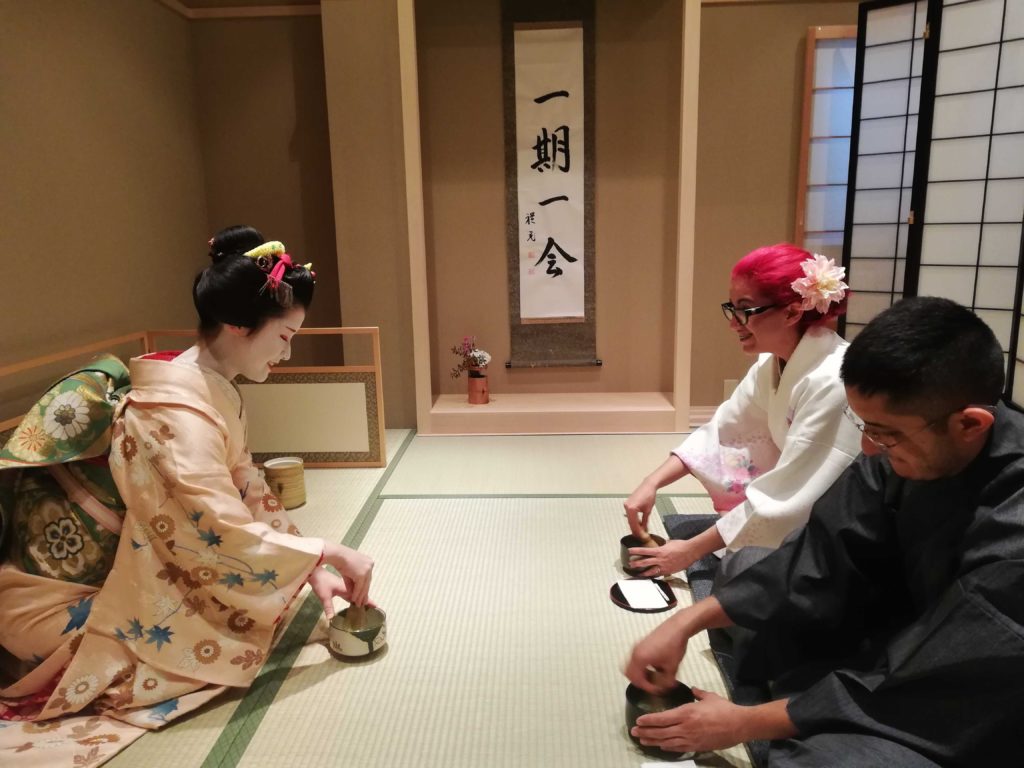 Many visitors wander the streets of Kyoto for days in the hopes of catching a glimpse of the elusive maiko (geisha), but here you can get up close and personal. This Japanese tea ceremony experience is an excellent introduction to the timeless Japanese tradition and its associated rituals. If you're looking for a unique and romantic Japan honeymoon experience and the opportunity to meet one of Japan's most revered figures, make sure to try this. Free kimono is possible for those who arrive 30 minutes before the ceremony.
While you're in Arashiyama, don't forget to take the romantic Sagano train ride, which becomes an open-air train during the summer months. The train ride starts at Saga Torokko station and ends at Kameoka Torokko station, following the picture-perfect Hozukyo Ravine along the way. During its 25 minute journey, the ride will show the city's beauty throughout the seasons so you can admire the beauty of the changing leaves in autumn and spring's cherry blossoms.
Accommodation options
Treat yourself and your loved one to something a little more special by staying at one of Kyoto's most impressive luxury hotel. In Japanese Culture, offering the highest of hospitality to guests is of the utmost priority, so you won't be disappointed.
The Four Seasons Hotel Kyoto
Transforms your stay into a full-on cultural experience at The Four Seasons Hotel Kyoto. Positioned in the historic district of quaint Higashiyama, this complex is built around an 800-year-old garden, which was mentioned in an epic poem called The Tale of Heike that dates back to the 12th century! It's an intimate hideaway that transports guests to a different time. You can also experience tea ceremonies, Michelin-star sushi, and ancient healing spa treatments, all without within the premises.
The Four Seasons Hotel Kyoto
Address: 445-3 Myohoin Maekawacho, Higashiyama Ward, Kyoto, 605-0932, Japan (map)
Website: fourseasons.com
Hours: Open 24 hours
Phone: +81755418288

Hyatt Regency Kyoto
The Hyatt Regency Kyoto blends traditional Japanese beauty into every aspect of the hotel experience. Welcoming guests with a lush bamboo grove, at this luxury establishment, a maiko (apprentice geisha) performs a traditional dance for guests every evening! Each of the rooms features Japanese wooden bathtubs and sliding screen doors for that added local Kyoto touch.
Hyatt Regency Kyoto
Address: 644-2 Sanjusangendomawari, Higashiyama Ward, Kyoto, 605-0941, Japan (map)
Website: hyatt.com
Hours: Open 24 hours
Phone: +81755411234
Day trip getaway destinations
If you're after some more excitement, like the upbeat energy of jostling with strangers through bustling streets, admiring the streets painted with the light of neon signs, and incredible food, Osaka provides everything you're after. Also home to Universal Studios and a world-class aquarium, you'll never get bored in this fun-loving city. From Osaka, you can catch a bullet train to Kobe to sample some of the richest beef in Japan and admire japan's port-side elegance.
Nara
For a little more traditional charm, and to get up close with Japan's cutest deer, plan a little sojourn to Nara. This historic location was Japan's first permanent capital, established in the year 710. Less than an hour from Kyoto, this city has held on strong to its rich history and today is still home to many historic treasures, including some of Japan's oldest and largest temples.
Dining out
There are actually over 100 Michelin-recognized restaurants in Kyoto alone, covering a huge array of cuisines from Japanese to French, and fusion styles, here are some of our picks for the best places to enjoy a romantic Michelin dinner for you.

Jiki Miyazawa (じき 宮ざわ)
Without question, one of the most popular kaiseki restaurants in Kyoto, Jiki Miyazawa (じき 宮ざわ) has also been awarded the coveted the Michelin Guide 1 star rating. For those uninitiated with the kaiseki term, it's the name given to meticulously destined multi-course Japanese meals with origins that go back to the ancient tea ceremony. Although it's a high-class restaurant with some lavish culinary spreads, it is surprisingly affordable when you compare it to other options out there. Conveniently located near the central Shijo Station, it's both accessible but still a little away from the hustle and bustle of downtown Kyoto life.
Jiki Miyazawa (じき 宮ざわ)
Address: 553-1 Yaoyacho, Nakagyo Ward, Kyoto, 604-8123, Japan (map)
Website: jiki-miyazawa.com
Hours: Open 24 hours
Phone: +81752131326
Nakahigashi (なかひがし)
If you're looking for a dining experience that's a little different than what you're used to, then it's worth paying a visit to Nakahigashi. This Michelin two-star restaurant awarded establishment features a counter surrounding the kitchen where master chef Nakahigashi meticulously prepares exquisite dishes under your watchful eye. It's an illuminating experience to receive explanations of each dish as it's being prepared for and served to you. 
The key focus of this restaurant is to use and showcase the very best local ingredients, and the chef visits the fields and forests where the produce comes from every day to collect the ingredients he'll use that evening. Given the standard of the meals and the work this master puts into his craft, the prices are surprisingly reasonable!
Nakahigashi (なかひがし)
Address: 32-3 Jodoji Ishibashicho, Sakyo Ward, Kyoto, 606-8406, Japan (map)
Website: soujiki-nakahigashi.co.jp
Hours: Tuesday – Sunday 12–2PM; 6–9PM; Monday closed
Phone: +81757523500
Ajiro (精進料理 阿じろ)
Shojin ryori is a historical form of Buddhist vegetarian cuisine that strictly uses no meat, according to the Buddhist decree of non-violence, so if you're traveling with vegetarians, keep an eye out for Shojin ryori establishments. One ideal example is this family-run restaurant, Ajiro, which has been awarded one Michelin-star for its authentic Shojin cuisine and its artfully simple and delicate flavors.
The food served is as authentic as it could be with Ajiro's founder studied in the kitchen of a Buddhist temple before establishing the restaurant. The restaurant's interior is charming and authentic, too, and comes decorated with traditional screens and low tables and cushions on the floors.
Ajiro (精進料理 阿じろ)
Address: 28-3 Hanazonoteranomaecho, Ukyo Ward, Kyoto, 616-8041, Japan (map)
Website: ajiro-s.co.jp
Hours: Monday – Sunday 11AM–9PM; Wednesday closed
Phone: +81754630221
Let us know in the comments below what other things you would include in a Kyoto honeymoon itinerary!