Timeless, alluring, and elegant, the kimono is truly one of the most iconic symbols of Kyoto and the rest of Japan. For hundreds of years, this classy garment had been the everyday wear for most Japanese. Today, these fashionable garments are often associated with major life events as well as certain Japanese classical arts like the tea ceremony.
Renting a kimono in Kyoto and wandering the historic streets in the traditional garment is listed as one of the top things to do for travelers in Japan. In the past, only licensed kimono shops were allowed to offer kimono rental in Kyoto. Recently, because of the tourism boom, any place can offer this service.
Here are the things you should consider:
Price: But don't get trapped. Many cheap kimono places will charge you for accessories or offer only 1-hour rental.
Location: Usually people tend to rent around Gion where you can find many historic streets and train stations (Gion-Shijo station and Kawaramachi Station) that will directly take you to the bamboo forest and Fushimi Inari 10,000 gates. Check out this guide to get more inspiration and ideas.
Variety: Some places offer only out of fashion line up and limited colors.
English Speaking Staff: Almost all shops have clerks who can speak basic Japanese but you may get into trouble if you want adjustments or late returns if the staff has limited English.
Interior: It sometimes rains in Kyoto and you may want to choose a place that has backdrops and studio, just in case.
Before I reveal my top picks, please spend a moment checking out these quick and interesting facts about kimonos.
What's the main purpose of wearing a kimono?
Wearing a kimono is a 1,000-year-old tradition meant to cover the body in a rather formal way. Traditionally, these Japanese garments are available in one size only, and it's pretty difficult to learn how to wear one on properly.
The Japanese, if they wanted, could have included buttons to these traditional garments. But, they want to preserve their age-old tradition, so they didn't add any buttons to the kimonos.
In Japanese, kimono basically means "to wear". And, when the kimono first emerged, it was used as an undergarment for the aristocrats in Japan.
Do the Japanese still wear kimonos?
A typical Japanese still wears a kimono during social ceremonies like a tea ceremony, wedding party, and graduation ceremonies. Furthermore, wearing this garment is pretty normal in many cultural activities in Japan, such as kabuki watching, your dance, and flower arrangement.
Yukatas are, for the most part, worn by youngsters as they watch the splashy fireworks during summer. You'll, however, rarely spot a Japanese wearing a kimono in Tokyo's downtown area.
In Kyoto, a lot of domestic tourists and locals wear kimonos, especially when visiting shrines, temples, and historic neighborhoods.
What's the difference between a yukata and a kimono?
Yukatas, as previously mentioned, are worn in summer months. The kimono, on the other hand, is worn usually in winter. A yukata has more colorful and casual designs and is made out of cotton. Kimonos are made out of silk and will require some special undergarments when you put them on.
How much does it cost to rent a kimono in Kyoto?
Renting a whole kimono set in Kyoto, on average, will cost you JPY 4,000 (around USD 36). Just keep in mind that Kyoto kimono rental shops advertise prices that start at JPY 1,500 (USD 14), but most low-cost rental shops only offer a small kimono subset with limited sizes.
Moreover, they might ask you for an additional fee for accessories, a handbag, hairpins, and the hairdo. So, I suggest that you spare about JPY 4,000 if you want to wear a nice and complete traditional kimono set.
How long can I keep the rented kimono?
People mostly keep their rented kimonos for 6 to 8 hours. They go to the Kyoto kimono rental shop in the morning and return it in the evening.
Some places let you keep the kimono overnight or even return it to the hotel you're staying. But, since the weather in Kyoto is unpredictable and it's not easy to walk in sandals, travelers prefer to return the kimonos they've rented in a few hours.
Why do kimonos have large sleeves?
Kimonos, in the past, didn't have big sleeves. As a matter of fact, only kids had large-sleeve kimonos. It was primarily designed to make the kids feel cooler by allowing the wind to blow through. Eventually, it became the norm in Japan.
Additionally, they believed that dancers wearing long-sleeve kimonos are more elegant to look at. Plus, long waving sleeves, in their belief and tradition, help keep all the evil spirits away.
Men's kimonos, tomes odes, and yukatas have shorter sleeves compared to the typical kimono. Housewives and chefs normally put on a fabric piece to prevent the kimono sleeves from hanging, allowing them to move with ease.
What's a geisha kimono?
Geishas, in general, wear a simple-color kimono or a black one to highlight their maturity. The maiko – apprentice geisha – wear brighter colors with floral designs. The maiko's kimono is quite like the uchikake – the wedding kimono. The kimono of a mature geisha is similar to tomesode.
Where to spot a real geisha in Kyoto?
There are plenty of bona fide geishas in Hanamikoji street from 05:45 to 06:45 PM as they walk to the teahouses from their residence. Likewise, you may find them leaving the Gion Corner, following their daily 07:45 PM performance.
You'll most likely see these ladies on Saturday and Friday evenings. For a sure-fire way to see one, book a dinner geisha show at Maikoya.
Top picks Kimono Rental in Kyoto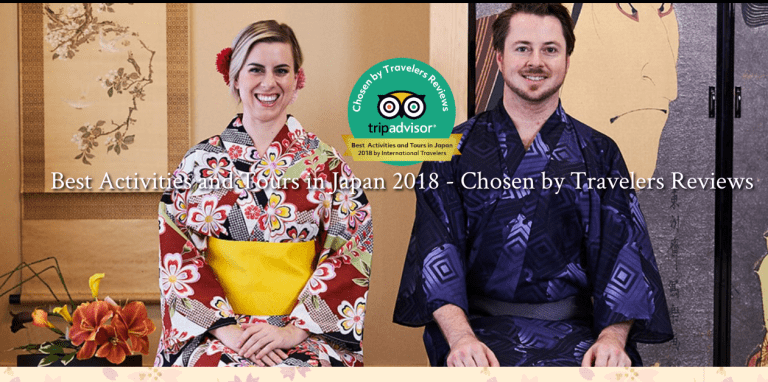 With hundreds of five-star reviews, MAIKOYA is truly the best kimono rental experience in Kyoto. What makes it a standout among the rest is its all-inclusive set, standard pricing (JPY 3,750), and a vast selection of traditional kimonos. MAIKOYA also has many different types of men's kimono, children's kimono, and a recent trendy style of kimonos. MAIKOYA has 2 convenient locations in the historic Gion area both of them are near main train stations.
In certain times of the year, MAIKOYA offers free guided Gion walking tours and can be combined with other cultural activities like sweets making and tea ceremony. And, if the weather is bad, you can still take tons of incredible photos inside Maikoya, thanks to the numerous backdrops.
Address: 565-4 Nakanocho, Nakagyo Ward, Kyoto, 604-8042, Japan (map)
Website: mai-ko.com
Hours: Monday – Sunday 9AM–7PM
Phone: +81756065303
Kyo Temari is a Kyoto kimono hire shop that specializes in providing silk kimonos. The designs they offer are beautiful, the colors are vibrant, the embroidery intricate and they have over 300 kimonos to choose from. Each Kimono in their delightful shop is exquisite.
Address: Japan, 〒600-8031 Kyoto, Shimogyo Ward, Teianmaenocho, 586 寺町 綾小路 ビル 3 階 (map)
Website: kyotemari.com
Hours: Monday – Sunday 9AM–7PM
Phone: +815052748956
Walin is a decent kimono rental shop, and this is where the Japanese locals come to rent the very best Kimonos in Kyoto. If Japanese ladies have a high-class event to attend, they often visit Walin to hire one of the most stylish kimonos in town. The only issue may perhaps be the staff are not that fluent in English as much as Maikoya or other popular kimono shops in the central areas.
Address: 217 Naginatagiricho, Shimogyo Ward, Kyoto, 600-8438, Japan (map)
Website: walin.jp
Hours: Tuesday, Wednesday, Friday, Saturday, Sunday 9AM–6PM; Monday and Thursday closed
Phone: +81753431515
This is a budget-friendly kimono rental shop with a few branches. If you are on a tight budget and looking for some basic kimono in Kyoto, then check out Wargo. Please remember you have to pay extra for the accessories and the staff has limited English. As the place is frequented by students the environment may be different from your expectations.
Address: Japan, 〒600-8216 Kyoto, Shimogyo Ward, Higashishiokojicho, 721-1 2F・3F 京都タワービル (map)
Website: kyotokimono-rental.com
Hours: Monday – Sunday 10AM–6PM
Phone: +81756002830
With English, Chinese, and Taiwanese speaking staff and excellent location, there's no question as to why Rental Yume is one of the most popular rental shops with international travelers visiting Kyoto. Yume's outposts are located next to Yasaka Shrine and Kiyomizu Temple, making it a convenient choice for those who want to explore the city's most scenic landmarks. The well-stocked store has plenty of both male and female garments, and they offer special couples packages too. 
Address: Japan, 〒605-0826 Kyoto, Higashiyama Ward, Masuyacho, 362-5 ますや 2F (map)
Website: kyoto-kimonorental.com
Hours: Monday – Sunday 9AM–6PM
Phone: +81755414630
For more than 120 years, this company has been in the Kyoto kimono business, meaning they are trustworthy, as far as dressings and selection. For a basic kimono wearing plan with a walking tour, you'll just have to shell out JPY 4,000. Of course, there are upgrade options for fancier hairstyles, accessories, and outfits.  Booking on their website, however, may not be a breeze because it's in Japanese.
Address: Japan, 〒604-8154 Kyoto, Nakagyo Ward, 四条上ル菊水鉾町582 さがの館ビル1F (map)
Website: saganokan.com
Hours: Monday – Sunday 11AM–7PM
Phone: +81752133005
With a handful of yukatas and kimonos on display, Akahime is a nice option for a kimono experience in Kyoto. Prices are relatively inexpensive starting at JPY 1,900, and you get to wear it for about a couple of hours. Alternatively, you may also try their Edo-style kimono or hakama, which costs JPY 5,800 for the whole day.
Address: Japan, 〒616-8355 Kyoto, Ukyo Ward, Sagashingucho, 49 (map)
Website: akahime.com
Hours: Monday – Sunday 9AM–6:30PM; Tuesday closed
Phone: +81758651180
Okamoto claims to be the first store to offer sightseeing in Kyoto in a kimono. With many yukatas and kimonos on their arsenal and a wide array of package plans to suit everybody, they are a decent rental store and a well-oiled machine. Additionally, they have some good English, Chinese and Korean support.
Address: 6 Chome-546-8 Gojobashihigashi, Higashiyama Ward, Kyoto, 605-0846, Japan (map)
Website: okamoto-kimono.com
Hours: Monday – Sunday 9AM–8PM
Phone: +81755321320
Tekuteku is a place for the traditionalists; it specializes in antique and vintage kimono rental, offering old school elegance over fast fashion buzz. Pick a classic kimono for classic Kyoto. 
The over 250-large selection of vintage and retro kimonos you'll find here is classic and timeless. It's perfect for those who are on the hunt for something a little different and want to stay true to the traditional beauty of the kimono while not getting stuck in the past. No matter your taste, you'll be able to find the perfect kimono to suit not only your style here.
Address: 111番地 Tatsumicho, Higashiyama Ward, Kyoto, 605-0855, Japan (map)
Website: tekutekukyoto.com
Hours: Monday – Sunday 9AM–7PM
Phone: +81752053424
While very popular with tourists, the store is well worth beating the crowds for as it offers a range of kimono dressing plans, but their most unique is the Princess Plan. The eye-catching Princess Plan comes with a kimono with extra long sleeves, which is supposed to give the wearer the chance to showcase the garment prints and patterns as much as is possible.
The impressive outfit also comes with accessories like bags and sandals made with the most luxurious fabrics. It's fair to say Kyoto Kashin is the kimono rental store for those wanting the full royal treatment for your next kimono experience. 
Address: Japan, 〒605-0086 Kyoto, Higashiyama Ward, Benzaitencho, 5 Chome, ルイ一世ビル 5F (map)
Website: kyoto-kashin.com
Hours: Monday – Sunday 10AM–6PM
Phone: +81755255025
Kimono rental store Yumeyakata is the definition of Kyoto elegance and refinement. More expensive than other stores in the city, but Yumeyakata's main focus is the quality of service they can offer rather than the number of customers. 
This store offers a range of packages that cover the basics, but the shop's Premium Kimono Rental Plan is its showcase package that's the most eye-catching. This 35,000 yen package includes a silk kimono rental, but rest assured it's the highest of quality and luxury you can expect. Treat yourself to something a little more upmarket and book a fitting with this luxury store.
Address: 128 Manjujicho, Shimogyo Ward, Kyoto, 600-8104, Japan (map)
Website: kyoto.yumeyakata.com
Hours: Monday – Sunday 10AM–5:30PM
Phone: +81753548515
So, which is the best option, when it comes to kimono rentals in Kyoto?
If you are looking for a decent kimono rental experience with free cultural experience and a convenient location then I recommend MAIKOYA. If you are looking for a very basic kimono with the cheapest price and the location is not important then you may consider Wargo or Yumeyakata. In general, most of the Kyoto kimono shops are OK. They provide satisfactory services as well as show the Japanese Culture's omotenashi service.