Japan is renowned for its culture and popular hot spring sites. For a long time, the country has mastered the art of bringing locals and tourists the ultimate treatment of relaxation. The onsen has become a cultural phenomenon, inviting travelers worldwide to come and relax in the rich waters. Though a fun and exciting bathing experience, other people prefer to either spend soaking time alone or be with their families and significant others.
Thankfully, onsens are flexible with its services that it caters to a variety of bath types. The "Kashikiriburo" is a type of onsen bath that can be enjoyed by families, couples, and people who have tattoos. The word "kashikiri" means "reservation" when translated from Japanese. This makes the kashikiriburo a rental onsen reserved for private and exclusive use. This list will be a guide to recommended private onsens found all over Japan.
Gora Kadan
Gora Kadan Hakone is a perennial traditional Japanese inn that can be located on the mountains of Hakone. In the present day, it is part of the Fuji-Hakone-Izu National Park and is approximately a hundred kilometer away from Tokyo, the city closest to the inn. Its past served as a weekend cottage, both owned and a favorite of the Kaninnomiya Family in a village named Gora, which sits in the Kanagawa Prefecture. During the 1950s, Gora Kadan was introduced as an inn and as time passed, has evolved its design from classic Japanese genre to added sprinkles of modern elements.
Gora Kadan Hakone features guest rooms that were built to harmonize with its environment. The ryokan has private open-air baths included in its suites that enhance the traditional design of Japanese gardens. Other suites feature open-air baths, varying in the material used. The inn prides itself on its standard rooms that possess rustic indoor baths coming from hot-spring wells paired with a mini garden.
The facilities of the ryokan are also diverse and flexible for a traveler's needs. The guest can still relax by taking a dip in the pool and then head on for a massage. After relaxation, visitors are welcome to try the traditional ryokan breakfast. It is known to make one's appetite full, which gives strength and prepares the guest to explore more activities.
Tawaraya Ryokan

Tawaraya Ryokan is a 300-year-old ryokan and is the oldest in Kyoto. Established in the Edo period, aristocrats frequented the inn for its excellent service. The inn has a reputation for treating its guests like royalty, which has been preserved to this day. The inn provides personalised service, suitable to each person who stays at the hotel, leaving no space for compromising their quality of food and service.
Inspite this intimidating reputation, the inn radiates the comfort and hospitality of a welcoming environment, praised as a "home away from home". During the stay, guests can enjoy a hot spring bath paired with a massage for an ultimate relaxing experience. The outdoor onsen can also be reserved for private-use, where guests will be able to bathe and relax while enjoying the view of the traditional garden of the inn.
Hiiragiya Ryokan
Established in 1818, Hiiragiya Ryokan is an enthralling, refined two-story Japanese style ryokan located in Nakagyo, Kyoto. The inn was built to make visitors feel at home. The ryokan is a structure that features Japanese-style rooms and traditional cultural aesthetic interiors. One of the ryokan's charms is its Kyoto-style garden that can be viewed from its inviting rooms. 
Guests will be delighted to experience the onsen and shared bathing facilities. The onsen is especially a must-try for inexperienced guests to fully immerse themselves with Japan's culture. Hiiragaya also features "family baths" where guests are welcome to reserve for private use. These baths are available from 3 in the afternoon to 11 in the evening and from 7 until 10 in the morning. The inn also offers instant access to Gion and Shin-kyogoku, which is the center of the city.
Hoshinoya Tokyo
Hoshinoya Tokyo is a traditional Japanese inn located in the prestigious Otemachi district in Chiyoda City of Central Tokyo. It features guest rooms lined with tatami mat flooring and welcomes visitors with authentic Japanese ryokan hospitality. Each guest room is fitted with a flat-screen television that comes with a private bathroom.
Hoshinoya Tokyo offers its guests two gender-segregated baths, with waters drawn from a hot spring 1,500 meters below ground. The outdoor baths are situated under an open-roof chamber that gives guests a unique experience. Additionally, there is a spa center available for added relaxation.
Gion Hatanaka
Gion Hatanaka is a traditional Japanese inn that can be located in Higashiyama, known as the place where Japan's historical presence thrives, dating back especially to the feudal era. Visitors at Gion Hatanaka are allowed to enjoy their spare time exclusively. Upon arrival, guests will immediately notice the unique presence of the Japanese atmosphere. The building itself is in the tea ceremony pavilion style, introducing a cheery and attractive vibe for locals and tourists alike.
Each room of the ryokan is equipped with a private bath where guests can unwind without worrying about time. Guests can also feel the warmth and aroma of large and private baths through its wooden materials used, which were from umbrella pines. Guests can enjoy the provided iconic spacious communal bath that overlooks a zen garden.
Fukuzumi-ro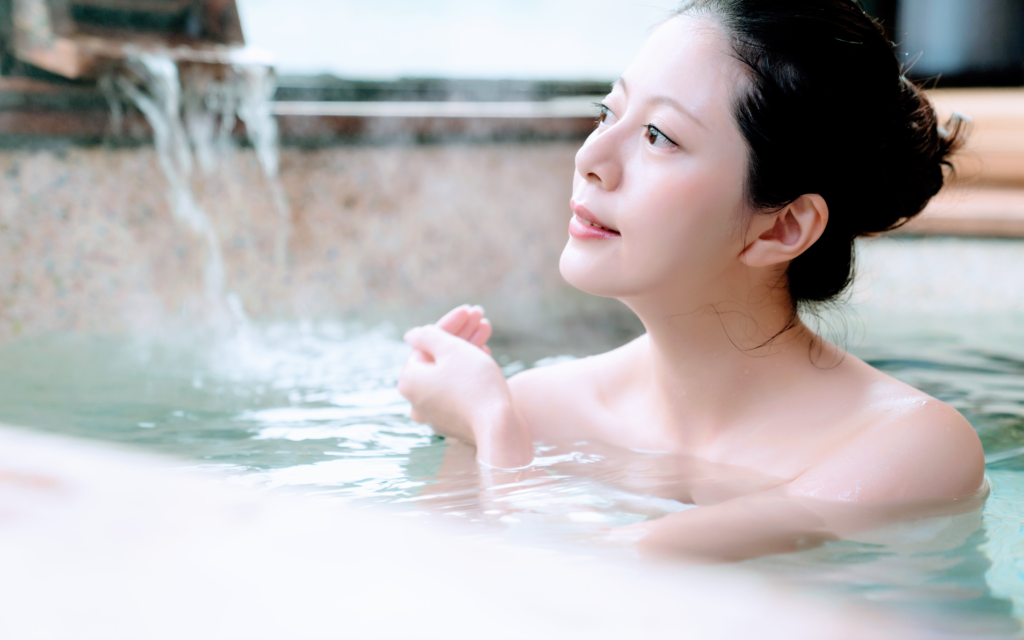 Fukuzumi-ro is a traditional Japanese inn that displays an authentic and cultural design of classic Japan. The inn is located in Hakone, which is only about an hour-drive from Tokyo. The ryokan features a private onsen and large spacious rooms equipped with tatami-mat flooring and sliding doors. Its rooms also boast large windows where guests can view either its garden or the river. Some of its rooms also offer a private onsen experience, while guests are welcome to try the public onsen.
Hakone Kowakien Yunessun

Hakone Kowakien Yunessun is an onsen hotel surrounded by forest elements and is around an hour-drive from Tokyo, which is the closest city to the location of the onsen. The hotel is a 15-minute walk away from the Hakone Open-Air Museum and 6 kilometers away from the Owakudani Volcanic Valley. It features casual rooms complete with tatami mat flooring and chabudai dining tables. Some of its rooms have patios that boast the beauty of the forest.
The hotel offers a variety of baths, ranging from coffee and green tea baths to wine baths. It also has an open-air scenic bath with regular hot spring water that offers mountain views. Private baths can be enjoyed by those who want more privacy in bathing. It is recommended for families and friends for an exclusive onsen experience during their stay.
Hakone Suimeisou

Hakone Suimeisou is a modern type of accommodation that strongly mixes its design with the traditional ryokan. The inn is located in Hakone and is about a hundred kilometer away from Tokyo, the closest city to the area of the onsen. Guests can book rooms that feature private hot-spring baths that can be used any time during the stay. A private onsen can also be found on-site available upon reservation for a time limit, which is provided on a separate fee. A public bath can also be enjoyed on the top floor.
Hakone Yuryo

Hakone Yuryo is an onsen ryokan that has the biggest hot springs in the region having a total number of 19 private hot spring baths. It is located in Hakone which is about an hour-drive from Tokyo. The fees for the onsens found in rooms depending on the type. Reservations for private rooms can be made through telephone calls and can be reserved up to one month in advance. Its facilities for relaxation range from indoor baths, open-air baths, pottery baths, and sauna treatments.
Ichinoyu Shinkan
Ichinoyu Shinkan is a traditional Japanese inn located in Hakone and is approximately a hundred kilometers from Tokyo City. The ryokan offers rooms equipped with private hot spring baths that can be enjoyed exclusively by guests. It also has public baths that can be enjoyed indoors and outdoors which are only for guests who will be staying the night. Guests can also choose beddings between Western and Japanese styles. It is recommended that meals should be included when booking for a room as not many restaurants are present in the area.
Motoyu Kansuiro Ryokan & Onsen
Dating from 1614, Kansuiro Ryokan is a hot spring ryokan not far from the zen temple Soun-ji. Its closest city is Tokyo, and is especially near to the Hakone onsen resort town, which is renowned to locals and tourists. The history of this onsen travels back to the 17th century, which can be seen by the architecture of the inn.
It offers rooms equipped with tatami mat flooring and futon bedding, having shared or en-suite bathrooms. Selected rooms have in-room onsens which can be enjoyed by guests exclusively. It has two open-air hot spring bathhouses, where private onsen baths are also available. Its relaxation amenities also include a healing stone spa. Other facilities of the onsen is its museum filled with the history of Kansuiro Ryokan & Onsen.
Kusatsu Onsen Daitokan
Daitokan Hotel is a modern hot spring accommodation not far from Kusatsu Onsen, a hot spring resort, and Kusatsu Onsen Ski Resort.  The onsen is in the Town Center of Kusatsu, the city closest to the inn. Its rooms feature tatami mat flooring and futon bedding. It has an on-site restaurant equipped with wooden flooring and a karaoke bar where guests can sing their hearts out. Breakfast is also available during their stay. Pets are welcome in the hotel so that guests can be with their furry buddies during vacation.
The hotel has a variety of hot springs baths that are available for 24 hours. Some of its indoor and outdoor onsens can be reserved for private use. This is recommended for families and couples. Gender-segregated public onsens are also available for those who would like to experience this type of bath. Onsen baths are free for hotel guests and pets, while private onsens are available on a separate fee depending on a first-come, first-serve basis. Pets can relax in baths too!
Kusatsu Now Resort Hotel
Kusatsu Now Resort Hotel is an onsen resort located in Kusatsu, the city closest to the inn which is 200 km away and a 3-hour drive from Tokyo. Guests can enjoy a variety of activities like golf, skiing, and tennis during their stay. From all the activities, visitors are invited to relax in the open-air bath of the hotel. Aside from bathing in the public bath, guests can let loose in the private open-air bath surrounded by tatami mat flooring. Guests can also choose between a cypress bath and the round bath.
The cypress bath has a complete aesthetic of wooden materials that enhance the aroma and experience when soaking. The round bath is made with Shigaraki-ware pottery, which is a specialty of the onsen. These types of baths are ideal for families who have small children. The hotel also promotes its 2-hour bath feature that comes with lunch service. This is recommended for those who do not plan to have an overnight stay. Onsens can be rented for private use for guests to fully experience an exclusive bathing experience.
Kyoto Nanzenji Ryokan Yachiyo
Kyoto Nanzenji Ryokan Yachiyo is known for being a luxurious ryokan that delivers a cultural experience like no other.  The ryokan is located in Kyoto, a city known for its history where travelers can see the iconic geishas and maikos. It has a garden ryokan that possesses the zen concept of a traditional Japanese inn. The inn dates back to the 19th century and is surrounded by nature and beautiful landscape. It is only a small inn that has two wings, having its private onsens only located at the main building.
Ryokan Sumiya Kihoan
Sumiya Kihoan is an upscale onsen hotel not far from Kameyama Castle and Mount Kenpi, Kyoto being the nearest city. It has some of its rooms feature terraces, whirlpool tubs, and private open-air onsens. The hotel takes pride in its waters as it flows directly from a natural hot spring source. Sumiya Kihoan also offers indoor and open-air hot spring baths that can be enjoyed by men and women separately. Guests can also opt for spa treatments and relaxing massages.
Arima Hot Spring Ryokan Hanamusubi
Arima Onsen is known to be the oldest hot spring in Japan. It is situated in Kobe, a location known for being the seventh largest city  in Japan. The onsen has long been loved by the royal family and people who belong in the upper class of the country. Miyuki-so Hanamusubi an onsen ryokan designed with flowers and a stay that offers mountain views. For a private onsen experience, its guest rooms should be the go-to as it features semi-open-air and open-air baths that can be rented.
Its rental onsens are where guests can spend their relaxation without worrying about time. It boasts cypress material that gives off an aroma during the bath. The waters of the onsen are a combination of red and brown which means that it is high in iron and salt content. Guests can benefit from the healing and antibacterial properties of the water.
Noboribetsu Grand Hotel
Noboribetsu Grand Hotel is an onsen accommodation, with Noboribetsu being the closest city. It has an open-air garden bath paired with a waterfall. In its open-air spring, guests will be able to witness the beauty of the seasons of Japan. The hotel also features a rare dome-shaped structure that displays a Roman-inspired design. In its onsen facilities, guests can enjoy three baths, each filled with different types of spring. Its hot springs consist of chloride bath, iron bath, and sulfur bath. People can take their bathing experience to a luxurious level by staying in the guest rooms. The rooms have private open-air baths with designs touched with Western and Japanese styles.
Zaborin
Zaborin is a traditional Japanese inn found in the Abuta district which is located along the subprefectures of Iburi and Shiribeshi. It is located in Hokkaido, also the city being the closest to the ryokan. This type of ryokan is contemporary and brands itself as luxurious. It is one of the most recognized ryokans in Japan and has won multiple awards from different countries.
It is currently the number 1 ryokan in Japan. Zaborin has rooms each having two types of onsen, an open-air bath, and an indoor bath, with its features combined with modern amenities. Its villas have their interior designed in Japanese style. Their rooms are equipped with traditional elements and a view of Mt. Yotei, Annupuri, or the Waisuhorn Mountain Ranges, depending on where the rooms are situated.
Onsen Manners and Etiquette