Hakone, a part of the Fuji-Hakone-Izu National Park in Kanagawa Prefecture, is a mountainous area to the west of Tokyo. Known for having multiple resorts and hot springs, ranging from the modern Western-style accommodations to the traditional Japanese Ryokan, visitors flock to the area to appreciate the views of the mountainside and of Mount Fuji. Hakone is one of the most popular destinations for travelers–both local and international.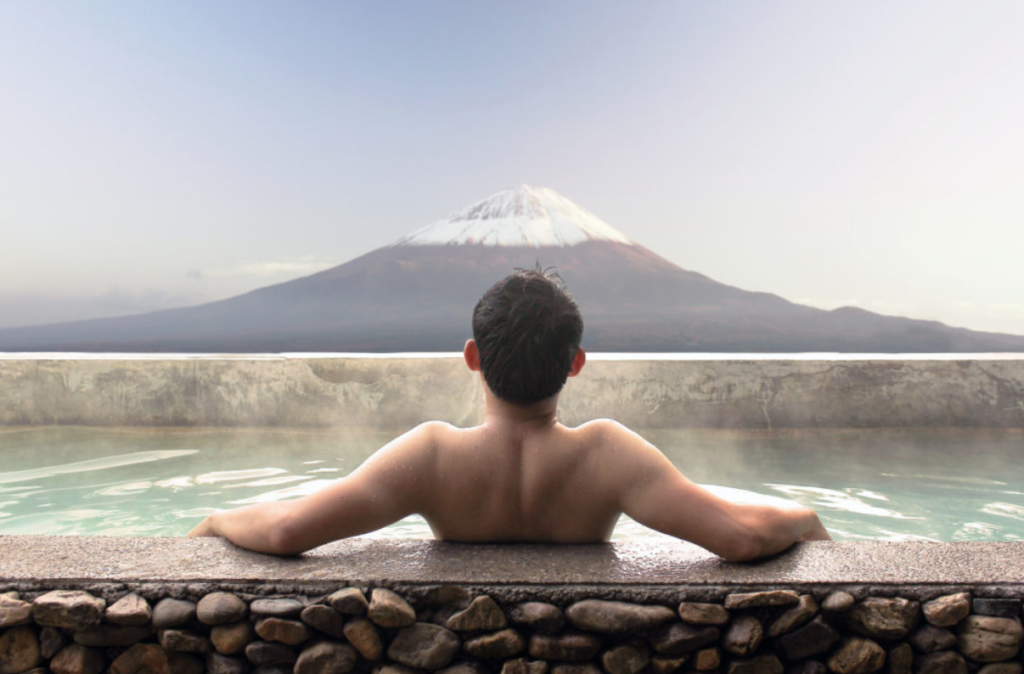 The hot springs in the area are not just visited in the more recent years, the area has been a favorite vacation area for hundreds of years, with its 17 hot spring resort towns–one of which is Yumoto Onsen. Yumoto Onsen is the oldest among the 17 resorts in Hakone, its discovery dating back to the Nara period (710 to 794 AD). The hot spring town is known for its large number of hot spring baths.
There are shops lined up outside Hakone-Yumoto Station to accommodate the flocks of tourists crowding the area, called "shotengai" which means shopping street which spans 200 meters long. Here, visitors can shop for souvenirs and try the street food stalls serving specialties like fried fish balls and manju filled with red bean paste. Outside Hakone-Yumoto station, one can also find Hayakawa, a wide river with a beautiful red bridge crossing it, called "Ajisai-Bashi". A walking distance from the bridge, one can find the ancient Sounji Temple, built in the Edo Period (1603-1868) and named after Hojo Soun–a samurai who ruled over the Kanto Region. Yumoto is also known as the gateway to Hakone as it is the first town before entering the rest of the district. 
Since Yumoto Onsen is located in a National Park, locals and tourists can enjoy the view of the mountainside and the fresh air if they opt for using open-air baths, or a relaxing time in private baths with their own views of nature. Yumoto Onsen can be accessed from Tokyo Station to Hakone-Yumoto Station.
Famous Onsen Ryokans
As a part of the Hakone tourist area, Yumoto is home to a number of quality accommodations to complete the Japanese cultural and onsen-ryokan experience. The tourist destination hosts both luxurious and budget-friendly ryokans and hotels, each of which with its own set of charms and unique personality.
Yutorelo-an is a modern Japanese inn with Japanese and Japanese-Western guest rooms that have wide windows looking into the mountain range of Hakone and the woodland surrounding it. Guests are also free to choose from 5 kinds of colorful yukata robes for the duration of their stay.
Private hot spring baths are available upon reservation, as well as large gender-segregated hot spring baths with waters sourced from two different hot springs. A footbath is also provided on the terrace, free of charge, as well as massage chairs in the break area that are positioned to face a window looking out into the scenery. There is also an on-site restaurant in Yutorelo-an that serves seasonal kaiseki courses and dishes that are unique to the area.

Hakone Hoeiso Ryokan, also referred to as Kijitei Hoeiso, is a traditional Japanese inn situated nearby a river and the mountainside. The inn has traditional Japanese guest rooms, as well as a garden and a number of public baths. An onsen can also be rented for private use, which is ideal for families and couples.
The inn also features a filling breakfast and kaiseki dinners in their dining room, so guests can enjoy the scenery and taste the flavors of the area.

Kai Hakone is a traditional-modern hot spring inn located on the banks of the Sukumo River. The first three floors of the inn display traditional Japanese interiors, resembling that of a ryokan. while the fourth floor introduces Western-style rooms.
Kaiseki meals and Japanese cuisine are served for the guests staying at the inn. There are also open-air baths that look out into the river and the surrounding nature.
Aside from the stunning show of the rooms, Kai Hakone also offers activities like yosegi coaster-making which guests can take home as a souvenir.

Hotel Hatsuhana is a ryokan popular among female guests because of its aesthetic natural environment and authentic tea-ceremony dishes. It is also  accessible for guests with disabilities.
The hotel features traditional Japanese-style interiors with rooms fitted with tatami mats and futon beds, as well as modern elements in the decors. Along with the en-suite hot-spring baths, there are gender-segregated hot-spring baths for the guests' enjoyment.
In addition to this, Hotel Hatsuhana comes with a women-only relaxation salon in the women's spa, "Yamazakura", that provides services ranging from facials to body massages. For the men, there is "Yurari", which provides their own relaxation experience on par with the women's salon. Other facilities include a lounge, a shop, and banquet halls. Hotel Hatsuhana has its own restaurant as well, "Tsuji no Chaya" that serves guests with Japanese Cuisine.

Hakone Yumoto Onsen Yaeikan is an inn with traditional Japanese guest rooms, complete with tatami mat flooring and futon bedding. It features hot spring baths with mountain views, and a garden where guests can take a stroll in.

Yoshiike Ryokan is an onsen ryokan with guest rooms that uses traditional Japanese designs and Western influences. Each room has a view of the Japanese garden. There are many onsen facilities available for the guests to enjoy, as well as a kaiseki meal during dinner. A gift shop and a massage service is available on site.
Hakone Yumoto Video
Hakone Yumoto Location
Onsen Manners and Etiquette