Ryokans are one of a kind accommodation unique to Japan. It's a form of traditional inn brimming with cultural experience that can be found nowhere else. These Japanese inns are more commonly found around Tokyo and in the Kyoto area, and onsen or hot spring resort towns like in Hakone Gora or Yumoto. 
While there is no strict definition of what a ryokan is, many ryokans all carry a few certain elements that make them just so. Incredible cuisine, authentic appreciation for Japanese design, and the most dedicated passion for 'omotenashi' Japanese hospitality are just a few features. If you're interested in staying in a ryokan, here's everything you need to know, from the history and rules to some of Japan's best ryokans from across the map.
Although there are a large number of ryokans around Japan, we have picked the top 8 best performing ryokans according to varied guest reviews, recognition and accolades:
1. Zaborin 
Zaborin is one of the best contemporary luxury ryokans in Hokkaido. It can be found in the Abuta District in the subprefectures of Iburi and Shiribeshi. It is one of the most recognized ryokans in Japan and has earned multiple titles in different countries as well. Zaborin holds many awards in its name, ranging from Best Gourmet Getaway in the Mr. and Mrs. Smith Awards 2018, and ranking in the Top Hotels and Ryokan in Japan Award, and multiple others. Zaborin also earned itself 5 Red Pavillions from Le Guide Michelin Hokkaido in 2017.
The high-class inn does well to combine traditional Japanese ryokan elements with modern designs that give the interiors a clean and distinguished design, with rooms look out onto rolling meadows, and the bar is a front-row seat to Mt. Yotei, Annupuri, or the Waisuhorn Mountain Ranges. It's easy to access, but the intimate property feels remote. This modern reinterpretation of the traditional ryokan comes from the hotel's aim to capture the essence of the meditative elements of the ryokan experience and imbue it into modern comforts, and to become a part of the surrounding nature of the inn.
Guests at Zaborin are served only the best of Japanese fine dining, with its own take on culinary traditions. The inn features a signature meal "Kita Kaiseki" that incorporates northern elements into its dishes and explores the simplistic and natural flavors of its ingredients.
Zaborin is tucked in the woods and surrounded by the magnificence of nature. If you stay in the inn, you'll be able to look out into the woodland and the fields, with Mount Yotei overlooking the entire landscape.
Website: https://zaborin.com/
Email: info@zaborin.com
Address: 76 4 Hanazono, Kutchan, Abuta District, Hokkaido 044-0084, Japan
2. Hoshinoya, Tokyo 
Hoshinoya Tokyo offers one of the most relaxing ryokan experiences in Japan. With polished wooden interiors and tatami flooring throughout the establishment, the whole inn welcomes an ambiance of serenity in the midst of a busy city. Hoshinoya Tokyo is tucked into the prestigious Otemachi District in Tokyo, offering a quick getaway from the hustle and bustle of the city. 
Hoshinoya Tokyo is one of the first onsen ryokan of the Hoshinoya properties in the urban city, and the first in Tokyo, aiming to serve businessmen and tourists and to give a better appeal than a regular hotel. This unique innovation of bringing a relaxing experience from the countryside to the city earns Hoshinoya Tokyo the recognition as being one of the best ryokans in Japan, and earned a spot in the World's Best Awards 2020 Top Hotels in Tokyo by the Meredith Corporation.
The Japanese inn offers its guests two gender-segregated baths with waters sourced from a hot spring, over a thousand meters underground. The indoor baths are connected to their outdoor counterparts by a cave-like tunnel that leads to a chamber surrounded by tall walls, the outdoor baths situated under the Tokyo sky.
The easily accessible Japanese inn is also praised for its location, being just across the road from the Imperial Palace and its striking gardens. Hoshinoya Tokyo is also known for its authentic Japanese hospitality–the ryokan's staff is noted to be attentive to guests and provide services from a spa treatment, to cultural performances and ceremonies–like a Tea ceremony where guests can participate as well.
3. Hiiragiya Ryokan
Hiiragiya Ryokan is one of the oldest and most beloved inns in Japan. The traditional inn has been hosting prominent personalities–writers, artists, and politicians, as well as members of the Imperial Family, since its establishment in 1818. Notably, Nobel Prize winning novelist Yasunari Kawabata, and noted author Junichiro Tanizaki, consider Hiiragiya as their "home away from home", as well as celebrities such as Charlie Chaplin and Elizabeth Taylor.
Like any long-standing Japanese inn, Hiiragiya has been managed by the same family for generations.
The rooms of the traditional inn have preserved its initial sophisticated design and architecture from the late Edo Period, with modern conveniences cleverly hidden among its wooden compartments. Staying in any of the rooms ensures comfort and relaxation, with the inn's staff providing unparalleled attention. The rooms feature a beautiful view of the rock, bamboo, and sakura garden. 
The Japanese inn also makes use of the "wabi-sabi" design in its old wing, and a more chic take on their newer wing. 
Hiiragiya is highly praised for its quality service and hospitality, rivaling that of Tawaraya–which, coincidentally, is right across the street. The Japanese inn serves its guests a colorful kaiseki dinner that's meticulously prepared by the ryokan's expert chef, as well as a selection of wines, sake, and spirits.
Hiiragiya Ryokan is conveniently located in Central Kyoto, just a short stroll from Kamo River, and is surrounded by the Gion district where you can find an abundance of geisha culture.
Website: www.hiiragiya.co.jp
Email: info@hiiragiya.co.jp

Address: Japan, 〒604-8094 Kyoto, Nakagyo Ward, 姉小路上ル中白山町277
4. Tawaraya
Tawaraya Ryokan is considered one of the finest, if not the finest, in Kyoto and perhaps all of Japan. The 300-year-old Japanese inn is the oldest in Kyoto and has since been frequented by people of prominence–one of which was Steve Jobs. Tawaraya has a reputation for its high quality, attentive, and personalized service that has stemmed from accommodating aristocrats back in the Edo Period, leaving no space for compromise in their services and dining experience.
Tawaraya is renowned for its relaxed atmosphere in their traditional and contemporary Japanese-style rooms, and Japanese garden, and is praised as a "home away from home". The ryokan also serves expertly prepared meals that feature seasonal and local ingredients.
The luxurious Japanese inn is ideally located in the city center, right in the heart of Nakagyo, Kyoto, making it a perfect spot to relax after exploring the bustling city. A dip in the private onsen baths and enjoying a kaiseki dinner and service is sure to melt away the exhaustion and worries of travel and work.
Telephone: 211-5566
Fax: 81-75-211-2204
Address: 278 Nakahakusancho, Nakagyo Ward, Kyoto, 604-8094, Japan
5. Ryokan Kurashiki, Okayama 
Ryokan Kurashiki is situated on the banks of the canals of the Kurashiki River in the center of the Bikan Historical Quarter. The old merchant town preserved a unique charm that extends to the ryokan, which was once a sugar merchant's home. 
The home-turned-inn radiates a charm reminiscent of stepping into the past, with its well-preserved craftsmanship and antiques, and exudes the feel of comfort and luxury. Ryokan Kurashiki features only five unique bedrooms that have served as a far away home for many high-profile guests and celebrities. 
Ryokan Kurashiki is well-praised for its attentive service and the accommodating Okami, who makes sure the guests feel welcomed and are provided with only the best Japanese hospitality that the ryokan can offer. At night, guests are served a kaiseki dinner unique to the area and feature seafood from the Seto Inland Sea.
Ryokan Kurashiki is praised highly for its location. The property is right on the banks of the Kurashiki River, where the charming street of the town is lined with willows and captivating old-world architecture of the surrounding buildings. Staying here, you'll find yourself in their captivating Japanese garden as well, where guests will be overlooking in breakfast time.
6. Gora Kadan
Gora Kadan in Hakone Gora is a 4-star ryokan located on the grounds of the former summer villa that was once owned by a member of the Imperial Family. The Japanese inn has earned praises for its design and has been awarded the Welcome Trophy by Relais and Chateaux for its high customer satisfaction and high standards of service. It is also a notable member of Relais & Chateaux, a hotel association for exceptional hotels and gourmet restaurants.
Gora Kadan features a fusion of tradition and modernity. The former Imperial estate is considered one of the National Park's most coveted jewels, and was once a favorite retreat of the Kaninnomiya Family.
The guest rooms in Gora Kadan all feature views of the mountainside, same with the open-air baths. There are also private onsens available, going well along with the spa service that would give the most relaxing, yet intimate experience with nature and the self.
Website: https://www.gorakadan.com/
Email: 

sns@gorakadan.com

Address: 1300 Gora, Hakone, Ashigarashimo District, Kanagawa 250-0408, Japan
7. Seikoro Ryokan
Established in 1832, Seikoro Ryokan or Seikoro Inn started as a lodging stop for travelers on their journeys in Kyoto, and eventually evolved into the traditional inn it is today. Seikoro Ryokan has since been run by the same Japanese Family, and maintained its quality service, earning its place as one of the top ryokans in Kyoto. 
The cozy Japanese ryokan is known for its exceptional hospitality and attentive service. The guest rooms have since been refurbished to incorporate more modern elements and comforts, with a sitting area that offers views into its delightful garden. That staff's attention to detail during a stay is sure to impress along with the multi-course kaiseki dinner.
After dinner, you'll want to soak in its relaxing baths. The cypress and pine baths facing the garden will give a luxurious feel and bring on a relaxing experience like no other.
Seikoro Ryokan is also ideally located near historical sites like Kiyomizu, a temple that has been declared as a World Heritage Site.
If you plan on staying here and have a pet, Seikoro Ryokan also welcomes furry guests provided they are small and will not disrupt the stay of the other guests.
Website: www.seikoro.com
Email: 

info@seikoro.com

Address: Japan, 〒605-0907 Kyoto, Higashiyama Ward, 問屋町通五条下ル三丁目西橘町467
8. Ryokan Hirashin
Ryokan Hirashin is one of the best ryokans located in downtown Kyoto and is ideally placed close to shopping areas and the town's nightlife–the perfect place to relax after a day of exploring the places and the things that Kyoto has to offer.
The rooms are designed in line with a typical Japanese ryokan, tatami mat flooring, wooden fixtures, and futon bedding. The inn also offers public hot spring baths where guests can freely relax and enjoy time without the rush. If onsens are full, guests can opt for the massage sessions instead.
Breakfast is served in Japanese-style dishes, which are served daily at the banquet room. Dinner, on the other hand, is served in the rooms of the guests. 
Ryokan Hirashin is just a short walk away from Nishiki Night Market, Daimaru Department Store, and the Kyoto Imperial Palace. Guests with younger family members will also find a park nearby for the children to explore.
9. Hoshinoya Kyoto
The second Hoshinoya property on this list is also the second property that the resort chain has opened. Hoshinoya Kyoto is a traditional Japanese inn converted from the home of Ryoi Suminokura, a wealthy merchant. The ryokan is located in Nishikyo, on the riverbanks of Ōi River, just a short distance from the Arashiyama Bamboo Forest.
Hoshinoya Kyoto has been praised for its beautiful location, surrounded by sakura and a captivating walkway covered in moss that leads guests around the property. The Japanese inn also boasts traditional style cypress wood baths, and karakami printed wallpaper made by Kyoto craftsmen. 
The traditional Japanese inn takes great pride in their kaiseki dinners, which are prepared by their Michelin Star Chef Ichiro Kubota, using local and seasonal ingredients.
Like its Tokyo counterpart, Hoshinoya Kyoto has been recognized for its hospitality and has been given the rank of 5 Red Pavilions by the Michelin Guide for 10 consecutive years since 2011, a Crystal Award from Professional Japan in 2013, and ranking in Conde Nast Traveler Gold List from 2016-2017. Hoshinoya Kyoto has also been a consistent nominee for Japan's Leading Resort from 2015-2020, winning the award in 2016.
10. Yumotoya
Yumotoya Onsen Ryokan, or simply Yumotoya, is a 4-star traditional Japanese inn with a history that spans from its first operations as a therapeutic bath in 1880. Today, it's one of the most popular inns of choice among local Japanese guests and foreign tourists, offering Japanese and Western-style rooms.
The Japanese Inn takes pride in serving a kind of kaiseki, "Wa-sho-ku", traditional cuisine that was given a place on the UNESCO Intangible Cultural Heritage list. The dishes feature Niigata's specialties such as bespoke food such as Murakami Beef, Nanban shrimp, and seaperch. A children's menu is also provided to accommodate their palates.
Yumotoya guests can also relax in the large communal baths or private baths, or opt for a massage at the spa facility. The property also has a captivating garden where guests can stroll through and find amusement with the fishes in the pond.
Website: https://yumotoya.co.jp/
Email: info@yumotoya.co.jp
Address: 91-1 Iwamuroonsen, Nishikan Ward, Niigata, 953-0104, Japan
11. Beniayu Ryokan

Beniayu Ryokan offers one of the most spectacular views in Nagahama, Shiga Prefecture. The modern lakefront inn overlooks the sparkling waters of Lake Biwa and the surrounding landscape. Beniayu Ryokan has been one of the popular choices of lodging among tourists, both foreign and local alike because of its contemporary take on the traditional Japanese inn.
The inn has 16 guest rooms in the ryokan fuses traditional Japanese design with contemporary interiors. With tatami mat floors and futon bedding, as well as yukata robes, guests will be able to experience Japanese ryokan culture with the comforts of today's technology. 
The lakeside location brings on various experiences if you decide to stay at Beniayu Ryokan, ranging from canoeing, island hopping, and various watersports. You can enjoy their appetizing kaiseki dinner when you get back or enjoy the private open-air bath, as well as communal indoor and outdoor hot spring baths, where you can soak up the tiredness from a day's exploration in Lake Biwa. To add to the relaxing experience, the ryokan also provides a massage chair, situated in a room where one can lay back and enjoy the view of Lake Biwa.
Website: http://beniayu.com/
Email: info@beniayu.com
Address: Japan, 〒529-0364 Shiga, Nagahama, 湖北町尾上
12. Hoshi Ryokan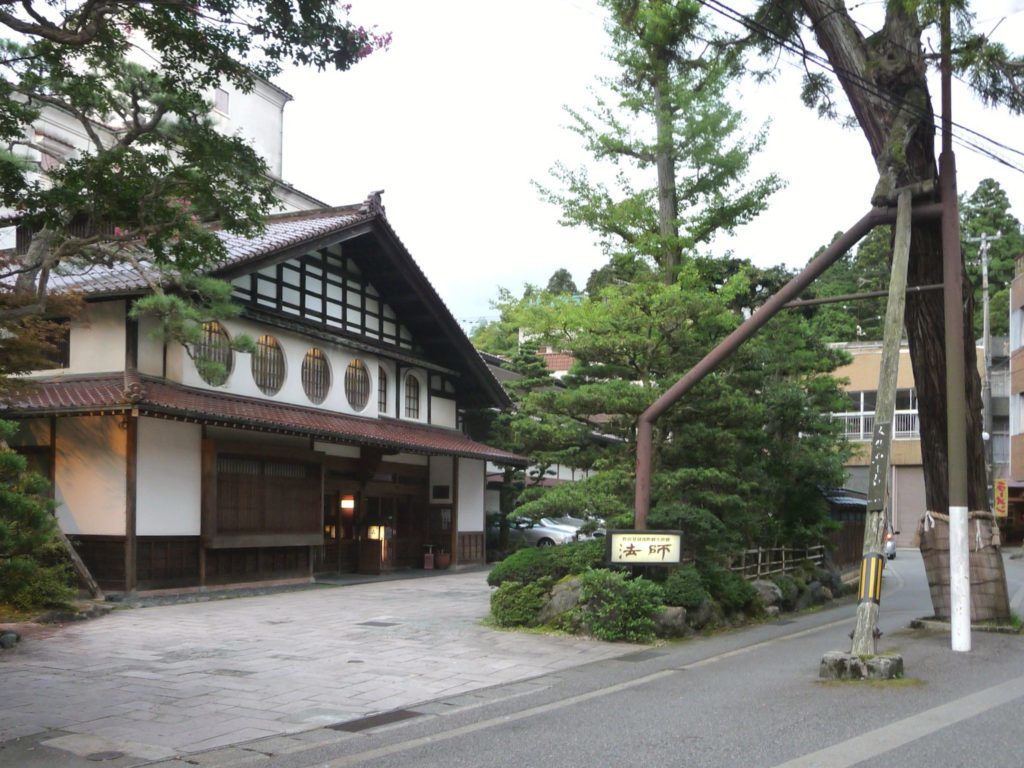 Hoshi Ryokan the holder of the Guinness World Record for the oldest hotel in the world, and has been managed and operated by the same family for many generations, since its establishment in 718 A.D. The inn preserves the unique charm that a traditional Japanese ryokan holds, with its tatami mat flooring, futon beds, and windows that look out into the scenery surrounding the inn.
Being around for that long, it's no question whether or not the ryokan provides quality service and Japanese hospitality, as many guests will return to it in search of relaxation and serenity. Hoshi Ryokan's legacy lies rooted in the quality that's ensured in every guests' stay, making the historical inn a cherished and beloved landmark. In addition, it's also a short distance from Osshobe Park and Nata Temple.
Hoshi Ryokan prides itself on being able to offer a culture-rich experience, from its guest rooms, architecture, and garden. As such, there is even a gallery that displays pottery works from different generations. The guest rooms even radiate their own charms, and exquisite views, even offering stays for long-term guests.
13. Sansuiro
Sansuiro Yugawara is a popular choice of lodging in the Ashigarashimo District. Known for its scenic rooftop bath that offers a panoramic view of the mountainside and Lake Ashinoko, with waters sourced from Yugawara Onsen.
Sansuiro features guest rooms with their own private open-air bath hot spring baths, as well as a spa facility that offers facials and massage treatments upon request. The guest rooms are faithful to traditional Japanese designs, with tatami mat flooring, wooden fixtures, as well as a futon bedding, but incorporates more modern amenities to make the stay more comfortable.
You'll find yourself being served artistic and meticulously crafted Japanese cuisine, and especially the sought after kaiseki meal and Japanese breakfast that will not only deepen the cultural experience in Japan but also bring about a healthier diet during your stay.
Sansuiro also offers optional experiences for guests to participate in or observe Japanese traditions like geisha performances and a Japanese Tea ceremony.
Website: https://sansuirou.co.jp/
Email: 

ssr-info@noguchi-k.co.jp

Address: 673 Miyakami, Yugawara, Ashigarashimo District, Kanagawa 259-0314, Japan
14. Nishiyama Onsen Keiunkan
Nishiyama Onsen Keiunkan is a Guinness World Record holder for the oldest hot spring ryokan in the world, with its 1,300 years of history since its establishment in 705 AD. The 5-star ryokan in Hayakawa still remains a popular destination for tourists, both local and international alike, for its exceptional service that has stayed consistent through the years.
The ryokan boasts of free-flowing hot spring waters that are available in all the rooms, and even in the showers. In addition, there is also a sauna and open-air public hot spring baths available for added relaxation, as well as private baths. You can even enjoy a night of singing your heart out at the on-site karaoke room that's available for rent. The wide guest rooms even feature splendid views of Mount Fuji, the river, and even the gorge or valley.
The praise-worthy restaurant serves only the best for its guests, with kaiseki meals featuring A5 rank Koshu beef and local cuisines prepared by their award-winning and skillful chef. An Asian breakfast is also served every morning.
Website: http://www.keiunkan.co.jp/
Address: Japan, 〒409-2702 Yamanashi, Minamikoma District, Hayakawa, 西山温泉
15. Gion Hatanaka
Gion Hatanaka is found in the picturesque Gion District in Higashiyama. Known for being tourist-friendly, the inn is especially accommodating to those who are new to the ryokan culture in Japan.
Located right in the heart of a district that treasures geisha culture, Gion Hatanaka stands out from the list of ryokans as it offers maiko evenings and regular geisha entertainment where guests can observe the traditional dances and performances. If you're a fan, this is the place for you to play maiko drinking games first hand, and learn about the samurai and sword dancing.
Of course, to complete the experience, Gion Hatanaka also serves specially-prepared Kyoto kaiseki for dinners. There are private baths as well as large communal baths for you to relax in after exploring the sight-seeing district, and the nearby Yasaka Shrine and the Geisha Village.
Ryokan Manners and Etiquette