Kitchen knives are an important tool for food preparation and dining. While there are multiple types that you'll encounter in the kitchen, there is one highly coveted kind of kitchen knife you'll bump into in your search for the perfect edge.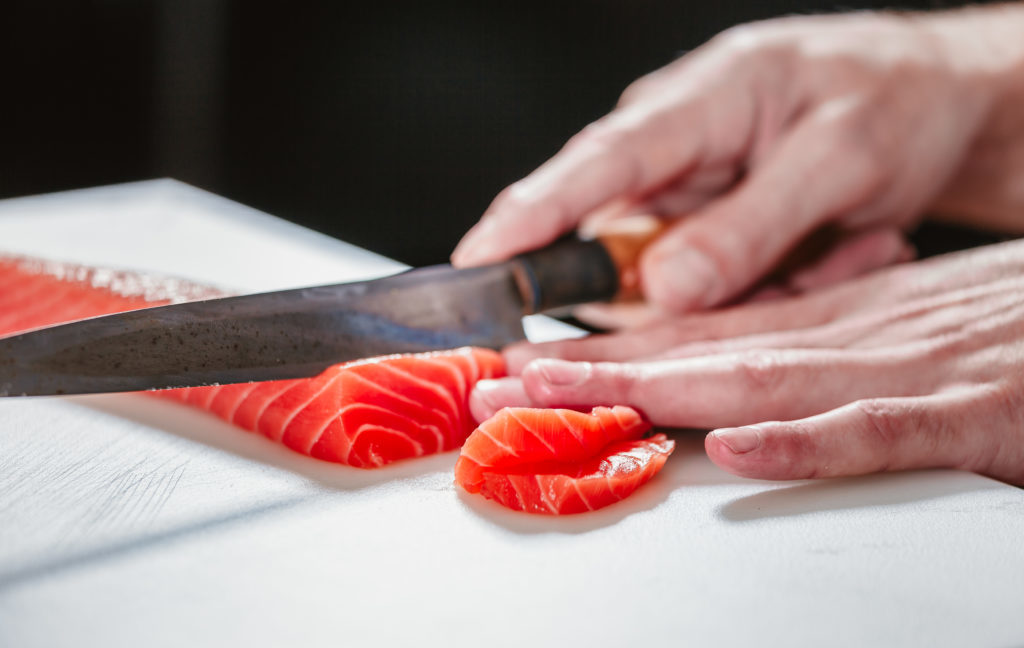 Japanese knives are regarded as the finest and best quality tools anyone can invest in, even having some sort of cult following by experienced chefs and earnest home cooks all over the world. 
Influenced by the development of Japanese swords, these culinary tools were historically manufactured by experienced swordsmiths and artisans in the Meiji Period when their main livelihood was threatened by the Sword Abolishment Edict which banned the possession and creation of weapons–including the katana. 
In order to adapt, the swordsmiths used their knowledge of swordmaking and turned to the production of blades, not to use as weapons, but as culinary tools of the utmost quality and an exceptionally sharp edge. One of these places is Sakai in Osaka, which has been known for its weapons production of swords and guns, as well as tobacco cutting knives. The Sakai area is still one of the best producers of high-quality Japanese knives and is highly sought after by highly accomplished chefs from all over.
While Western knives tend to be multi-purpose and are known for their versatile nature, Japanese knives have specific purposes, making the process of choosing and buying one a little more challenging for a first-timer. There are many kinds of Japanese knives and each with their individual use. 
Already know what Japanese knife you want? Scroll down for more information on where you can buy them!
Kinds of Japanese Knives
Nakiri Bocho
Nakiri knives are probably one of the most distinguishable types of Japanese knife anyone could encounter. The blade is thin and wide but has angular or squared-off tips. The edge is double beveled as well, making it versatile for use among both left-handed and right-handed chefs and cooks. This rectangular is a Tokyo-style nakiri, while there is another variant, the Osaka-style, which has a curved spine.
The nakiri is designed for peeling, slicing, and chopping vegetables and long produce like cucumbers or eggplants, and for delicate, thin cutting techniques such as julienne and brunoise. Alternatively, the nakiri is also excellent at cutting through hard produce like squashes.
Usuba Bocho
The usuba bocho is very similar in appearance to the nakiri but are much thinner and are ideal to use for making precise, paper-thin slices or decorative strips.
Usuba knives have a delicate blade that contributes to making precise cuts and small decorative garnish. A lot of professional chefs have a preference for the usuba but it can be a challenge to own for a beginner or a newer home cook as it can be difficult to sharpen.
Deba Bocho
The deba is a traditional Japanese knife used for filleting fish, poultry, and most small meats. It has a curved spine and edge towards the tip. The deba bocho is single beveled, giving it a flat back that makes it easier to fillet precisely without roughing up the meat or delicate fish.
This knife is thicker compared to most Japanese knives, and is sturdier for cutting or chopping small bones in poultry or fish. The deba bocho usually comes in larger and a smaller size for professionals and home cooks respectively.
Santoku Bocho
Comparable to the all-purpose Western chef's knife, santoku literally translates to "three virtues" and refers to the blade's use for cutting meat, fish, and vegetables. Similarly, the santoku is ideal for three different cutting styles which is slicing, dicing, and chopping.
Unlike the Japanese gyuto knife, santoku knives are larger and considered more agile but do not support rocking motion while chopping. However, this type of Japanese knife is prefered by cooks and chefs with smaller hands or grips as they are usually shorter than a regular chef's knife.
Yanagiba, Takohiki, and the Fuguhiki Bocho
The yanagiba bocho is another type of traditional Japanese filleting knife but is mainly used for slicing fish to prepare sushi and sashimi, as well as to skin fish. These blades are long and narrow with a slight curve towards the tip that makes it easier to cut fish in a single swipe. The yanagiba tend to come in a variety of sizes ranging from 8 to 14 inches.

The takohiki bochi has a similar purpose and use as the yanagiba, with the exception of its appearance. The blade is rectangular in shape and has a beveled, square tip. The takohiki is also referred to as sashimi bocho or sashimi knife, and is primarily used in the Kanto region in Japan.
Another variety of the Japanese filleting knife is the fuguhiki. This knife is very similar to the yanagiba but has a narrower and thinner blade and it is used specifically for preparing pufferfish or "fugu".
Honekiri Bocho

The honekiri knife is used to clean, slice, and cut the bones of the daggertooth pike conger. It has a thick, heavy spine and fine edge that can finely cut through and crush bones. This blade has a beveled and angular tip, much like a smaller and narrower cleaver.
Menkiri Bocho
The menkiri, also known as the udon kiri or noodle cutter, is a heavy knife used for cutting udon and soba noodles. It takes on a rectangular shape with a straight edge that extends to the handle to cover the width of the noodle dough and lie flat on the cutting surface. This unique shape lets it completely cut across folded doughs and make even straight pieces.
Unagisaki Bocho

The unagisaki bocho is specifically designed to cut through freshwater eel or unagi and prepare the slippery delicacy. There are multiple types of unagisaki bocho based on preparation styles and regions: the Edosaki, Nagoyasaki, Osakasaki, Kyosaki, and the Kyushusaki. 
Most unagisaki will have an angled, rectangular edge with a sharp tip that is used to pierce the skin of the eel and is dragged along the length to slice across with the beveled edge.
Gyuto
The gyuto is another Japanese equivalent of Western chef's knife and was mainly used for cutting meat and fish. Although it's about as versatile as its Western counterpart, making for a superb all-purpose knife.
The sharp edge is curved towards the point, making it easier to cut cut with a rocking motion as you would with a regular chef's knife. The surface and profile are also wide enough to stay in contact with the knuckles when chopping and to reduce strain on the arm and wrist.
The gyuto is an excellent choice for mincing smaller cuts of meat and vegetables but does not necessarily do well with thicker and denser produce.
Garasuki and Honesuki

The garasuki and the honesuki are the Japanese counterparts to the Western boning knife. It has a triangular shape, and usually has a straight edge leading to the tapered tip. These tough blades are used to maneuver around tight spaces and bones to remove the meat.
The garasuki is larger and denser in comparison to the honesuki but both knives serve the same purpose.
Where to Buy Japanese Knives
Kitchen knife blacksmith sharpening by EverJean in Kyoto
Japanese knives are some of the best and most sought after culinary tools for any aspiring chef, home cook, or professional. There are many places to buy them online, and buying from a well-known store in Japan is also worth the experience. Japanese knives can be a little pricey compared to regular stainless steel kitchenware.
The Japanese Chefs Knife online store carries multiple brands of Japanese knives including Hattori, Takeshi Saji, and JCK Original. Japanese Chefs Knife supplies a wide selection of the best quality knives and cutlery for an affordable price from Western-style knives and Japanese, including stainless steel and carbon steel knives. Accessories such as whetstones are also available through their site.
Their products are shipped from their location in Seki City, the knife-making capital of Japan. Shipping starts from $10 for the United States, Canada, Australia, and Asia, while Europe and other countries will be around $15 to $20. Due to the pandemic, postal shipping services are delayed.

Coutelier Nola is a Japanese chef's knife boutique located in New Orleans, USA. The store is owned by two former chefs, Brandt Cox and Jacqueline Blanchard, who handpick their selection of Japanese knives and other store items from their several trips to Japan. The store takes pride in supporting and promoting the traditional Japanese craft of hand-forging professional and high-grade cutlery and bringing back these exquisite tools to the culinary community in the United States.
Address: 8239 Oak St, New Orleans, LA 70118, United States
Korin Japanese Trading is a Manhattan store that offers the finest Japanese knives, tableware, and other kitchen products to the culinary community of New York. Korin houses a wide selection of the best Japanese knives from all over the world, including Japan. The products they present are a mix of traditional Japanese crafts and the latest cutting edge designs–their Japanese knives are handmade and present the highest quality.
Address: 57 Warren St, New York, NY 10007, United States
In Japan
Aritsugu Nishiki Market

Aritsugu in Kyoto Nishiki Market is one of the most popular places for visitors to buy the best Japanese knives. They are a trusted brand by professionals and at least one of their knives can be found in any kitchen.
Their store would usually have professional chefs and hobbyists browsing through their collection of Japanese knives and other silverware and culinary tools. After making a purchase, Aritsugu grinds the final edge on the selected knife with the large revolving whetstone, right in front of speciating customers. 
Aritsugu Nishiki Market has no website but can be contacted by phone. 
Address:

Japan, 〒604-8052 Kyoto, Nakagyo Ward, 御幸町西入ル鍛冶屋町219

Phone: +81 75-221-1091
Shigeharu Cutlery

Shigeharu is one of the oldest knife makers in Kyoto, and the only Kyoto knife company and manufacturer that is still operating since before the Onin War, in the Kamakura Period (1190-1329). Shigeharu is a small store but sells some of the finest quality traditional knives in Kyoto with an affordable price tag.
Shigeharu has no website and is not as popular as a tourist destination as Aritsugu, but has excellent customer service.

Address:

Anehigashihorikawacho, Nakagyo Ward, Kyoto, 604-8263, Japan

Kikuichimonji is another old, established knife shop in Kyoto. Kikuichimonji knives are made of stainless steel and do not rust, making them a great alternative to the authentic traditionally made Japanese knives which need maintenance and care. This quality makes them a great choice for Westerners who want to try out Japanese knives but do not want to put in the work and effort for upkeep.
Kikuichimonji has a website where you can shop online and have your cutlery shipped to you without the hassle of going to Japan. Shipping fees start at around $50.
Address: Japan, 〒604-8036 Kyoto, Nakagyo Ward, 寺町東入る石橋町14
Phone:

+81 75-221-0077

Sakai produces a large number of traditional Japanese knives and is one of the best places to go for the highest quality cutlery. These kinds of blades have gained a massive following by professional and top-class chefs worldwide. Sakai knives are carefully crafted by hand by experienced professionals and craftsmen. 
Sakai does not actually refer to just one store, but an entire area in Osaka where some of the best knife stores are located. Sakai is a great place to visit for anyone looking for the highest quality Japanese knives. The area even has a website for you to browse through as part of the industrial promotion of traditional knife making. 
Sakai Traditional Knives ships internationally with fees ranging from $15 to $30.