When in Kyoto, one of the most frequently visited place is the Nishiki Market (錦市場, Nishiki Ichiba). Located in downtown Kyoto, Nishiki Market lies between the streets of Teramachi and Takakura. It is a 400-year old, five-block-long marketplace with more than a hundred shops that sell goods. The place is also referred to as Kyoto's Kitchen as it features local fresh seafood ingredients and a variety of kitchenware. The market has its own story to share, displaying the history of food businesses that have been under the same families for many years.
Remember
All the shops in Nishiki Market close at 6 PM, so you want to get there at least an hour early since you need some time to see hundreds of stalls spread around 5 blocks. They all close at 6 because in Japanese Culture it would be seen greedy if the stores remain open after a few neighbors who open early in the day close early.  
The market has kept the style of a shopping street, also known as the traditional shotengai. It resembles an undercover venue right in Nishikikoji Street, north of Shijo Street. Though appearing a bit dim, the market has its roof colored brightly, which gives a bit of brightness to its interior. Unlike other markets, Nishiki opens just a little sooner than the early hours. Life in the market starts around 10 in the morning and closes at 6 in the evening. 
Though appearing as a busy environment, guests are more than welcome to explore and taste Japanese cuisine. Here is where tourists can also find seasonal specialties and other delicacies. Even when it is known as a traditional pride of local products, people can check out souvenirs and modern food shops. To say that tourists can try out food for free is an understatement. When traveling with a tight budget, there is no need to worry about missing out as there are stalls and shops that give out sample dishes that are free of charge.
Nishiki Market History
Nishiki Market has long been a part of the Japanese culture that dates back to many centuries ago. Many of the shops, stores, and other businesses that reside in the market have been operated by the same families for several years. Way back in the year 782, Nishiki started as a place that sold fishes and had a convenient cold water source in the area. The groundwater made it possible for sellers to keep the freshness of fish and other meat stocks near Kyoto Imperial Palace.
The first shop to open was around the year 1310. Then, in 1615, the growing market officially received permission from the government of Bakufu to operate by selling fish. This permit marked as one of the first milestones that made the market renowned. After the restoration of the Meiji Period in 1883, competitors in the market started to grow. However, this growth caused strong competition between sellers. Because of the growing competitors, only seven shops and businesses were allowed to operate.
In 1911, a newly-formed association promoted the market place as an area of business for fish and seafood selling. This event further enhanced the growing reputation of Nishiki. When 1927 came, the "Central Wholesale Market of Kyoto" opened for business, which caused many store owners to transfer there instead of remaining in the Nishiki Market. A year later, another new association promoted shop openings that patronized meat, fruits, vegetables, and other goods. This event gained Nishiki the reputation of being "Kyoto's Kitchen".
As the fame of Nishiki grew in 1984, a cobblestone floor was installed in the market, and nearly a decade later, an arcade canopy was added. Finally, in the year 2005, "Nishiki Market" was officially registered as a trademark. This iconic marketplace remains an important location of Kyoto and is flooded by a number of people from Japan and by visitors worldwide.
Fast Facts About Nishiki Market
Nishiki Market dates back to the 14th century and has functioned fully as a market for over four centuries, that's over

400 years

!

The market has around

126 stalls

of goods and products.

Nishiki Market can be visited for

seven days a week,

around 9 or 10 in the morning until 6 in the evening.

Aside from fresh Japanese delicacies, dried and fried specialties are also available.

Kimura is the oldest stall in the market. It serves marinated sashimi on sticks.

A lot of

food samples

are for free, so visitors do not have to worry about spending much unless they want to.

The market sells more than just delicious Japanese food. Other stalls offer trinkets, potteries, and kitchenware, including left-handed ones, which might be interesting for southpaws guests.
Nishiki Market Must-Try Delicacies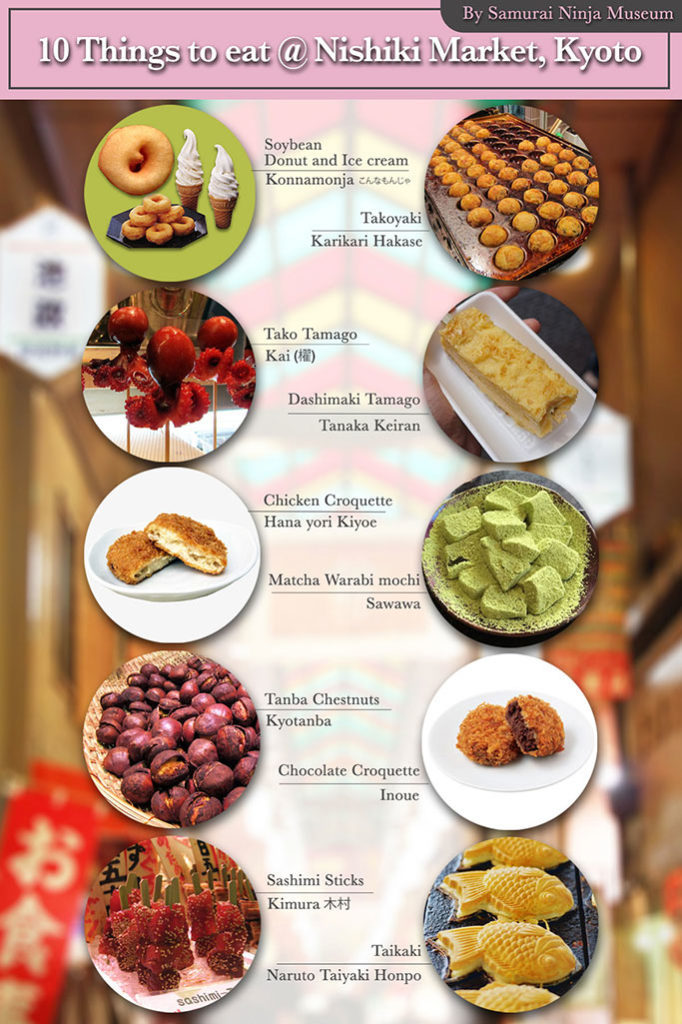 Yuba. Tofu is known to be a good source of protein. In the market, guests can find "yuba", which is tofu skin. Sellers form this delicacy by heating vats of soy milk and will sometimes come in creamy texture or crispy when dried.
Soy Milk Doughnuts. Also known as the Kyoto-style donut for its non-overly sweet taste. These are enjoyed best during the cool seasons in Japan. Soy milk doughnuts are chewy on the inside and crunchy on the outside.
Mackerel Sushi. Mackerel and Kyoto date back a hundred years during the Heian Period. Given its long history, it is no surprise that this delicacy is in Nishiki. In the market, people can find a delicious and rich taste of the mackerel sushi.
Dashimaki Tamago. Also called as Japanese-rolled omelet, tamagoyaki, or sweet omelet. It is a traditional recipe made with egg and dashi. How this specialty is made can be a challenge and has to meet old-school Japanese standard cooking, making it a must-try food. It can also be enjoyed as a take-home food.
Pickled Vegetables. And not just any type of pickles but pickles from Kyoto. It is great as a take-home food, especially after exploring the Nishiki market. Known as Tsukemono, many pickled vegetables are offered in the market. Okra, turnips, and cucumber are just a few to name from the menu.
Tako Tamago. Tako Tamago is a small octopus stuffed with an egg of a quail. The baby octopus is served on a stick and is sweetened, giving a combination of a sweet and salty taste.
Sesame Dumplings. Another small but tasty food is the sesame dumpling. It offers a lot of flavors one can choose from, like sweet and cheesy to name a few.
Japanese Fish Cakes. Fish cakes are all around the Asia continent, and all have their taste to share. However, when one is in Japan, Japanese fish cakes in the Nishiki Market are the go-to. It also has flavors ranging from mochi to cheese.
Mochi. If one has a sweet tooth, mochi is the recommended treat for the taste buds. It is made with sticky rice ingredients and comes in many forms and flavors.
Senbei. Also commonly known as Rice Crackers. It comes with a variety of seasonings and has a delicious filling. Guests can choose from plain ones to soy sauce, sweet plum, and other fun flavors. It is best eaten when fresh.
Fresh Tofu. To those who have experienced staying at a ryokan, chances are that they have tasted fresh tofu from kaiseki meals. It is made from soybeans and comes in many forms. Tofu dishes can also be taken home and be eaten either as a dinner or snack.
Dried Seafood. Fish is especially abundant in Nishiki Market. Guests can expect piles of dried fishes when in the market. These can be eaten as a snack or as a topping of a dish. Niboshi, dried sardines, and sakura ebi, dried pinnk shrimp, are a few to name from the variety of dried seafood in the market.
Notable Places Near Nishiki Market
Nishiki Market is accessible to locations like the Samurai Ninja Museum, a 1-minute walking distance where guests will be able to have an unforgettable ninja experience like participating in activities and a guided tour. Guests can see the Sanjo Bridge just 6 minutes away from the market or the Nishiki Tenmangu shrine which is just 4 minutes away. If guests can't get enough of shopping, sites like Teramachi Shopping Street (3 min.), Shinkyogoku Shopping Street (2 min.), and Daimaru Shopping Center Depachika (4 min.) is also not far. Guests can also buy fresh food from its department store. If guests are feeling a bit hungry from all the walking, they can head on to Kani Doraku Crab (6 min.), Musashi Sushi (7 min.), or Maikoya Teahouse (4 min.), which has the best activities Japan and is a well-loved destination by travelers, where they will be able rest their feet and calm themselves from all the travel.
Nishiki Market Location
Nishiki Market Shopping District
Elisabethmh
●●●●●
Shopping & Impressions
I highly reccomend a stroll to the Nishiki market while staying in Kyoto. The market is huge and be prepared for queuing. Slow down your pace and make sure you are not in a hurry and just simply enjoy all the flavours, colors and impressions in this exciting market. Try some of the "street-food" along your stroll, highly reccomended!
---
Safariholic
●●●○○
Its a MUST Do, but a challenging one for some of us
The assault on your senses is not to be under-stated - sight, sound, smell, and taste (if you're brave enough). Cheek by jowl are the Retailers (Vendors), but the Tourists or Shoppers are even closer. Be prepared to abandon all prior cares about Personal Space, Bumping into or rubbing-up against others - It is unavoidable. Some even seem to relish it, like a subtle full body Contact Sport. Little Birds (Sparrows) deep fried on skewers, Baby Octopus with a Quail's egg stuffed up its Kyber Pass were two of the more notable Delicacies offered (and Declined). I did not see any Whale Richard, Rhino Hawn or other Animal Body parts, thank goodness.
---
Minh Duc
●●●●○
Impressed with raw seafood!
There were plenty of raw seafood. After a while of considering, I tried some of them and the result was absolutely surprised. The taste was so so good!
---
HotRodHeart
●●●●○
Nice, but looooots of tourists.
The place is nice to see and discover about local food, like pickled vegies, etc... But it is crowded. Tourists often block the way to look at a shop, and walk around slowly to wonder at these things they've never seen before.
---
Leigh-Harrington
●●●●●
A real must see
This is a fabulous and fascinating market with an excellent range of interesting food stalls selling things to eat as well as items to cook and some nice shops selling Jpanese crafts. Well worth a couple of visits.
---