Best Things to Do in Kyoto with Kids and Kid-Friendly Places
Traveling to Kyoto with kids? Wondering about kid-friendly places and activities? From babies to teenagers, Kyoto is truly a fantastic destination for children of all ages. What's more, there are tons of fascinating attractions in Kyoto, both indoors and outdoors that will appease kids and parents alike. And, guess what? We've prepared an exceptional Kyoto travel itinerary for families that guarantees to keep everyone in a positive and upbeat mood on their family escapade.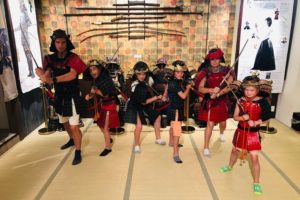 This is the #1 ranked Kids museum in Kyoto and it is INTERACTIVE!!!There's no better way to kick off a trip to Kyoto with kids than to visit the Kyoto Samurai and Ninja Museum. As you tour the museum, you get a free guided English tour. Plus, it lets you try on some ninja and Samurai clothing as well as  participate in ninja throwing star or swordsmanship lessons.  Tip: If you're not into ancient Japanese warriors, the facility offers kimono photography opportunities for the whole family. Opening hours: 10:30 AM to 08:00 PM daily FREE for kids under the age of 3 *See more Instagram photos  *Location and reviews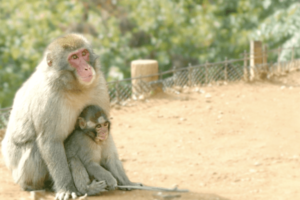 Located near the Arashiyama Bamboo Forest, this park is home to over 100 monkeys, which are also known as the Japanese macaque. These monkeys are native to Japan, and they are the types of monkeys you see in iconic photographs where they are bathing in winter at a hot spring. Tip: Make sure to heed the "don't stare and touch" warnings inside the park.Opening hours: 09:00 AM to 04:00 PM daily * See more Instagram photos  * Location and reviews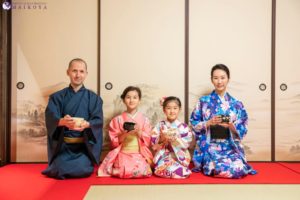 At 45 minutes long, a quintessential Japanese tea ceremony may not seem ideal and suitable for children. But, this old Japanese tradition is, by far, the best way to teach them the importance of relating to others, turn taking and focus. And best of all, it will give them a taste of the Japanese culture when you're traveling to Kyoto with kids.  Tip: Kids can opt to wear other local outfit such as a ninja costume or a samurai kimono.  Opening hours: 09:00 AM to 07:00 PM  *See more Instagram photos  * Location and reviews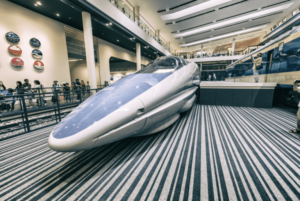 Perfect for adults and kids who are into trains, this relatively new museum has plenty of attractions and hands on activities. There's a driving simulator as well as tons of exhibits highlighting the life and history of the railways in Japan. Tip: This is an area close to the Kyoto Station not the downtown area. Admission is free for kids 3 years and below, JPY 200 for those who are above 3 years old, JPY 500 for teenagers and JPY 1,200 for adults. Opening hours: 10:00 AM to 05:30 PM from Thursday to Tuesday (Closed on Wednesday) * See more Instagram photos  *Location and reviews 
Established in 2012, this wondrous aquatic museum mainly highlights the marine life endemic to the waterways of Kyoto, even though it also exhibits an array of other saltwater animals. Exhibits for this aquarium include river biomes from Kyoto featuring coral reefs, dolphin shows, penguins, fur seals and Asian giant salamanders. Tip: Check out the Umekoji Park Playground right next to the aquarium. Admission is free for kids 3 years old and below, JPY 600 for those over 3 years old and JPY 2,050 for adults.Opening hours: 10:00 AM to 06:00 PM daily * See more Instagram photos   *Location and reviews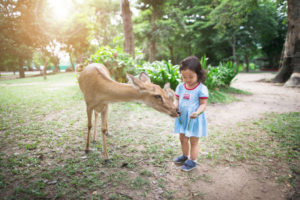 Right next to 2 UNESCO Sites and the world's oldest pagoda lays the Nara deer park. Nara is less than an hour away from Kyoto, and is home to a bunch of fascinating attractions. The main attraction in Nara, however, is the friendly and tamed wild deer roaming freely inside the park. Tip: Buy biscuits that are specially made for deer from any of the vendors within the park, to mingle with these friendly creatures. Opening hours: 24 hours a day *See more Instagram photos  * Location and reviews 
This park is located between Osaka and Kyoto. Sure, this theme park isn't as popular as Tokyo Disneyland or Universal Studios Japan, but it still can give you a world of fun. Opened in 1912, this theme park has a variety of rides to suit guests of all ages, from small kiddie rides to large coasters. And, since it's a little underrated, the queues here are really short.  Tip: Make sure to check out the animal exhibit that lets you get a close encounter with a range of domestic and wild animals. Opening hours: Operation hours vary. * See more Instagram photos  *Location and reviews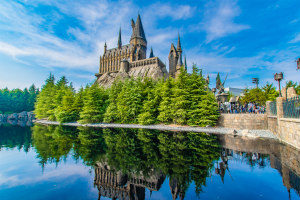 Universal Studios of Osaka is, hands down, one of the biggest and most famous theme parks in Japan. A visit here lets you experience  tons of popular rides and attractions, such as the Winter Wizarding World of Harry Potter, Jaws, Spider Man and Jurassic Park. Of course, it has plenty to offer to the little ones with attractions featuring Sesame Street, Elmo, Moppy and Hello Kitty characters. Tip: Arrive early since tickets of the most of the popular park attractions sell out fast.  *See more Instagram photos     * Location and reviews 
This is the second oldest zoo in Japan with many exhibitions of animals that are kept in good conditions. My favorite is the red panda section but there are wild animals, monkeys , lions and so on. Just like any zoo, there are multiple animal toy shops and animal themed food shops. Tip: This zoo is right next to the Okazaki park and Heian Shrine which has one of the largest tori gates in Japan. Entrance fee is 600 JPY *Instagram photos    *Location and reviews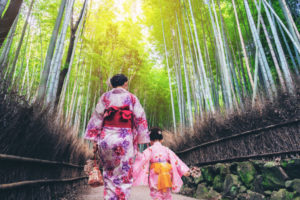 This place is near the Iwatayama Monkey Park. See the surreal and iconic Bamboo Forest in Kyoto with kids in a hassle-free way by taking a guided walking tour. As you tour the forest with a guide, you'll get some valuable local insights as well as tips on the best spots to take a picture. And, the best part is, you don't need to worry about navigating your way around the forest and or getting lost.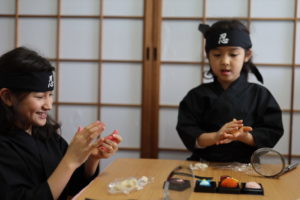 A traditional cooking class may seem a rather appealing activity for the little ones. After all, they usually have short attention spans and are pretty picky when it comes to food. But, Maikoya's cooking class is unlike any other cooking classes in Japan.
Not only do kids get to wear ninja clothes, but it's also interactive with a souvenir at the end of the session. And, kids get to pick any characters they want as they create Japanese wagashi sweets, whether it's pikachu or Doraemon.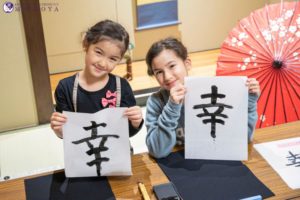 Learning a Japanese craft or game is an absolute must when traveling to Tokyo or Kyoto with kids. And, at Maikoya, you'll find a set of cultural games and crafts that are both FUN and EDUCATIONAL. First, the guides will teach you and the kids the art of Origami, which is a fun way of teaching kids in Japan the importance of time management. 
Then, a shodo expert will teach you lessons in Calligraphy. The session will eventually end with Ken-drama, a popular Japanese game ideal for the whole family. To make things even better, you will return home with some wondrous souvenirs. 
No trip to Japan with kids is complete without a visit to its world famous theme park: Tokyo Disneyland. Famous for is magical attractions and rides, this theme park will appease kids and adults alike with its magical atmosphere and never-ending festivities. Trust me, there's no better way to end your vacation in Kyoto with kids than to experience this world-class theme park. 
#14 Odaiba
Nestled on an artificial island in Tokyo Bay, Odaiba is an all-day destination with plenty of kid-friendly attractions. Here, you get to explore an interactive digital art museum, a ferris wheel and the National Museum of Emerging Science and Innovation.