With its iconic landmarks, fascinating history, rich culture, sublime seasons, and culinary excellence, Kyoto is an incredible city to visit no matter the occasion. But you're looking for a honeymoon destination with a twist; this is one incredible romantic place. With so much to see do and experience, you're in for a real treat. Here's a guide to Kyoto for loved up couples.
Accommodation options
Treat yourself and your loved one to something a little more special by staying at one of Kyoto's most impressive luxury hotel. In Japanese culture, offering the highest of hospitality to guests is of the utmost priority, so you won't be disappointed.
The Four Seasons Hotel Kyoto
Transforms your stay into a full-on cultural experience at The Four Seasons Hotel Kyoto. Positioned in the historic district of quaint Higashiyama, this complex is built around an 800-year-old garden, which was mentioned in an epic poem called The Tale of Heike that dates back to the 12th century! It's an intimate hideaway that transports guests to a different time. You can also experience tea ceremonies, Michelin-star sushi, and ancient healing spa treatments, all without within the premises.
The Four Seasons Hotel Kyoto
Address: 445-3 Myohoin Maekawacho, Higashiyama Ward, Kyoto, 605-0932, Japan (map)
Website: fourseasons.com
Hours: Open 24 hours
Phone: +81755418288
Hyatt Regency Kyoto
The Hyatt Regency Kyoto blends traditional Japanese beauty into every aspect of the hotel experience. Welcoming guests with a lush bamboo grove, at this luxury establishment, a maiko (apprentice geisha) performs a traditional dance for guests every evening! Each of the rooms features Japanese wooden bathtubs and sliding screen doors for that added local Kyoto touch.
Hyatt Regency Kyoto
Address: 644-2 Sanjusangendomawari, Higashiyama Ward, Kyoto, 605-0941, Japan (map)
Website: hyatt.com
Hours: Open 24 hours
Phone: +81755411234
Old Kyoto Machiya
For those who are chasing the ultimate in privacy and would like to enjoy Kyoto the traditional way, then a night or two at one of Old Kyoto Machiya's locations is ideal. A machiya is a traditional Kyoto townhouse, full of old-world charm and elegant design. The Old Kyoto Machiya team refurbished a collection of machiya across the city and turned them into stylish townhouses that combine classic Kyoto charm with modern amenities. They vary in price and size to suit travelers of different budgets and styles. Blending the freedom of a rental villa with a ryokan style, these private, timeless sanctuaries are perfect for crafting the most unforgettable romantic escape.
Old Kyoto Machiya
Address: 105-3 Nishirokkakucho, Nakagyo Ward, Kyoto, 604-8217, Japan (map)
Website: oldkyoto.com
Hours: Open 24 hours
Phone: +81752116001
Hotel Kanra Kyoto
One of Kyoto's very few boutique hotels, Hotel Kanra Kyoto is a stunning hotel that blends all the design elements that make Kyoto so great and brings them into the modern-day. Classic raw wooden finishes, minimalistic design, sleek lines, and airiness near impossible to define but extremely atmospheric are a piece of architectural magnificence. Going beyond the rooms, the hotel boasts two luxurious on-site restaurants serving teppanyaki and Italian cuisine as well as a café and lounge. The hotel also has a spa and offers Kyoto tours to staying guests.
Hotel Kanra Kyoto
Address: 190 Kitamachi, Shimogyo Ward, Kyoto, 600-8176, Japan (map)
Website: hotelkanra.jp
Hours: Open 24 hours
Phone: +81753443815
Gion Hatanaka
With Kyoto's most popular destination on your doorstep, there are plenty of reasons to consider Gion Hatanaka is your perfect honeymoon destination. This spacious, elegant ryokan it's mere minutes away from plenty of Kyoto's most romantic and historic destinations, including Nene-no-Michi, Ishibei-koji Lane, Yasaka-jina, and Maruyama-koen Park. The ryokan features classic Japanese style rooms and offers the ultimate in Japanese hospitality. There's also an on-site restaurant serving ryokan style traditional, seasonal cuisine. Convenient, iconic, and comfortable, Gion Hatanaka is perfect.
Gion Hatanaka
Address: 505 Gionmachi Minamigawa, Higashiyama Ward, Kyoto, 605-0074, Japan (map)
Website: thehatanaka.co.jp
Hours: Open 24 hours
Phone: +81755415315
Kyoto Brighton Hotel
Sitting on Shinmachi-Dori, Kyoto Brighton Hotel is a hotel right in the heart of the action, but still offers its guests plenty of opportunities to escape the madness of the city and relax in a stylish, central setting. The rooms are classic western style rooms, great for those not quite used to traditional Japanese futon bedding. Kyoto Brighton Hotel offers a range of different bedroom styles, including luxurious twin and double sized rooms.
There are also two four-site restaurants, including the terrace restaurant FEERIE and HOTARU, which serves traditional Japanese cuisine. The other two restaurants serve teppanyaki delights (HIMOROGI) and Chinese restaurant KAKAN, meaning there's plenty to choose from without even having to leave the facility. But of course, if you do, Shinmachi-Dori has so much more to offer!
Kyoto Brighton Hotel
Address: Japan, 〒602-8071 Kyoto, Kamigyo Ward, Shiteicho, 330 新町通中立売下る(御所西 (map)
Website: brightonhotels.co.jp
Hours: Open 24 hours
Phone: +81754414411
Matsui Honkan Ryokan
Surrounded by Kyoto's city center's buzzy excitement, the impressive, but still intimate 27-room Matsui Honkan Ryokan is accommodation perfection. Located just a 15-minute walk from Gion, it's close enough to access by foot, but far enough to offer the ultimate peace and tranquility away from the crowds. The hotel features a mix of Western and Japanese rooms, and both are decked out in what could be described as a contemporary classic Japanese style.
If you're willing to spend a little extra, you'll also find outdoor gardens located in the premium rooms, which is a nice luxurious touch. Foodies would also be interested to know that Matsui Honkan Ryokan also serves lush, seasonal kaiseki cuisine daily.
Matsui Honkan Ryokan
Address: Nakagyo Ward, Kyoto, 604-8113, Japan (map)
Website: matsui-inn.com
Hours: Open 24 hours
Phone: +81752213535
Ace Hotel Kyoto
One of the newest additions to this stylish boutique hotel family chain, Ace Hotel Kyoto is as impressive as all the fanfare claimed. Mixing art, contemporary culture, Portland style charm, and traditional Japanese elegance, this trendy lifestyle hotel is perfect for the young couple who wants to try something a little different. The building was designed by legendary Japanese architect Kengo Kuma and takes residence in the former Kyoto Central Telephone Company building.
The rooms are modern, minimalistic, and retro in style, and while they are impressive, it's the rest of the hotel's features that really seal the deal. On-site, Ace Hotel Kyoto features an event space, a wedding space, a rooftop alfresco-style bar and Italian restaurant, a third-wave coffee store, and a taco-centric Mexican restaurant. Young hip, arty and fun, it's the fresh new side of Kyoto.
Ace Hotel Kyoto
Address: 245-2 Kurumayacho, Nakagyo Ward, Kyoto, 604-8185, Japan (map)
Website: acehotel.com
Hours: Open 24 hours
Phone: +81752299000
B n A Alter Museum
For something really different, a honeymoon you'll never forget, consider staying at Kyoto's Art Museum hotel, B n A Alter Museum. This boundary-defying hotel boasts 31 unique art rooms you can sleep in, featuring work by some nation's most exciting artists, as well as a 10-story vertical art gallery showcasing the country's best contemporary art and a bar that regularly hosts weekly art and music events. Each and every room is an entirely different world to the last, making it a fascinating adventure through the city's most exciting new creative minds.
B n A Alter Museum
Address: 267-1 Tenmacho, Shimogyo Ward, Kyoto, 600-8024, Japan (map)
Website: bnaaltermuseum.com
Hours: Open 24 hours
Phone: +81757481278
Watazen Ryokan
Situated on a cruisy three-minute stroll from the popular Nishiki Market, Watazen Ryokan is a centrally located ryokan with plenty of attractions to enjoy. This mid-sized, 24-room ryokan is perfect for those who want a taste of Japanese-style accommodation without having to forgo any creature comforts. It does, however, feature tatami mat flooring and an indoor public bath. If you want to explore the city on foot, this is a great place to base yourself as some of the city's key attractions, including the Kamo River and Imperial Palace.
Watazen Ryokan
Address: Japan, 〒604-8113 Kyoto, Nakagyo Ward, Izutsuyacho, 413 柳馬場通六角下る (map)
Website: watazen.com
Hours: Open 24 hours
Phone: +81752230111
Hotel Granvia Kyoto
If you want to explore the wider Kyoto area, then perhaps staying close to Kyoto Station is ideal. The Hotel Granvia Kyoto, located right next to Kyoto Station, blends convenience, style, elegance, and luxury into one very tidy accommodation offering, and booking a night or two here is definitely something you won't regret. The hotel features a range of different style guest rooms, as well as a pool and fitness area, incredible views of Kyoto Tower, and seven different restaurants, each with their own unique cuisines and charms.
Hotel Granvia Kyoto
Address: Japan, 〒600-8216 Kyoto, Shimogyo Ward, Higashishiokojicho, 901番地 内 Kyoto Station Building (map)
Website: granvia-kyoto.co.jp
Hours: Open 24 hours
Phone: +81753448888
Maikoya Honeymoon packages
Let someone else do all the hard work, and save your energy for the vacation. Maikoya's Kyoto honeymoon package includes a range of cultural experiences and photo opportunities.
Kimono and dinner package: Perfect for newlyweds or those planning to get married soon? You and your partner will have a lot of fun dressing up in traditional Japanese wedding attire and having your photos taken by a professional photographer for some very unique wedding shots.
You can have your photos taken in the studio or in one of Kyoto's beautiful parks. During the experience, an expert will dress you in beautiful wedding kimonos for men and women while explaining all the intricacies of traditional marriage in Japan.
Many visitors to Japan add 'trying on a kimono' to their bucket list or Kyoto honeymoon, but rarely do they get the chance to wear a kimono that is saved for special occasions like a wedding. In this unique opportunity, you will be fully fitted in exquisite wedding kimono for you and your spouse and participate in a private Tea ceremony and photoshoot.
If you'd like, you can also have your hair styled appropriately and have make-up applied to make your experience more authentic, and you'll have a beautiful Japanese-style wedding cake and Kobe beef meal too.
Following the photoshoot, you'll be guided through the painting of a daruma doll, a symbol of good luck in Japan, which you'll be able to keep as a souvenir. The entire experience lasts about 3 hours, and you'll have memories to treasure for a lifetime!
If you want to experience the grace and beauty of the Japanese tea ceremony, another option is the wedding dress and photoshoot package. It includes kimono fitting, photo shooting in the studio or in the park, and a traditional Japanese tea ceremony, complete with wagashi Japanese sweets. This is a unique traditional experience with kimono wearing, zen, harmony, perfectionism, minimalism, and meditation. 
Similar to the dinner package, this deal also offers the chance to be guided through the painting of a daruma doll, a symbol of good luck in Japan, which you'll be able to keep as a souvenir. The entire experience lasts about 2 hours, but of course, the photos and memories will live on forever.
Make a booking here so you don't miss your preferred timeslot:
Maikoya Kyoto Kimono
Address: 565-4 Nakanocho, Nakagyo Ward, Kyoto, 604-8042, Japan (map)
Website: mai-ko.com
Hours: Monday – Sunday 9AM–7PM
Phone: +81756065303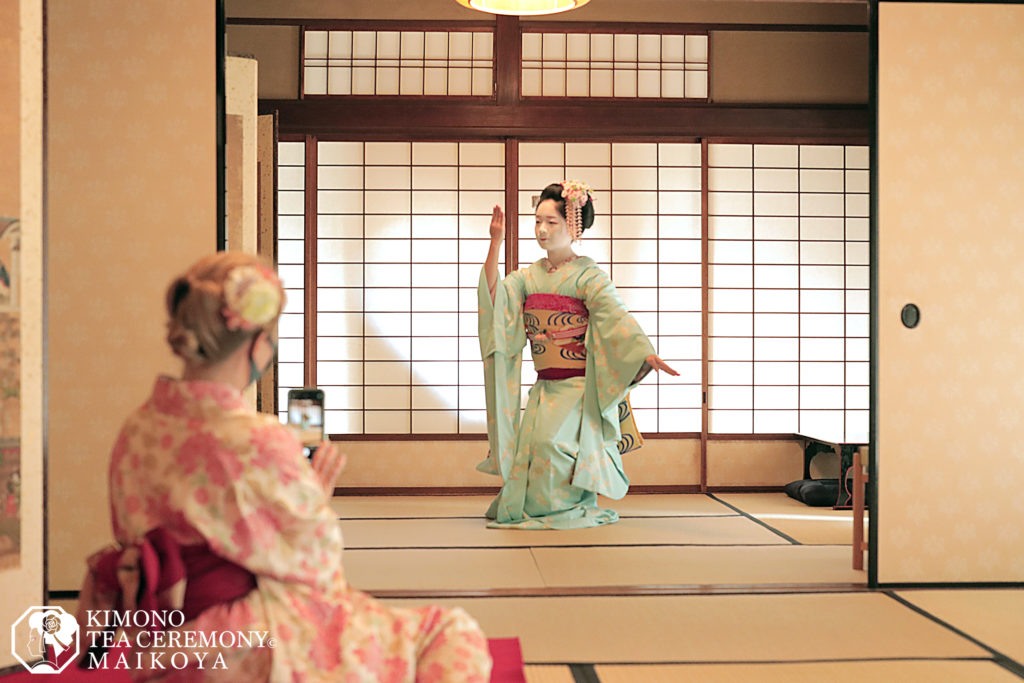 Many visitors wander the streets of Kyoto for days in the hopes of catching a glimpse of the elusive maiko (geisha), but here you can get up close and personal. This Japanese tea ceremony experience is an excellent introduction to the timeless Japanese tradition and its associated rituals. If you're looking for a unique and romantic Japan honeymoon experience and the opportunity to meet one of Japan's most revered figures, make sure to try this. Free kimono is possible for those who arrive 30 minutes before the ceremony.