Tokyo is a fascinating family-friendly destination with endless possibilities. Not only is it safe and extremely clean,but it's also packed with activities and attractions to keep kids of all ages entertained and upbeat. And, to help you craft the best itinerary in Tokyo with kids, we've rounded up some suggestions and tips for your upcoming family adventure. 
Things to do in Tokyo with kids
Tokyo Disney Resort is actually made up of a couple of parks: Tokyo Disney Sea and Tokyo Disneyland. The latter is like Anaheim's Disneyland, with familiar famous "themed land" attractions and friendly characters walking around. Tokyo Disneyland, meanwhile, was inspired by legends of ocean tales, with seven themed spots.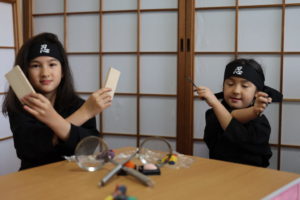 This is the NUMBER 1 Rated cooking class in Tokyo with kids! 
Who says traditional Japan cooking classes are boring for kids? Sure, kids normally have short attention spans are a little picky when it comes to food. But, Maikoya's session is unlike any cooking class in Japan.
Exciting and simply educational, Maikoya's cooking class is extraordinary and fun in a lot of different ways. For one, they allow you and the kids to dress as a ninja family. Not to mention, it lets kids pick any characters they like, whether it's Doraemon or Pikachu, as they make Japanese Wagashi sweets. 
Tip: Ingredients are adjustable, so make sure to inform the staff beforehand if you have a food allergy, kosher or halal concerns. 

Opening hours: 10:00 AM to 07:00 PM daily 
The National Museum of Emerging Science and Innovation, or also known as Miraikan, is an exceptional destination where you can satisfy your children's curiosity. With a range of interactive displays and workshops, the museum can broaden their imagination as well as understand the world of science. 
Tip: Make sure to check out ASIM – the famous humanoid robot made by Honda

Opening hours: 10:00 AM to 05:00 PM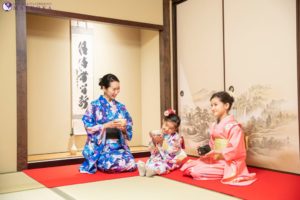 A Japanese tea ceremony in Tokyo with kids doesn't seem a rather appealing and interesting activity, especially for the little ones. It is, however, one of the best ways to teach your kids the importance of focus, turn taking and relating to others. What's more, it lets them dive into the fascinating culture of Japan. 
To make things even better, the experience is a chance for you and the kids to wear elaborate, comfortable and AUTHENTIC kimonos. 
Tip: Kids may, alternatively, may wear a samurai kimono or ninja costume if they aren't keen on wearing a traditional kimono. 

Opening hours: 10:00 AM to 07:00 PM daily 
A magical blend of sound, light and vivid colors, TeamLab Borderless is a kaleidoscopic permanent digital art exhibit in Odaiba. Perfect for anyone traveling to Tokyo with kids, the museum wows visitors with its enchanting lantern filled room, gushing digital waterfalls, amazing crystal world and tons of other displays. 
Tip: You can't bring large items into this museum. Any item that's longer than 50 centimeters will be checked into the luggage room's lockers (JPY 100 per locker). So, if you're carrying younger kids, use a carrier instead of a stroller. 

Opening hours: 10:00 AM to 07:00 PM (closed on Tuesdays)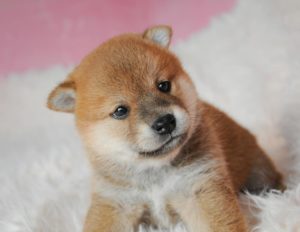 Mame Shiba Inu is a smaller and arguably cuter version of the famous Shiba Inu dogs of Japan. And, you can find a handful of them at this pet cafe in Tokyo. The cafe's traditional and homely ambiance, with low dining tables and tatami flooring, makes this cool experience even more unique since it feels like playing with these cuties in a typical Japanese home rather than a cafe on Tokyo's bustling streets. 
Tip: Go there early to avoid the long queues. Also, the entrance fee – JPY 880 per 30 minutes – also includes a drink. 

Opening hours: 11:00 AM to 07:00 PM on Saturday and Sunday. 10:30 AM to 07:30 PM on weekdays 
7. Kidzania
Kidzania is a unique Tokyo attraction where kids can role-play as adults in more than 100 occupations in fields like manufacturing, new and communication. It's a great place for the little ones to explore interests and build social skills while having some fun. 
Tip: Adults are not allowed to join the activities, but they can watch from special viewing areas and monitors. 

Opening hours: 09:00 AM to 03:00 PM for the first shift and 04:00 to 09:00 PM for the second shift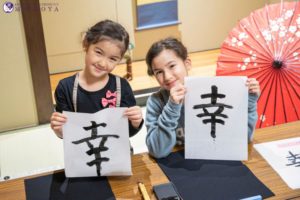 Learning a Japanese game and craft should be on your list of things to do in Tokyo with kids. And, you and your little ones can learn a few amazing crafts and cultural games at Maikoya in Tokyo, Japan. The session starts with a lesson in Origami, which is taught at schools in Japan to help kids learn the importance of time management. 
Furthermore, this Japanese art will teach them how to use resources skillfully and turn simple things into priceless treasures. Afterward, a shodo expert takes over to teach you Japanese calligraphy. 
The session will then culminate with Ken-dama, a Japanese toy and game. To top it all off, you'll receive a lovely souvenir, once the session is over with this insightful experience in Tokyo with kids.. 
Tip: Rent a kimono at Maikoya and explore the nearby attractions in Tokyo with kids, such as the Meiji Jingu Shrine and Shinjuku Gyoen.

Opening hours: 10:00 AM to 07:00 PM daily 
You'll discover a host of aquariums in Tokyo with kids, but Sumida Aquarium is by far the best one. Here, you'll over 9,000 marine creatures in wondrous displays, including the 92,000-gallon tank centerpiece as well as the enticing jellyfish habitats. 
Tip: Make sure to check out the playful fur seals and penguins. 

Opening hours: 09:00 AM to 09:00 PM daily 
10. Shinjuku Gyoen Park
Shinjuku looks stunning in every season, and is one of the most popular parks in Tokyo with kids. There are, however, tons of restrictions at this park. In fact, games, pets and alcohol are a no-no at this park. On the bright side, it's always quiet and clean, meaning it's the perfect spot for picnics in Tokyo with kids. 
 Grab a blue tarp, pack a few sandwiches, and spend a few hours soaking up the beautiful scenery of this park in Tokyo with kids. 

Opening hours: 09:00 AM to 04:30 PM (closed on Mondays)