Japan, with its majestic shrines, refined millennial culture and dramatic scenery, is no doubt one of the world's best honeymoon destinations. From its dynamic capital to Kyoto's awe-inspiring wonders, adventure and picture-perfect sights are in every corner on your Japan honeymoon escapade. Famous for its one-of-a-kind experiences, the country will reel you magically in with its therapeutic hot springs, mouthwatering cuisine, serene ceremonies and ancient temples.
Please also check out this Full Japan HONEYMOON travel package  which is recommended by thousands of newlyweds and includes pit stops to Tokyo, Kyoto and Osaka.
Whether you're seeking something spiritual, nature, adventure, romance or culture, the Land of the Rising Sun is bound to excite you.
So, spend a moment reading our Japan honeymoon travel guide, and allow us to share some of the best things to do in Japan for couples. Plus, our guide features informative Japan travel tips that will come in handy for your honeymoon trip.
Day 1: Downtown Tokyo
Your Japan honeymoon trip will likely begin in its vibrant capital, Tokyo. With its quirks, relentless energy and wonderfully weird attractions, Tokyo promises blow your mind.

Looking for cheap romantic things to do in Tokyo? Then, buy a bunch of food and unique treats at a Japanese convenience store, and enjoy a lazy and relaxing picnic date at the Shinjuku Gyoen National Garden. It's an expansive park boasting traditional Japanese, English Landscape and French formal gardens.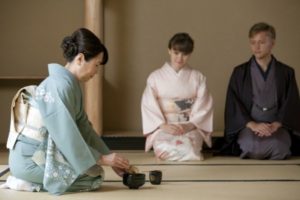 Almost all honeymoon couples in Japan recommend doing the traditional tea once. And, there's no better way to do it than by wearing beautiful Japanese style kimono and taking a honeymoon picture while wearing one. It's therapeutic, meditative and will give you a taste of Japan's culture.
Even better, Maikoya also offers a Japanese love-themed calligraphy experience after your Tea ceremony if you'd like.

A great way to wrap up the romantic first day of your Japan honeymoon is to indulge on a hearty dinner and a few drinks at Omoide Yokocho. Slip into one of its 60 small restaurants and bars for some tasty barbecued skewers (yakitori) and other savory drinks for your dinner date. Known in English as "memory lane", this alley looks futuristic and may remind you of scenes from Blade Runner.
Day 2: Western Tokyo

Mori Art Museum is truly one of the most fascinating attractions in Japan. In fact, even the least enthusiastic tourist will be amazed and intrigued by its magical digital artworks and displays. It's a surreal yet romantic experience that should be on every Japan honeymoon itinerary. The displays here are all digital made by state-of-the-art technology.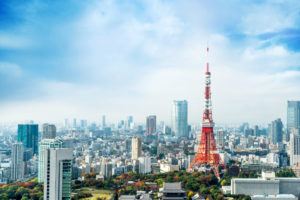 From the museum, head to Mori Tower's observation deck, Tokyo City View, and be enthralled by its magnificent panoramic view of the city. Set 250 meters above sea level, this deck is favorite among couples, thanks to its views and eye-catching interiors.
Additionally, there are art exhibits displayed regularly on the deck. You'll definitely want to put it on your list of things to do in Japan!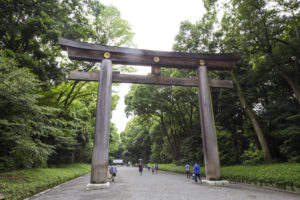 Built a century ago, this historic shrine is one of the can't-miss attractions in Tokyo for all types of travelers. Aside from its gorgeous and large torii gate, a visit here lets you make a wish on ema (wooden plates) with a small donation. And, who knows? Maybe, one of your newlywed wishes with your partner will come true.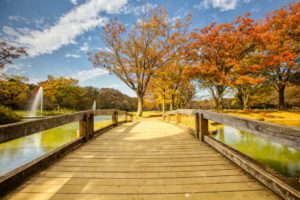 A visit to Yoyogi Park is a great way to get some free entertainment on your Japan honeymoon. From stuntmen and magicians to a rock and roll dancing troupe, the park is loaded with talented and entertaining performers. Plus, the atmosphere are sights are stunning, meaning it makes a romantic stroll for couples on their Japan honeymoon.

Make your way to the Starbucks above the famed Shibuya Crossing, and look for a window seat. Afterward, soak up the view of the world renowned and iconic scramble with a flavored seasonal latte in hand. Alternatively, you can join the scramble with your partner by your side, and experience one of the most quintessential things to do in Japan.
Day 3 : Daily Trip to Tokyo Disneyland
They don't call Tokyo Disneyland as happiest place on earth for nothing. With its incredibly hospitable Disney-themed characters and exciting rides, this park will put you on a state of pure bliss on your Japan honeymoon. It will even unleash the kid inside of you and will make your romantic trip a little adventurous.
 Day 4: Romantic Getaway-Hakone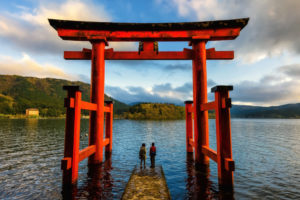 Need a little break from the nonstop sightseeing in Japan? Beloved for its parks, stunning mountain views and relaxing onsens, Hakone is a wondrous mountain resort town perfect for every Japan honeymoon itinerary. For years, it's known as a couple's getaway, thanks to its relaxing onsen and exciting activities.
Spend the whole day soaking in the therapeutic onsens. Or, explore the area on bike with your partner to see the beauty and charm of Hakone.
Take the bullet train from Tokyo Station to Kyoto Station from in the evening of Day#4 or in the morning of #day #5.
 Day 5 : Kyoto
Kyoto is simply a can't-miss on your Japan honeymoon itinerary. With its timeless appeal and romantic ambiance, Kyoto will add an extra element of romance to your Japan honeymoon vacation.
Kick-off the 5th day of your Japan honeymoon trip on a high note by visiting the awe-inspiring Golden Pavilion. Walk around the area, feel its wonderfully serene ambiance and snap a photo of the pavilion with its refection in the still pond. And, don't forget to hold your partner's hand while you explore the area.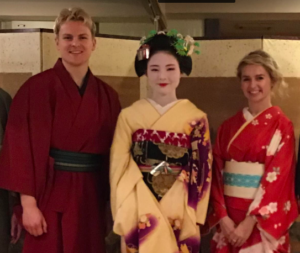 Performed by a real-life maiko (geisha), this wondrous Japanese Tea ceremony is a beautiful introduction to the timeless Japanese tradition and its associated rituals. What's more, it includes sample traditional green match tea and other Japanese styled sweets. If you're for a unique and romantic Japan honeymoon experience, make sure to try this one.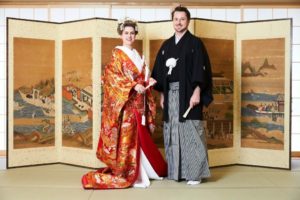 Once you're done with your Geisha encounter, you and your partner will be dressed up in traditional Japanese wedding attire and have your photos taken by a pro. You may have your shots taken inside or in any of Kyoto's verdant and remarkable parks. If you are looking for cheaper photo ops, then just try the kimono rental or kimono tea as the staff can still take your beautiful pictures with high resolution camera.
 Day 6: Kyoto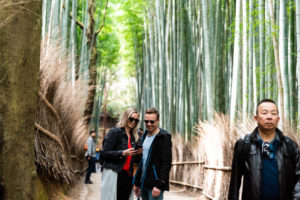 Spend at least a couple of hours exploring Arashiyama on your Japan honeymoon. From the ethereal Bamboo forest to its hidden temples, Arashiyama teems with wonders that will leave you speechless and in awe. Amazingly, the area exudes a romantic vibe as well, making it a must visit on your Japan honeymoon.
And, by the way, did I mention that the Bamboo forest is just one of the many UNESCO World heritage sites in Kyoto?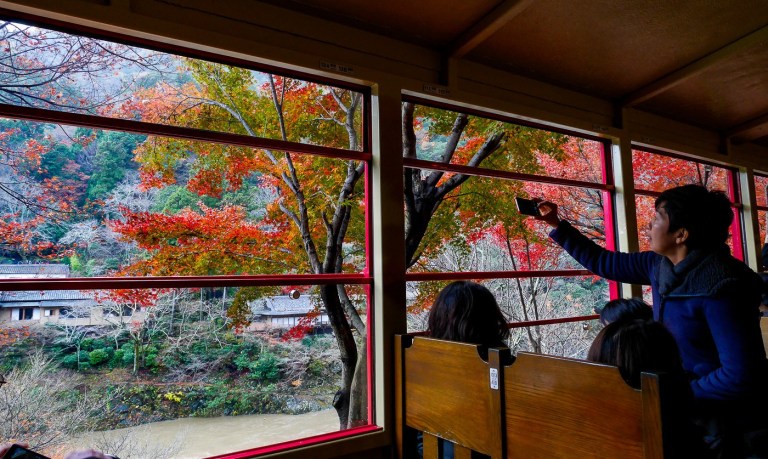 In Arashiyama, don't forget to take the romantic Sagano train ride which is open-air train during the summer months. This for sure a unique sightseeing activity though may not be ideal in the Winter time. For 25 minutes, the ride will show the city's beauty in any season, such as the changing leaves in autumn and spring's cherry blossoms. The train ride starts at Saga torokko station and ends at Kameoka torokko station, following the picture-perfect Hozukyo Ravine along the way.
The train runs daily, except Wednesdays, from 09:00 AM to 04:00 PM. Ticket price is JPY 620 for adults. Location and reviews of Sagano Romantic Train

In the mood for something fun and romantic? If the water is low, challenge one another to cross Kamogawa River on the lovely turtle-shaped stones. Afterward, head to balcony that overlooks the river, grab a drink and watch the sun set beautifully. With its tranquil feel, it's a great spot for escape the city life and enjoy a romantic stroll with your partner.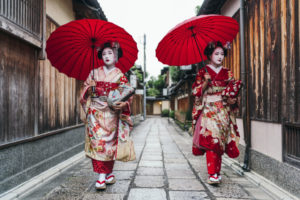 Gion, the city's largest geisha district, feels like a step back in time, with its historic alleys and tea houses in the soft and beautiful evening glow. You can chase Geishas here or take a romantic walk passing by historic alleys and houses. Cap off your exploration with a comfortable ride in a rickshaw.
For a sure-fire way to meet a Geisha in this area. Learn about the Gion District, Geisha and book a memorable geisha dinner show or a geisha tour here.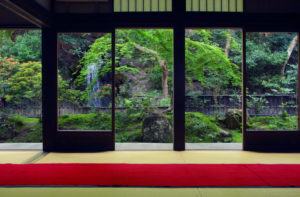 Book at least a night's stay at a highly-rated Kyoto ryokan, which is a traditional Japanese inn that usually features a hot spring private bath. It's a romantic experience and includes a delectable dinner banquet of the freshest seasonal ingredients. And, did we mention that the accommodations and services are second to none?
 Day 7: Kyoto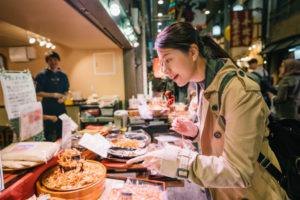 A fantastic way to start the 7th day of your Japan honeymoon is to visit the tantalizing Nishiki Market. It's home to a ton of aromatic and savory street food as well as fresh cooking ingredients. Eat as much as you can, so you and your partner will have plenty of energy throughout the day.
Lined by more than 100 shops and stalls, this 5- block shopping street, known as "Kyoto's kitchen", is the best spot in the city to score seasonal specialties and food, like sushi, dried seafood, pickles and Japanese sweets. Built in 1310, this market is also a historic spot that should be on your Japan honeymoon itinerary.
By the way, some shops offer free samples of their products.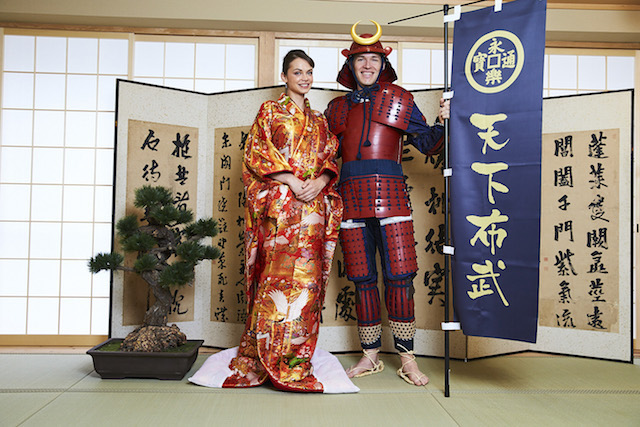 Right around the corner of the Nishiki Market you will find Kyoto's most popular museum and experience venue: Kyoto Samurai & Ninja Museum. Ever wanted to become a warrior? Make your dream of becoming a brave warrior a reality by joining the samurai test-cutting experience at the Kyoto Samurai & Ninja Museum. You'll get to wear a real samurai warrior, use authentic samurai swords to slice tatami mat, and learn Tameshigiri – a centuries-old samurai practice.
This is a great way to teach yourself and your partner some tricks in in self defense. And, besides, it's a cool and unique date that you won't experience back home. As a couple you can become a ninja, learn sword fighting or simply take the history tour and watch a samurai show. Tip: In Japan please do not take a wedding photo while one of you holding a sword. Even though many couples do this, the sword symbolically represents cutting, including cutting relationships!!!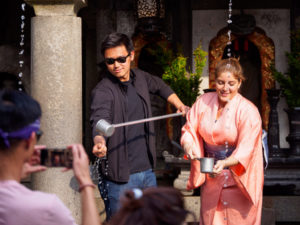 Be mesmerized by the Instagram-worthy grounds of Kiyomizudera. While inside the area, make sure to wash your hands using the sacred water for good health and longevity. From there, look for the love stones at the nearby Jishu-Temple and observe how locals in the area pray for true love.
Also, spend some time admiring the architecture and natural backdrop of the area. If you want to go there by renting a kimono you can book it from here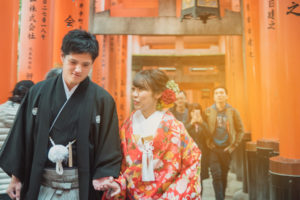 Before nighttime comes, hold your partner's hand, and make it a goal to hike up and down the whole length of the visually appealing red tori gates. It's definitely one of the most romantic things to do on your Japan honeymoon getaway. The path may seem endless, but it's nonetheless a great way to have an optimistic conversation about your future plans with your partner.
Just avoid the souvenirs there because they re extremely pricey.
 Day 8: Romantic Getaway-Osaka
A visit to Osaka is an absolute must on your Japan honeymoon. For years, Osaka has been known for its tasty cuisine and romantic attractions, making it a great destination for those who are in their Japan honeymoon.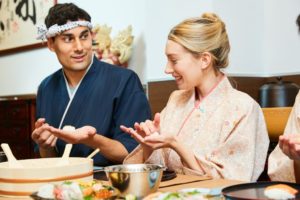 Learn of the art of Japanese cooking while wearing a kimono at Maikoya Osaka. Here, a friendly English-speaking instructor will teach you how to cook an array of Japanese staples in the heart of Japan's culinary capital, including Miso Soup, Tamagoyaki and a whole lot more.
Of course, it will also teach you how to be an expert in making sushi.

Dotonbori is a beloved canal with an all-around buzzing ambiance, restaurants, street food, shops and catchy neon signs, such as the Glico Man. Even if you're a big-time spender, you'll want to include this pit stop to your Japan honeymoon itinerary. And, despite its electric ambiance, a stroll here will still feel romantic.
 Day 9: Romantic Getaway – Nara
From Osaka, go to Nara and check out the world famous deer park. Spend some time there feeding the friendly animals with special deer biscuits. The creatures there are surprisingly friendly and will even show their appreciation after giving them some treats. Then, explore the districts and iconic temples that make Nara a must-see on your Japan honeymoon.
 Day 10: Last Day in Japan : Osaka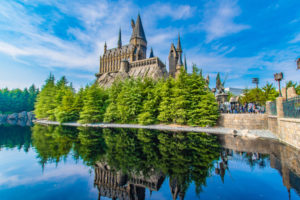 Universal Studios is like Disneyland on steroids, with rides 10 times more thrilling than its Disney counterparts. Explore the Wizarding World or enter the anime universe of fan favorites, such as Sailor Moon, Death Note and Attack on Titan. Of course, the theme park is loaded with awesome sights as well.
Tip: Many couples fly directly back to their home country from Osaka. The Kansai International Airport has many direct flights to destinations all around the world.
Tip: Don't forget to visit Maikoya on your Japan honeymoon getaway. From Japanese tea ceremonies to kimono photo-shoots, we have an arsenal of services and ways to spice up your Japan honeymoon. Better yet, avail our Japan honeymoon package in Tokyo, Kyoto and Osaka. 
Location for Maikoya Tokyo
Location for Maikoya Kyoto
Location for Maikoyo Osaka